This Crockpot Queso Blanco recipe is simple and guaranteed to be a hit at parties. With only four ingredients, you get that creamy, authentic taste from south of the border. Buy extra chips- your guests will be scraping the bowl clean!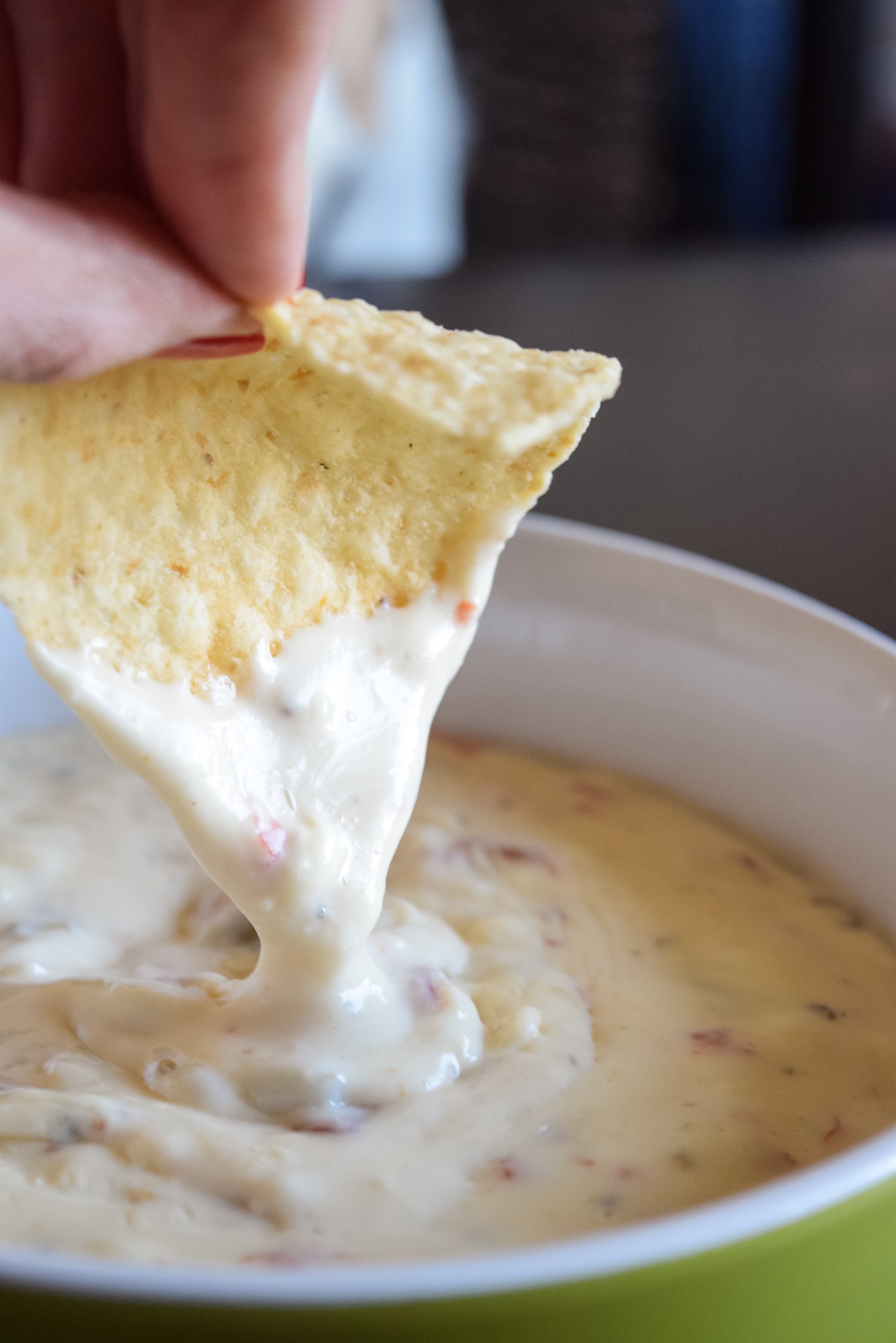 This post contains affiliate links. That means if you click or make a purchase, I make a little cash at no extra cost to you. I'll probably use it to feed my dog. Thanks for feeding Sadie. (Don't worry, she gets food regardless)
Queso was my comfort food in college.
There. I said it.
Bad first date? Queso.
Bombed a test? Queso.
I'm a firm believer that there's nothing queso can't fix. If you've been lucky enough to have queso at Fuego in College Station, TX., THIS IS THAT QUESO.
White queso that's creamy with just enough of a kick. It that doesn't ask any questions about how your date went or why you didn't study harder for that test. Queso doesn't ask questions, it just wraps you in a warm hug.
I have to give you a warning. People love this queso blanco. I'm talking people standing around the counter, chips scraping the last bits of queso off the sides of the crock pot kind of love. You may have to force yourself to walk away and spend time in another room. I'm serious.
Make sure you have to bags of chips on hand, because your friends will devour this stuff.
The best part? It has FOUR INGREDIENTS. That's it. SO easy.
P.S., I see you, looking at me like I'm crazy because of the cream of mushroom soup.
I need you to trust me.
Don't try to skip it or substitute it for cream of anything else. All your questions will melt away when you have your first bite.
Yes, it has Velveeta. With who knows what in the ingredients. But it's my belief that some things in life you just have to do it right. Like brownies and mac and cheese. There's no use in trying to make it "healthy" because nothing compares to the satisfaction that you'll get from the real thing. Like this queso.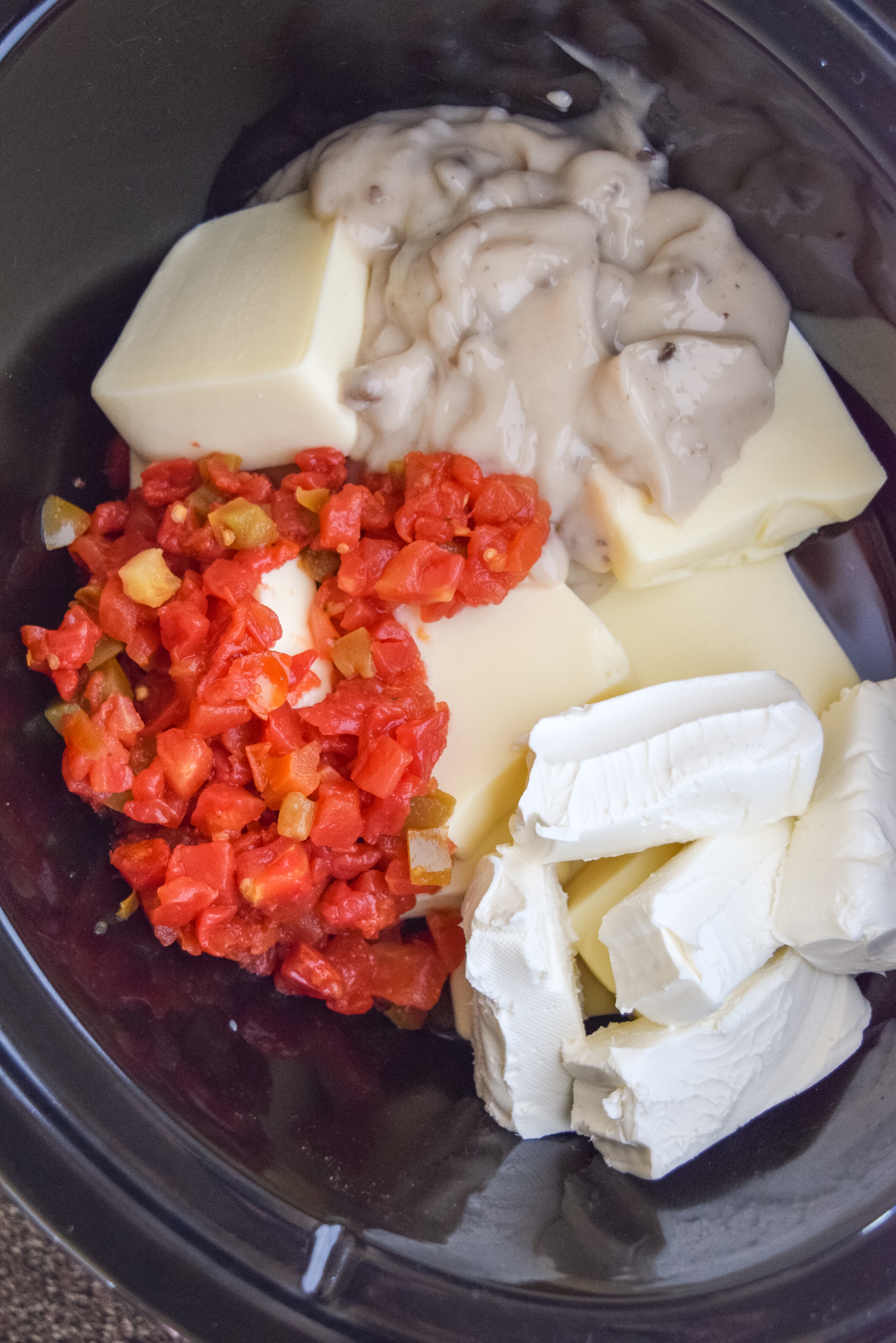 Tips For Making This Queso Blanco
Would you like to know a secret that will change your life? Use a crock pot liner for this. I'm begging you. They're not very pretty in a picture, but my crock pot sat "soaking" for 2 days before I could get all the queso off. I buy crock pot liners two boxes at a time just to avoid the possibility of running out before a recipe. They're so worth it!
You don't have to cut everything up before dumping it in, it just helps it go quicker. You can do it for 2.5 hours on low, stirring occasionally. If you're in a pinch, you can do it on high, but the edges of the queso seem to burn every time for me. If you can, keep it in the crock pot on "keep warm" for serving. It gets thick (undesirably so) quickly once it's pulled off heat.
EDIT: We've transitioned from my trusty college crock pot to this multi-cooker, and I'm not ever looking back. It takes the place of multiple kitchen appliances, and cleans up so easily. This queso is ready in an hour in that thing. You can read my review on the multi-cooker HERE.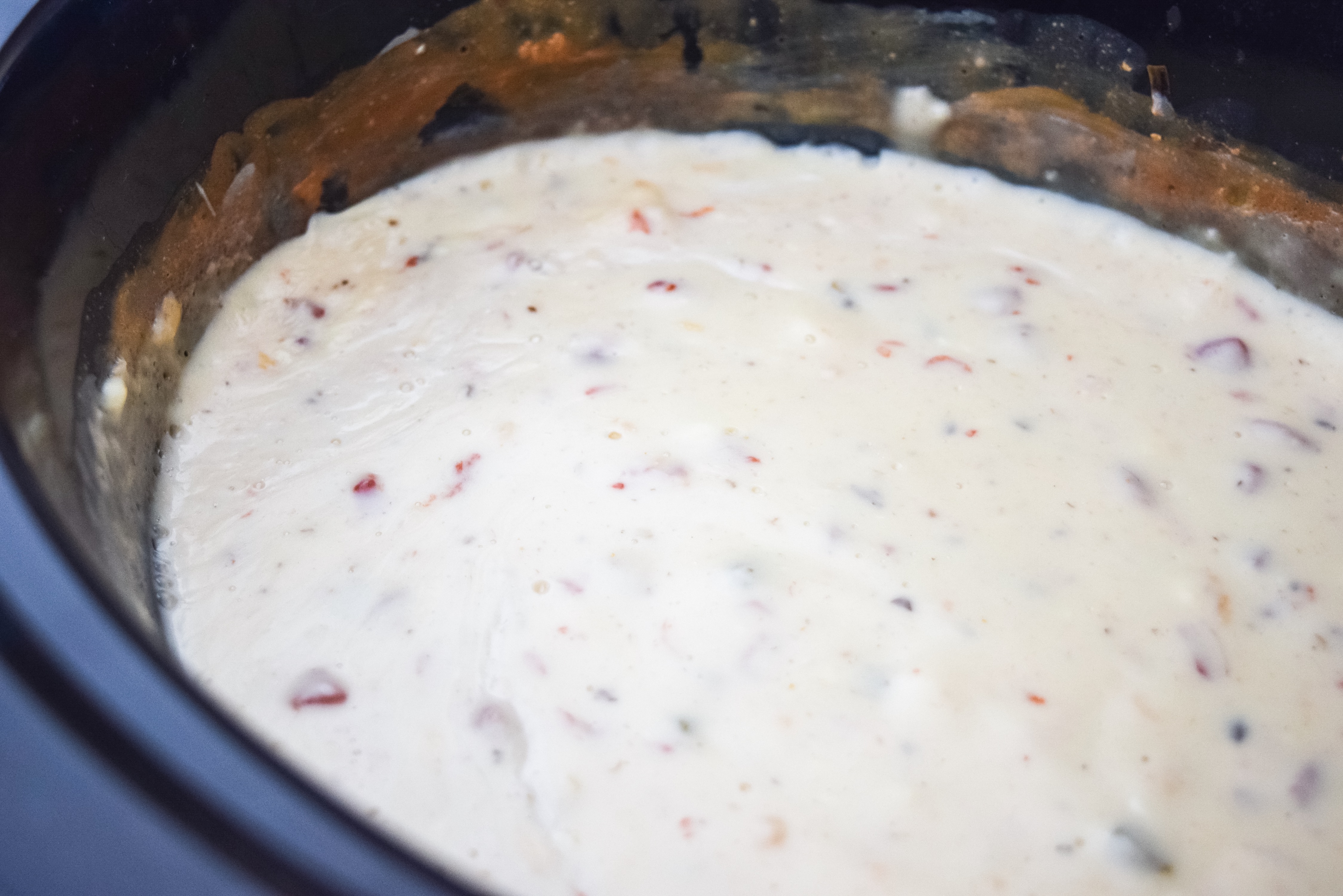 Serving with margaritas isn't mandatory, but highly encouraged😉
Combine all ingredients in crock pot. Cook on low for 2.5-3 hours, stirring occasionally.

I promise y'all that the hot rotel doesn't make this unbearable. It gives it a tiny, delicious kick that I'm fairly certain would be undetectable if you used mild or regular rotel. We don't make it any other way. If you have kids, I think you would be safe with the mild. It's totally your call.
Add ground beef to make it extra hearty!
PIN IT:

Enjoy!