Getting enough water is so important for your health, but it's not always easy to get those 8-oz glasses in. I'm sharing five easy tips to help you drink more water!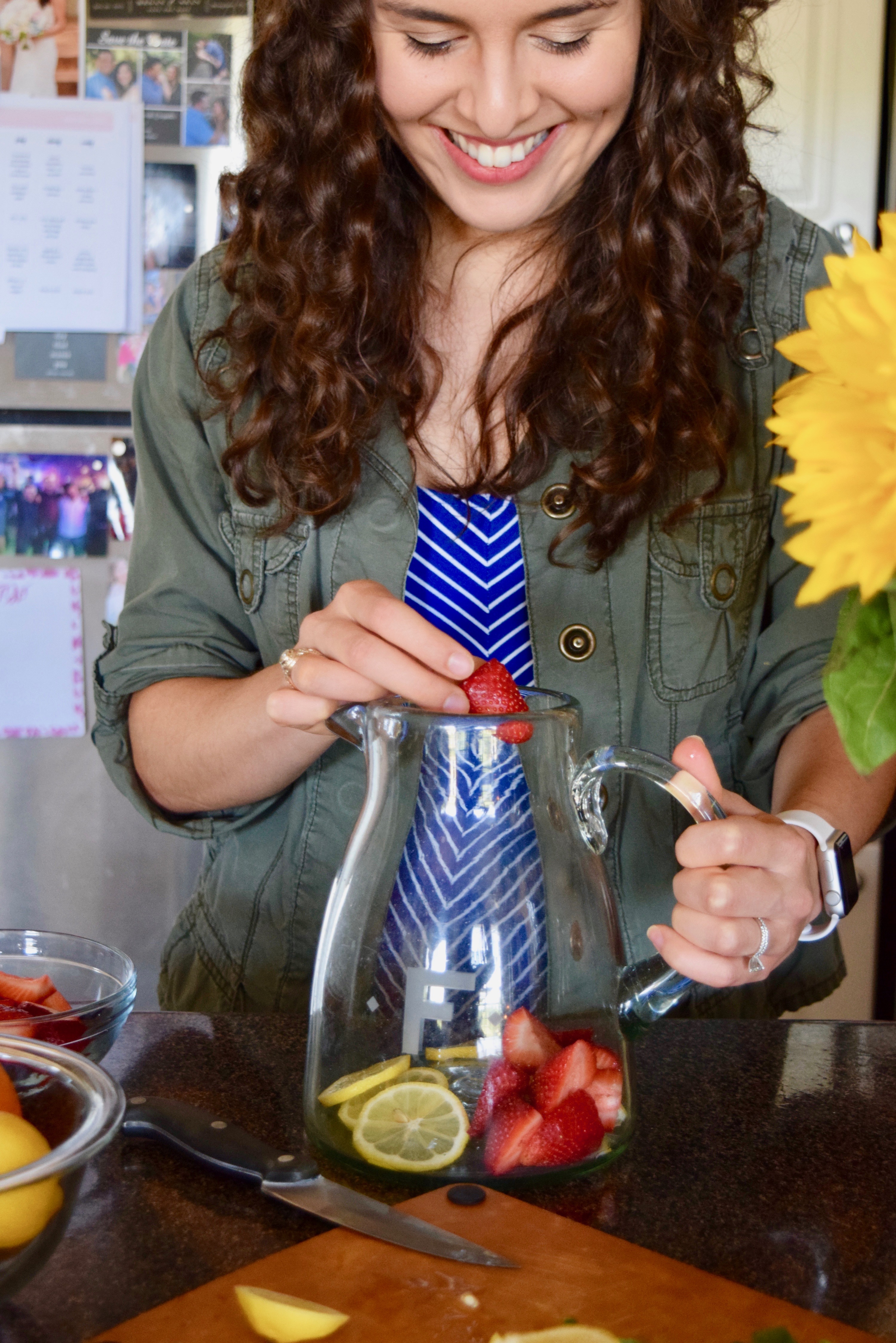 glass pitcher | cutting boards (the best!) | similar dress | similar jacket here
How Much Water Should You Be Drinking?
Healthcare and nutrition professionals tend to recommend 8-8 0z glasses of water a day, or 64 ounces. A secondary recommendation that has become more popular is to drink half your body weight in ounces. In that case, a 140-lb woman would drink 70 ounces of water in a day. Your goals may change depending on your activity level and personal health.
Why Do I Need That Much Water, Anyway?
Being properly hydrated has so many good health benefits.
Improves your digestion
Gives you clearer, more supple skin
Cleanses toxins from your body by improving your kidney health
Improves your cardiovascular health
Improves your metabolism
Combats fatigue
Improves your joint health
and so much more!
Terrible at getting that H20? Below are five easy tips to drink more water!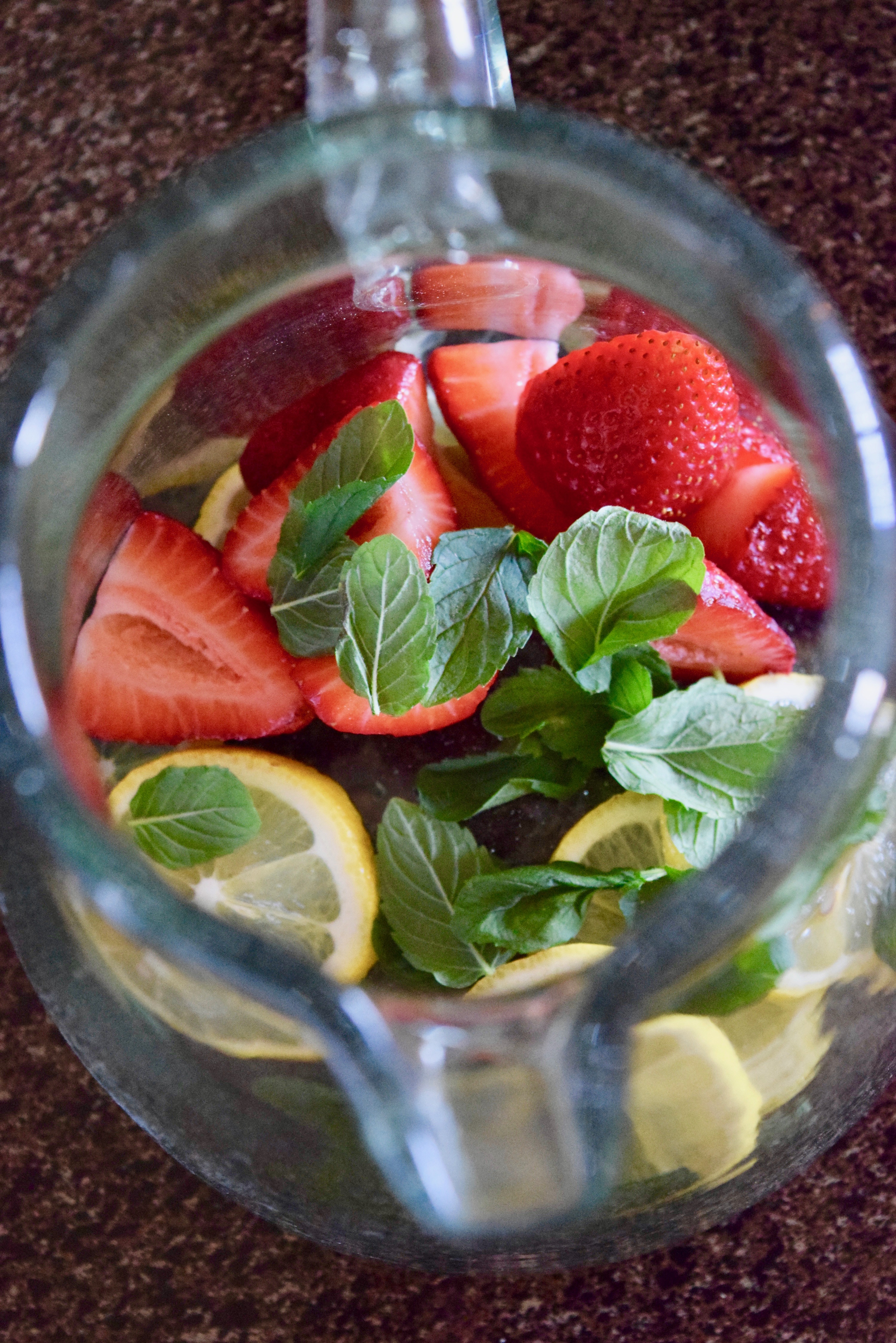 1. Sparkling or Infused Water
Sparkling or infused water is a great way to add flavor to your water and change things up! Sparkling water also satisfies that soda craving if you like carbonated drinks. A go-to for me is infusing my water with lemon and fresh mint from my patio garden. Here are some other delicious combinations!
Berries + basil

Lemon + mint + cucumber

Strawberries + lemon

Watermelon + mint (perfect for summer!)

Lemon + ginger
Not only do they make your water look pretty, but they taste yummy too!
2. A Cute Water Bottle
This sounds silly, but a cute water bottle will have you sippin' all day long. If you're a cold-water lover, try an insulated mug like this. This insulated stainless steel water bottle comes in a 40 oz size and is great for those on-the-go! I make it a goal to drink one water bottle before lunch and the rest after dinner. If you love patterns, you can't go wrong with S'well bottles!
3. Eat Water-Rich Foods
You also get water from eating foods that are high in water content. Try adding some of these to your diet to increase your water intake:
Cucumber
Celery
Strawberries
Cantaloupe
Oranges
Watermelon
Spinach
Bonus: all those foods are loaded with vitamins, too!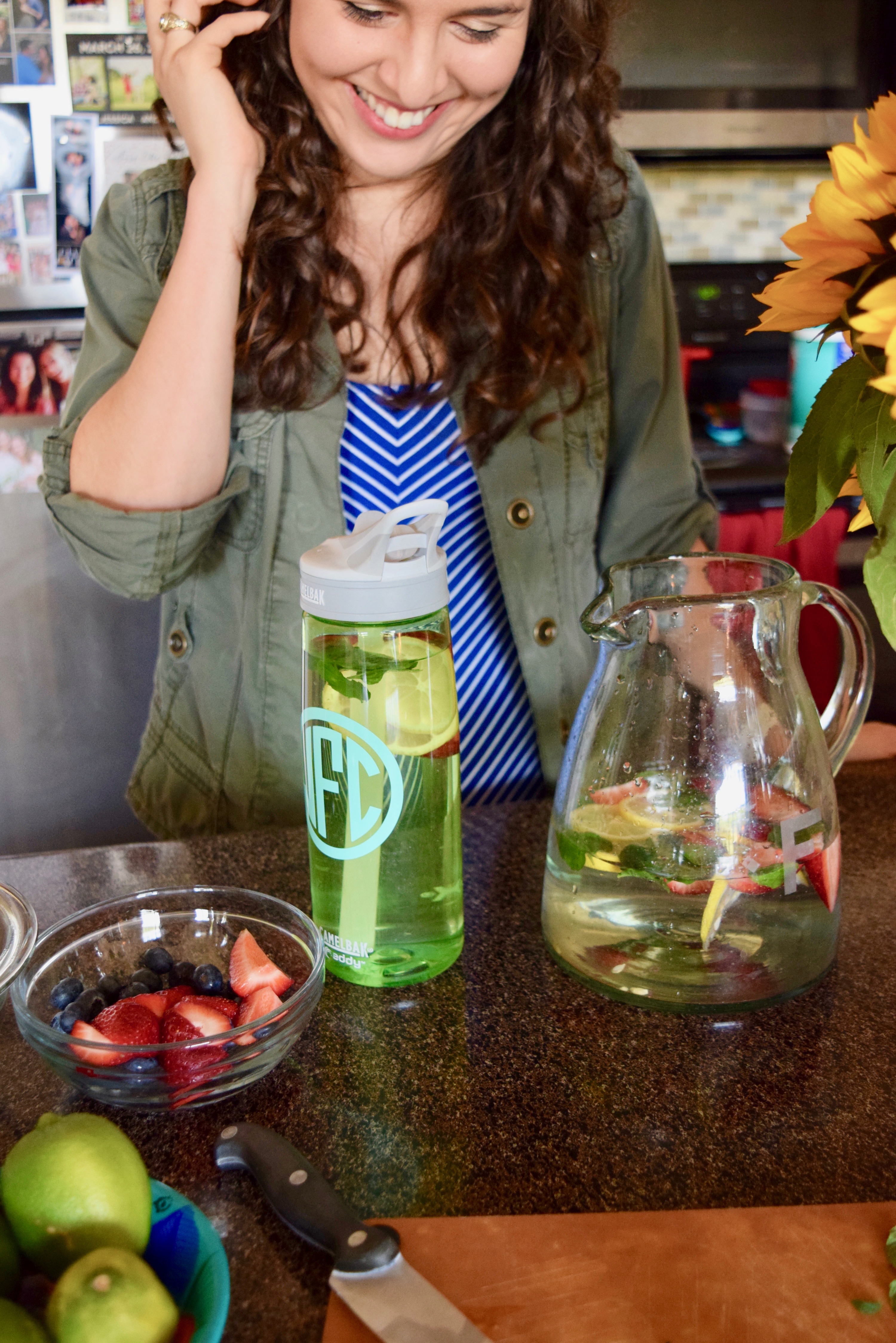 4. Set A Goal For Yourself
I love this water bottle because I know I should drink one full bottle by lunch, and another full bottle by the end of the day. It's a simple way to keep track of my water intake, and it ensures that I hit my goal each day.
Try to make it a goal to fill up your water bottle every 3 hours, for example. You can even keep a note on your desktop or a post-it to mark down your intake. It will feel good to track your progress and hit your goal!
5. Drink Before You Eat
Establishing a routine of drinking water before (or after) you do a certain activity is a great way to remind yourself to do it. You could drink a glass of water after each bathroom break, or before each meal. Whatever works best for you!
However you accomplish it, getting enough water is crucial for your health, and you'll be glad you got your sips in! 😉
I hope these tips have helped! Thanks for stopping by!