This post contains affiliate links. That means if you click or make a purchase, I make a little cash at no extra cost to you. I'll probably use it to feed my dog. Thanks for feeding Sadie. (Don't worry, she gets food regardless)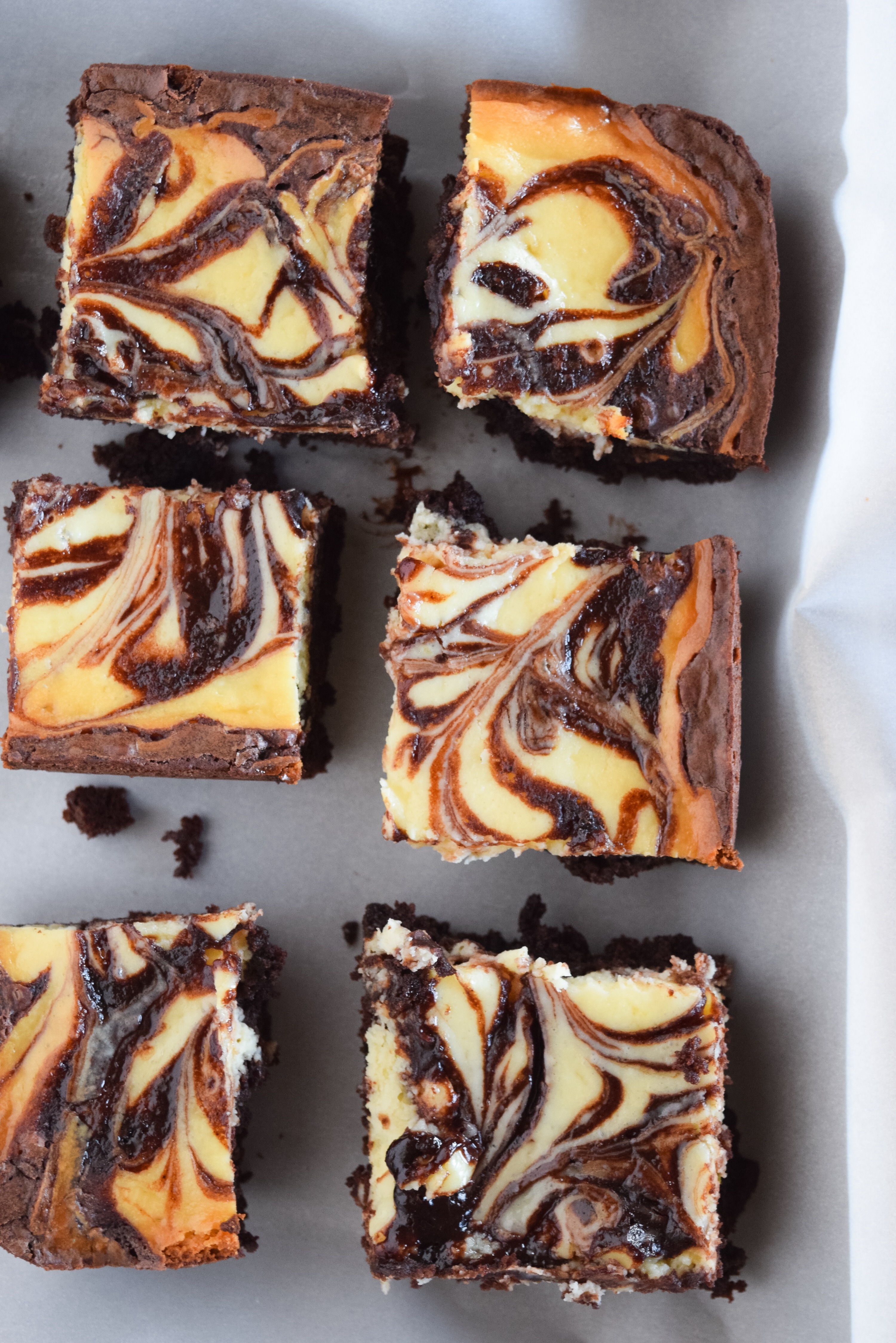 There are some things in life that I refuse to make from scratch.
I'm sure brownies from scratch are delicious, but I have laundry to be done and a messy living room and a dog that needs some lovin' and a life that needs to be lived and boxed brownies will do just fine thankyouverymuch.
These cream cheese swirl brownies are possibly my favorite variation of brownies in all the land. Even better- the cream cheese topping only uses THREE ingredients. All about simplicity here, people😉
These would be so cute in little heart molds for your kiddos to take to school for Valentine's Day or a party! Or, just for your girlfriends😉 I've rounded up the CUTEST valentine's day baking tools and gifts below.

Cream Cheese Swirl Brownies: What You'll Need
Your favorite boxed brownie mix (I swear by this Ghiradelli Triple Chocolate mix. I buy it in bulk, people)
Cream cheese
Vanilla extract
Egg
Sugar
8×8 dish (I love the square one from this Pyrex set because it has a lid, so I can just pop it on and be done with it rather than having to deal with transferring the brownies to a Tupperware)
If you want to make your brownies from scratch, I promise not to roll my eyes at you. I'm sure they're delicious. You can send me some and I'll taste test them, ok?
There are many things I like to make from scratch, but sometimes you need the ease of a good ol' boxed mix. Like mac and cheese. And gooey, fudgy brownies. Clearly I've got comfort food on my mind, y'all.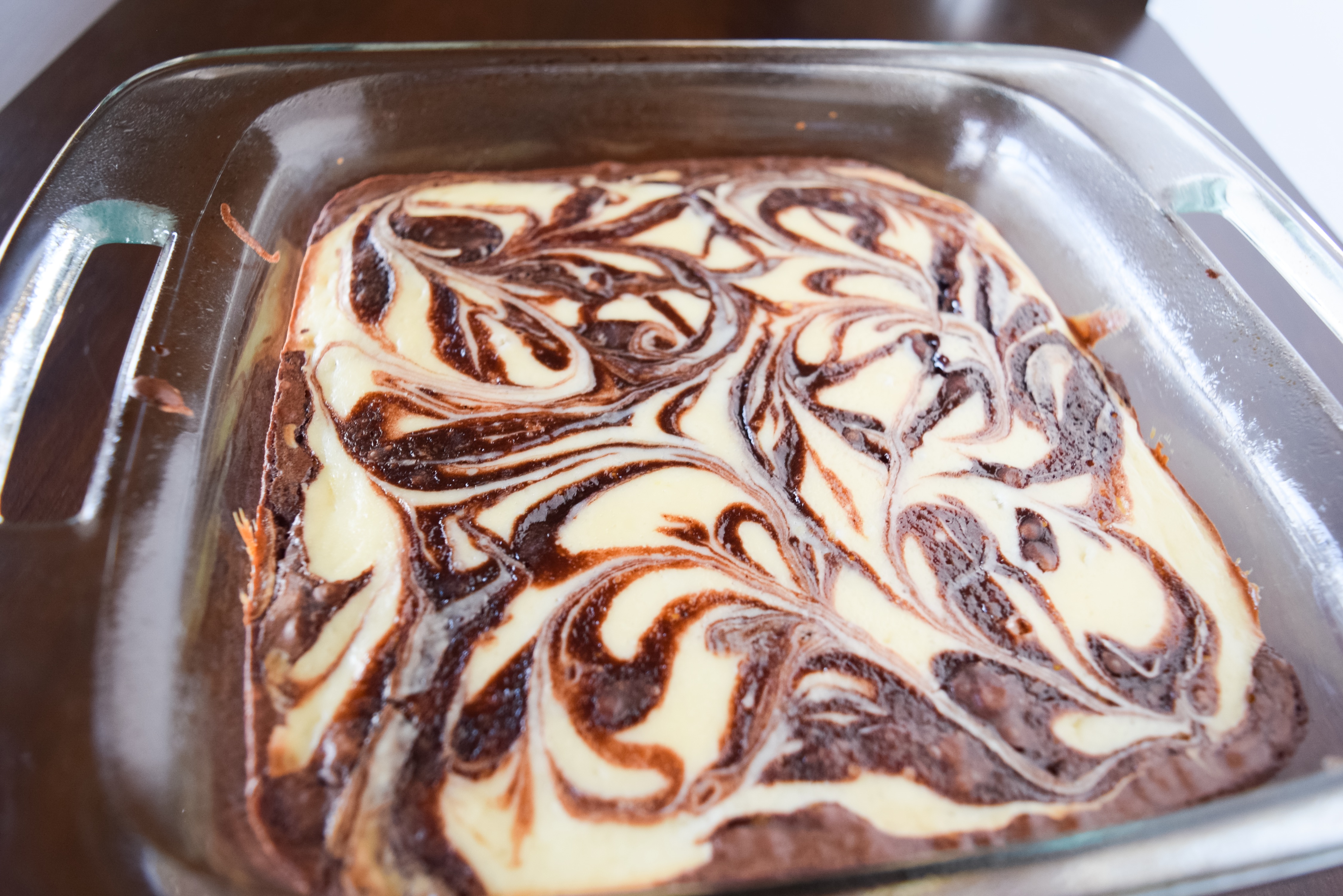 How To Make Cream Cheese Swirl Brownies
Prepare your brownie batter as normal, but reserve about a cup of it (SO IMPORTANT). Pour into a greased 8×8 pan.
Next, our the cream cheese mixture over the top of the brownies.
Then, drizzle the reserved brownie mix on top. You don't have to be precise- you're going to swirl around the cream cheese anyway. Be careful not to swirl too much, because the cream cheese will mix with the brownie and start to turn brown. You'll lose the pretty contrast of the dark brownie and the white cream cheese.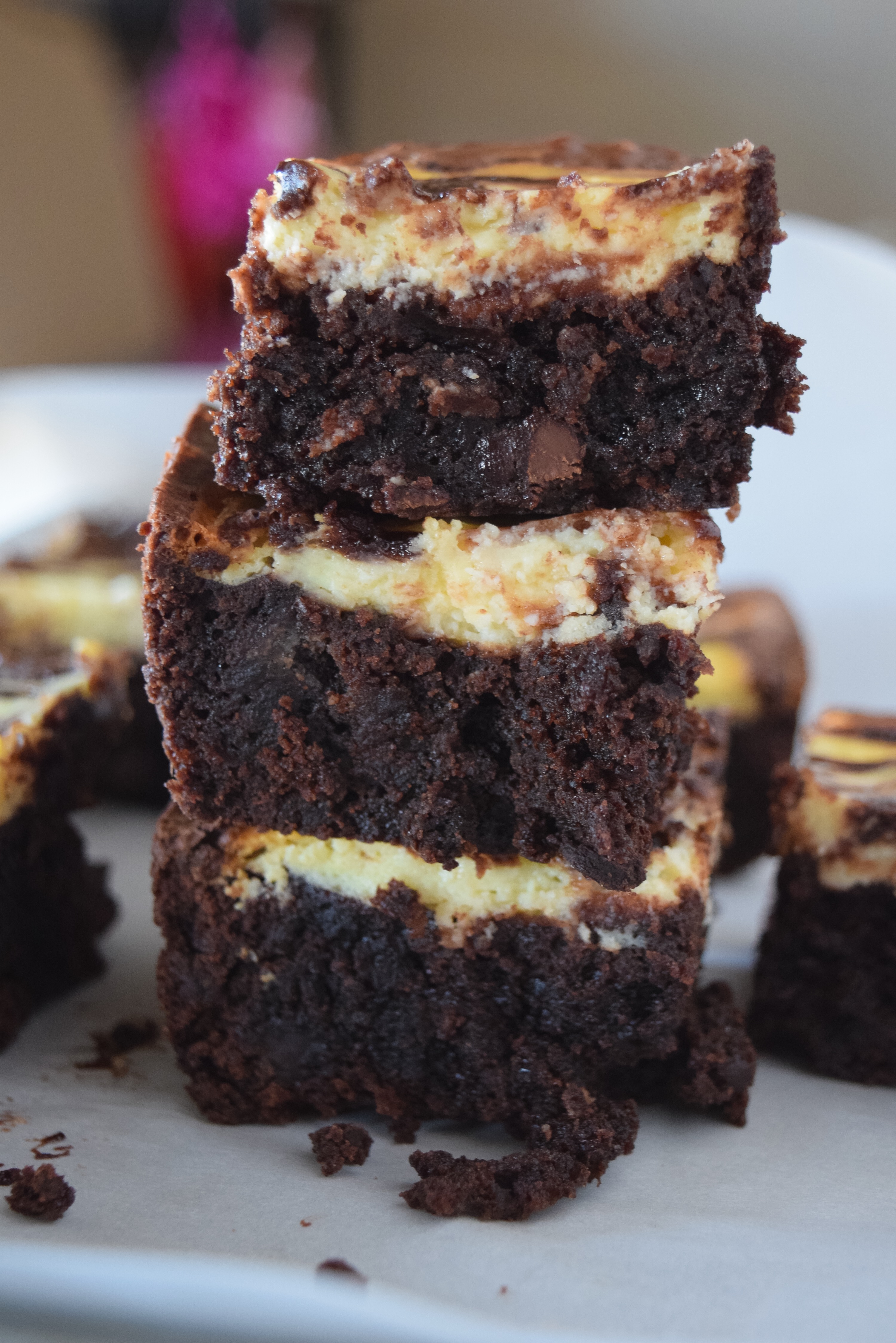 Makes 9 (thick) brownies. For more, use a 13×9 dish and double the brownie mix. See notes.
Prepare the brownies as directed by the box.

Reserve about a cup of the brownie mix before pouring the rest into a greased 9×9 dish.

In a separate bowl, blend together the cream cheese, egg and sugar mixture.

Pour the cream cheese mixture across the surface of the brownie mix.

Pour the reserved brownie mix over the cream cheese. It doesn't have to be neat- you're going to do the swirls after this.

Using a toothpick or knife, gently swirl the cream cheese mix around into the mix.

Bake for the amount of time directed on the box + 25 minutes*
I don't like the cream cheese topping to be TOO sweet, so I used 1/4 cup of sugar. If you're unsure, mix together the cream cheese and sugar FIRST, then taste it. Add more sugar if you'd like. Then mix in the egg.
It made 9 brownies because I used a 9×9 dish for majorly thick brownies. You can just as easily do it in a 13×9 dish, just use two brownie mixes and double the cream cheese mixture.
The cream cheese topping added about 25-30 minutes to the box recommended cook time because the brownies were so thick. I would cook it for a little over what the box says, and check it. If you're worried about the top getting too cooked, simply tent some foil over the top.
Enjoy!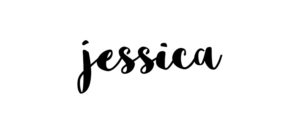 PIN IT: