Make your own flavorful vegetable stock at home by using bits and scraps from vegetables! Perfect as the base for soup, to cook quinoa and rice, and more.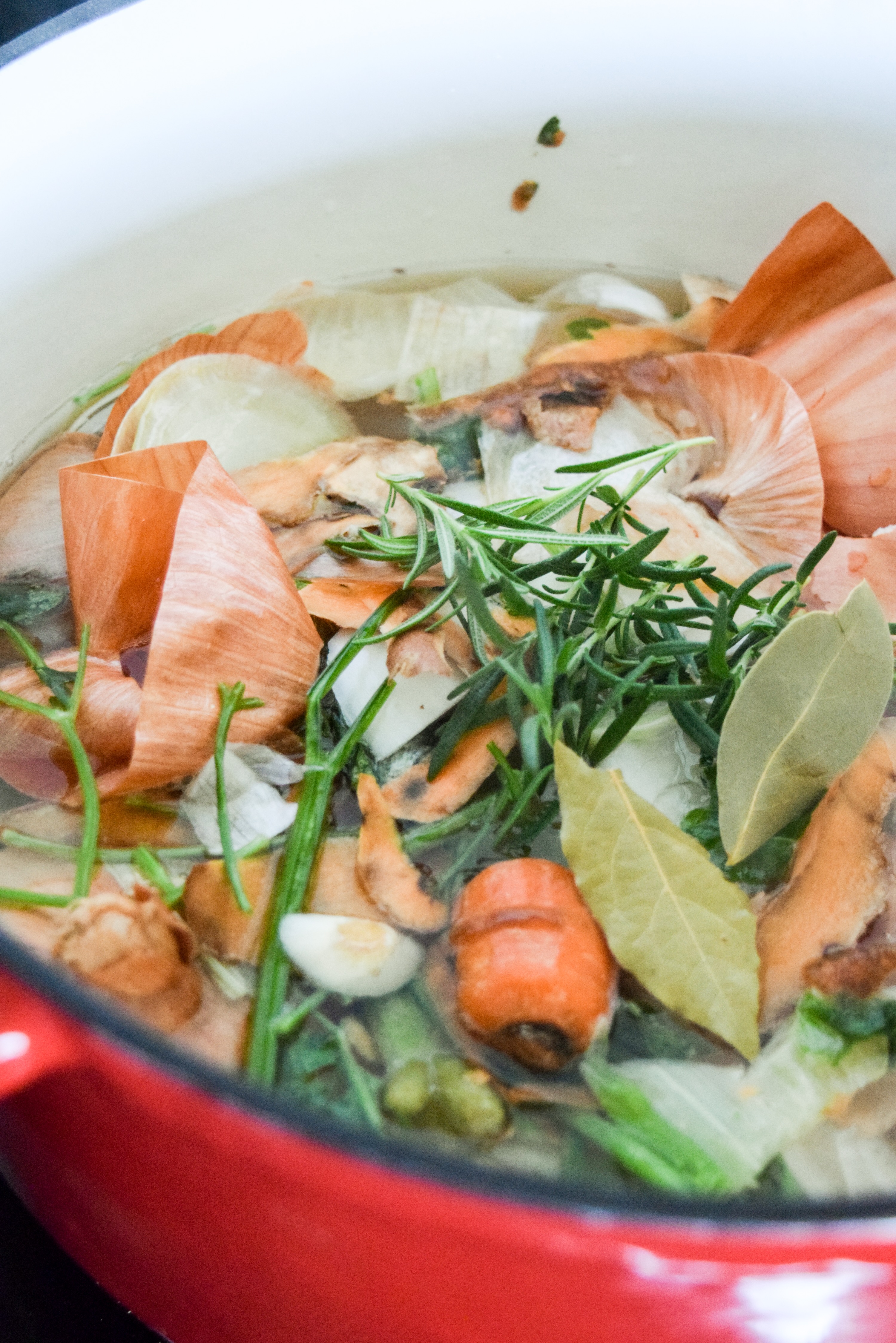 There's something about making vegetable stock from scratch that makes me feel so resourceful. It starts out as water, and 30 minutes later you have stock. It's no turning water to wine, but it is pretty darn cool. It's such a great way to use the odds and ends from vegetables instead of throwing them out!
What You'll Need
The easiest way to save up enough vegetable scraps to make the stock is to simply keep a freezer-safe bag in the freezer and fill it up any time you have scraps. I'll confess- I made this in May and some of these scraps were from when we made dressing from scratch for Thanksgiving! You'll need 2-3 cups of scraps for 8 cups of broth.
You'll want to use common sense when saving your scraps. Things like carrot peel, celery bits, onion skin, mushroom trimmings, parsley stems, and garlic peel will all add great flavor. Stay away from cruciferous scraps like broccoli, cauliflower and brussel sprouts as they will give your broth a bitter taste. Also, be sure your scraps are clean and free from things like dirt and mold. You will be eating this, so it's not the same as a compost where you can throw anything in.
What To Use It For
Anywhere in cooking where you use broth or stock, you can substitute this homemade stuff! As soon as I made it, I used it as the base for my quinoa and it added such great flavor. Try it when making rice, or use it as the base for a chicken or vegetable soup!
How To Make Vegetable Stock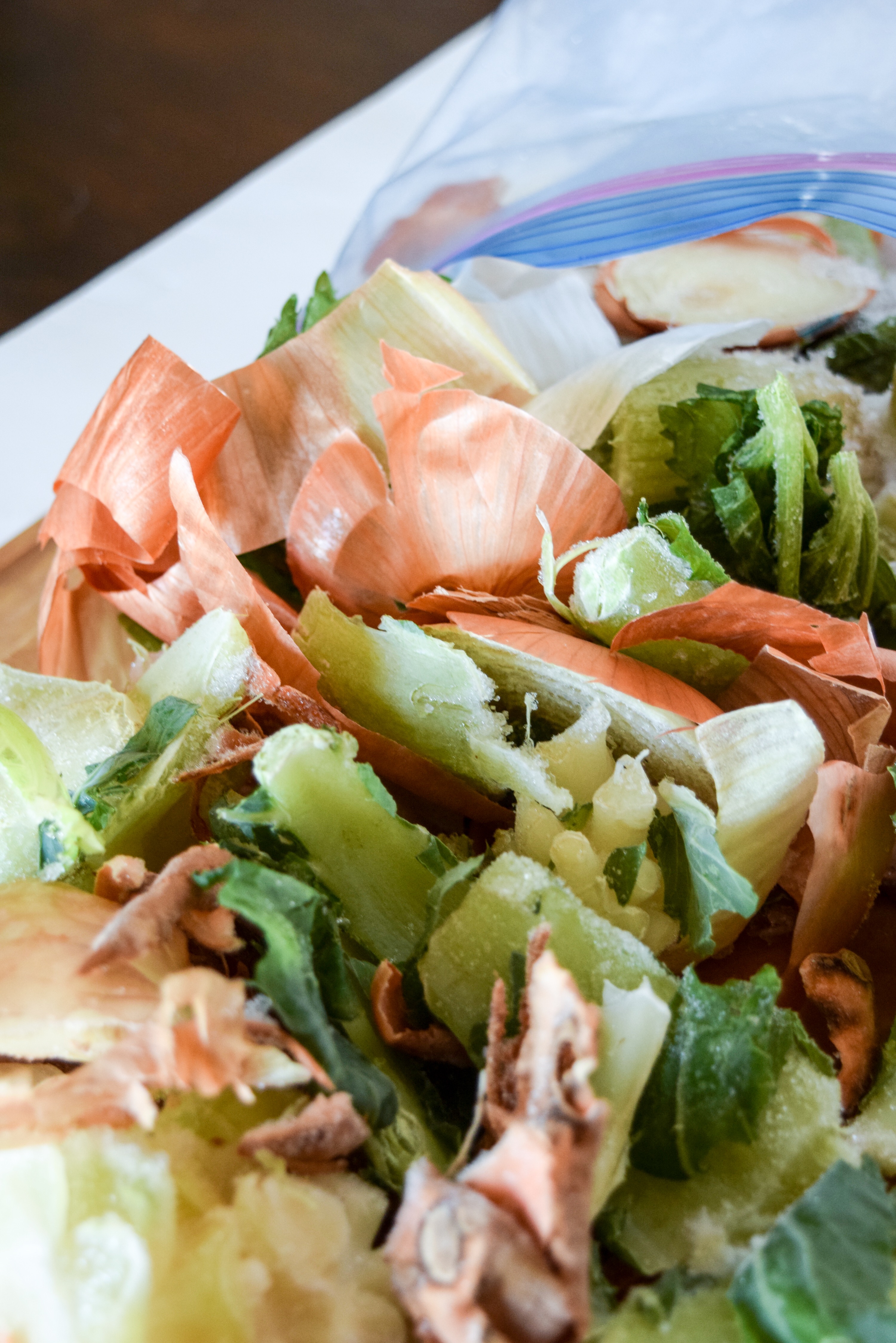 Pull the vegetable scraps bag out of your freezer. The "no cruciferous veggies" rule was something I learned later, so I pulled out those cauliflower parts before making the stock. You'll need 2-3 cups of scraps for ~8 cups of broth.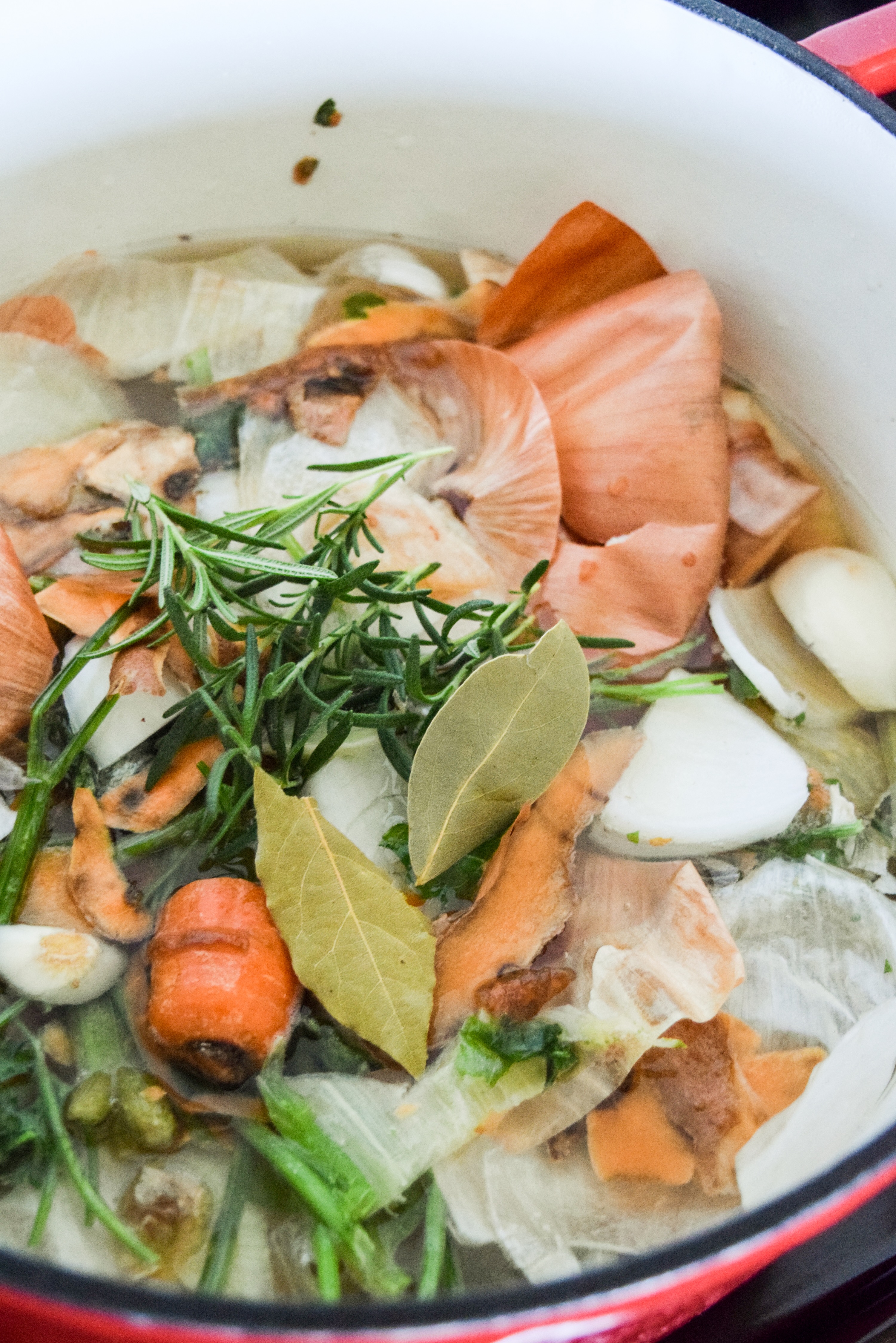 Add 8 cups of water to your dutch oven pot along with 2-3 cups of the vegetable scraps. For extra flavor, you can add in fresh onion, celery, garlic, bay leaves, a little olive oil, and a few sprigs of thyme or parsley. Anything you have on hand will work! I used some rosemary from my patio garden.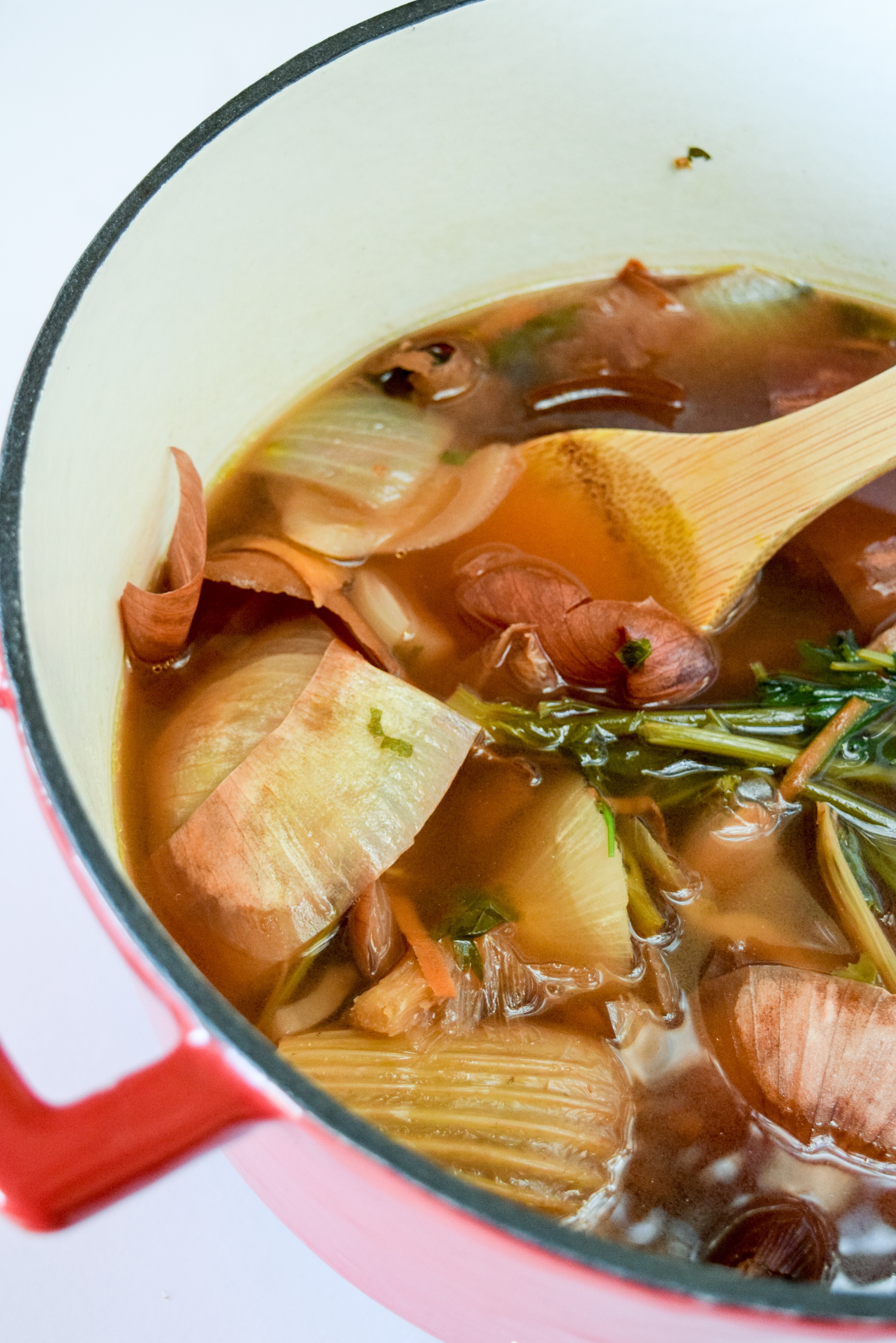 Bring to a boil then reduce to a simmer, covered, for 30-45 minutes. Allow to cool. Filter your stock through a fine mesh strainer, and you're done! Keep in mind that this vegetable stock has no preservatives, so you should freeze it immediately or use within 3 days. I like to freeze mine in 2 cup portions so I can pull it out for a recipe as needed.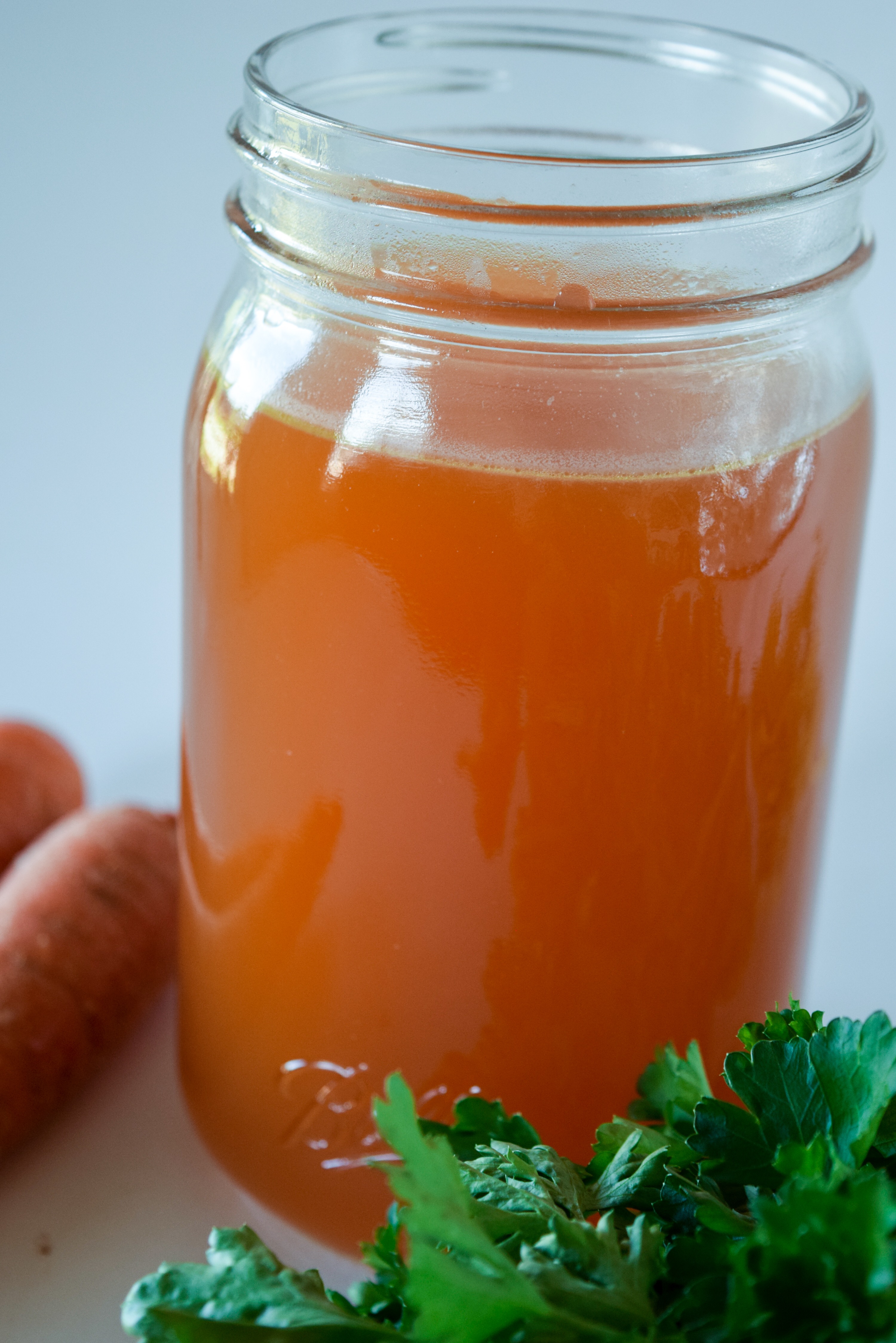 After filtering, you will have about 7.5 cups of stock. The vegetable scraps soak up the other half cup as they're simmering.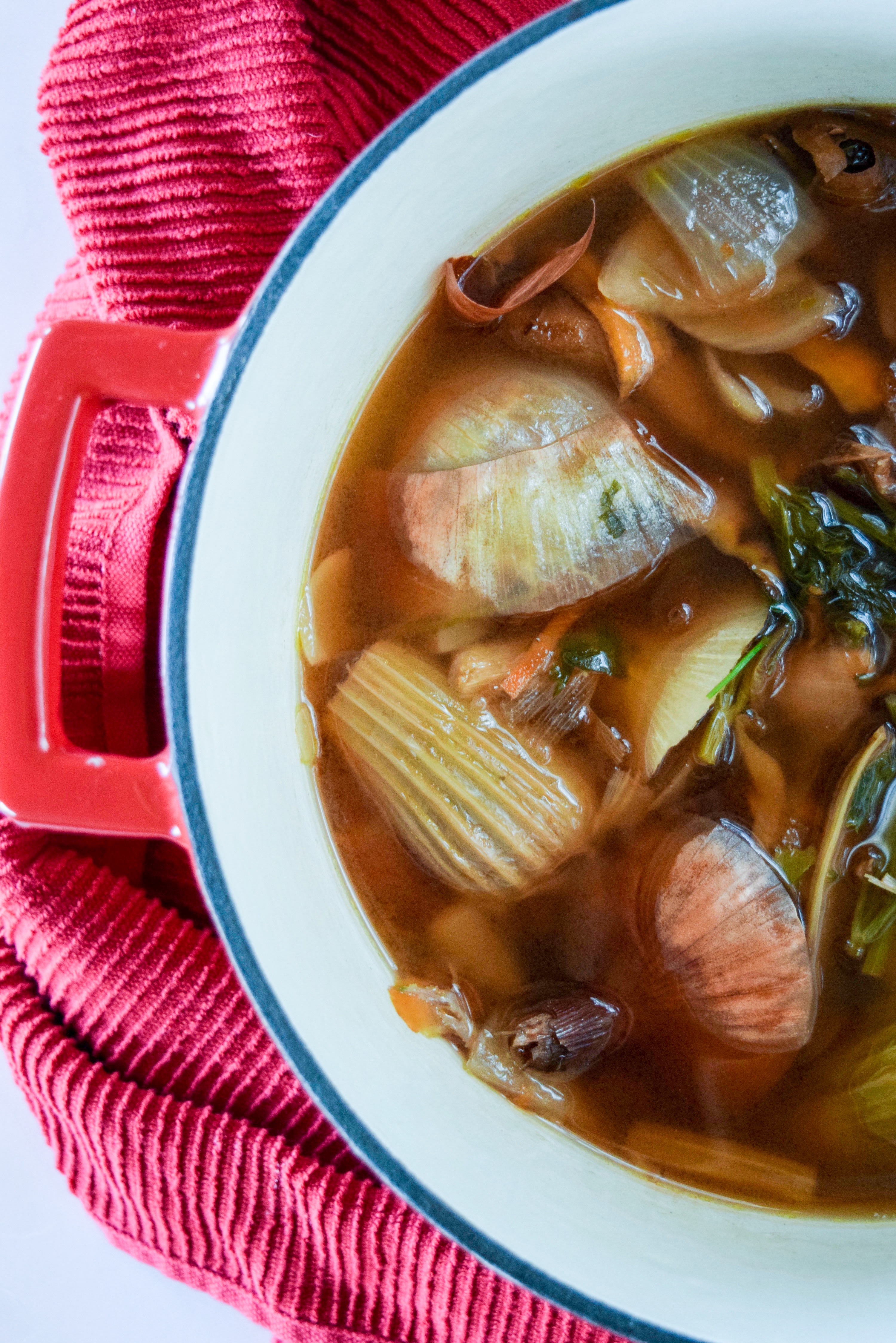 Enjoy!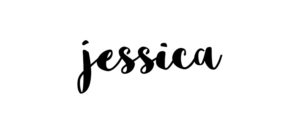 Related posts: