This 5-Minute Easy Walnut Pesto is a simple, flexible recipe when you need pesto ASAP! It's delicious on pizza, as a dip for vegetables, spread on chicken kabobs, and more!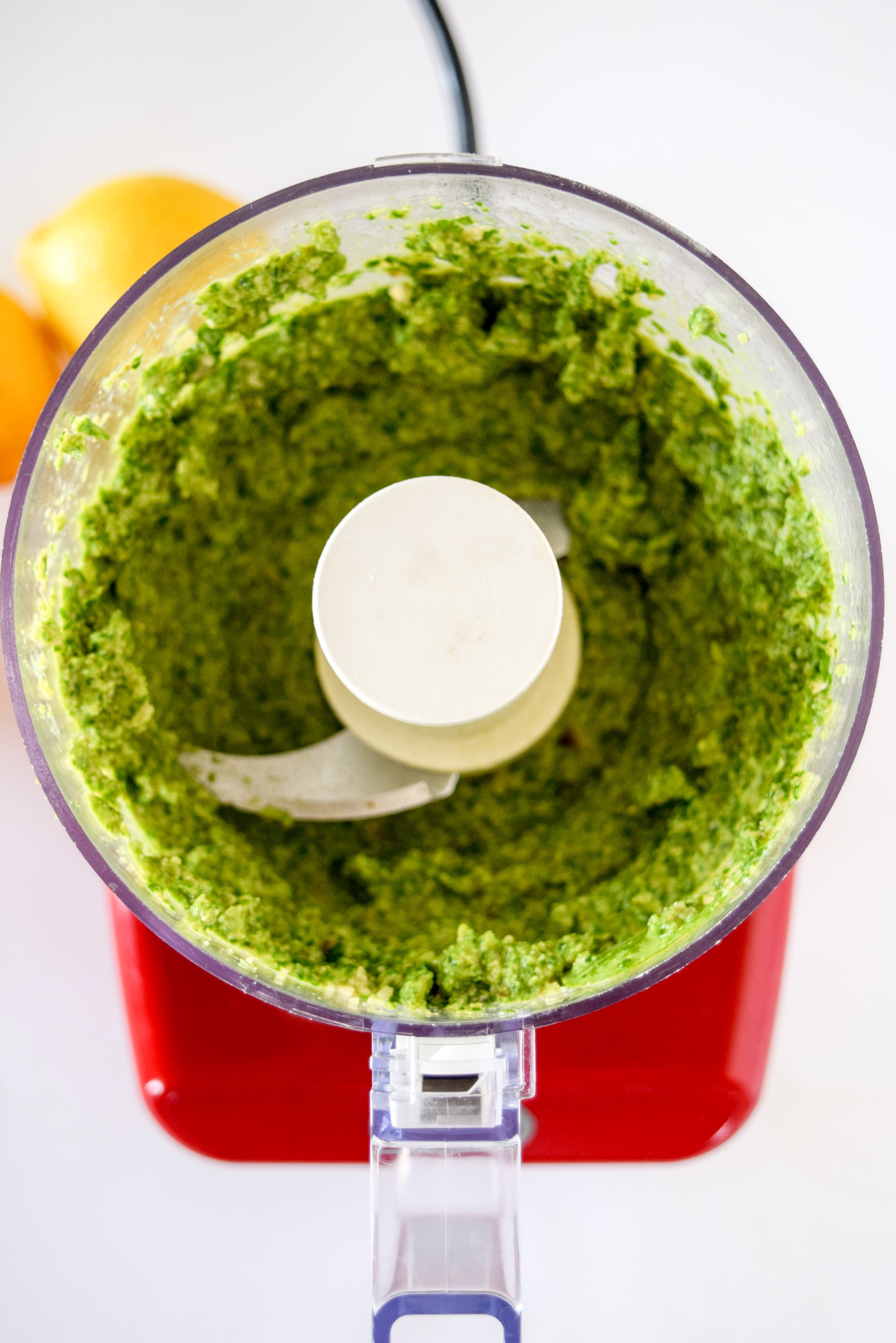 I used to be so intimidated by the thought of making homemade pesto. Those pine nuts that every recipe seemed to call for cost as much as the naming rights to your first child.
Over time, I experimented with different combinations of nuts and greens to find a flexible, EASY pesto recipe that I could throw together in a hot minute. Because when you spontaneously decide it's pizza night, you need pesto pronto. (Anyone else love pesto over the traditional tomato sauce?)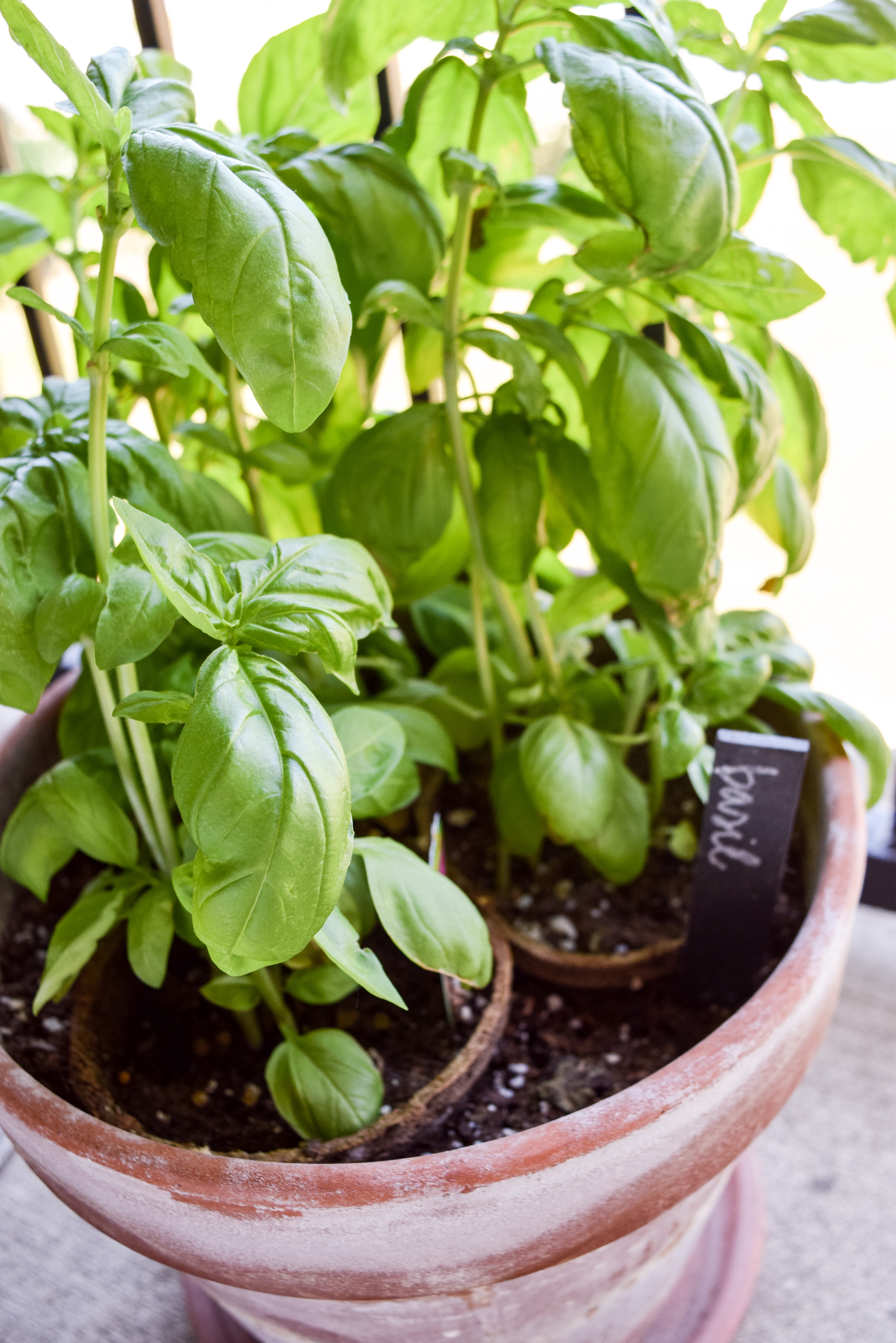 As flexible as this recipe is, there is one thing that's a must have: basil. I love it so much that I bought three basil plants this year for my garden. There's just nothing like the taste of fresh basil in a pasta dish, on pizza, or in this pesto.
If you have the farthest thing from a green thumb, I promise you can still grow basil. The more you prune it, the more it just explodes. You can read all about how to plant and care for basil in my post about starting your own patio garden. 
When I have extra basil on hand, I whip up a batch of this and freeze it flat in a ziploc for easy use!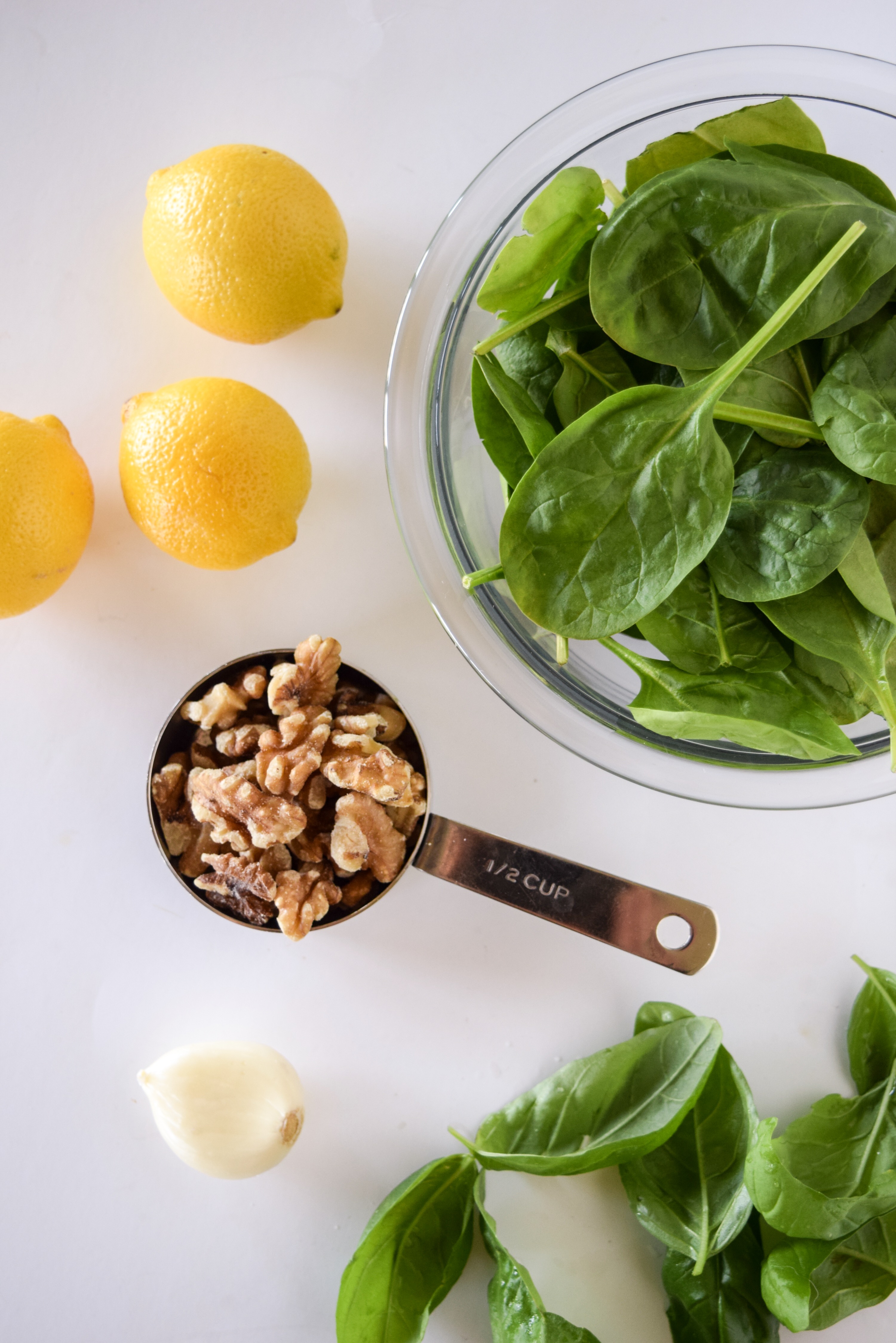 What You'll Need
First, the must-haves:
Basil
Lemon
Good quality olive oil
Water
Garlic
Pinch of salt
Now, the flexible ingredients:
Spinach or kale
Walnuts or almonds
Why are they flexible? The spinach/kale is more like a filler to give you more pesto without using your whole basil plant. Lucky for us, a little basil goes a long way. Therefore, you can stretch it by adding spinach or kale without adding weird flavors.
The nuts are totally a personal preference, or what you have on hand. I honestly don't notice much of a difference between pesto made from almonds and pesto made from walnuts.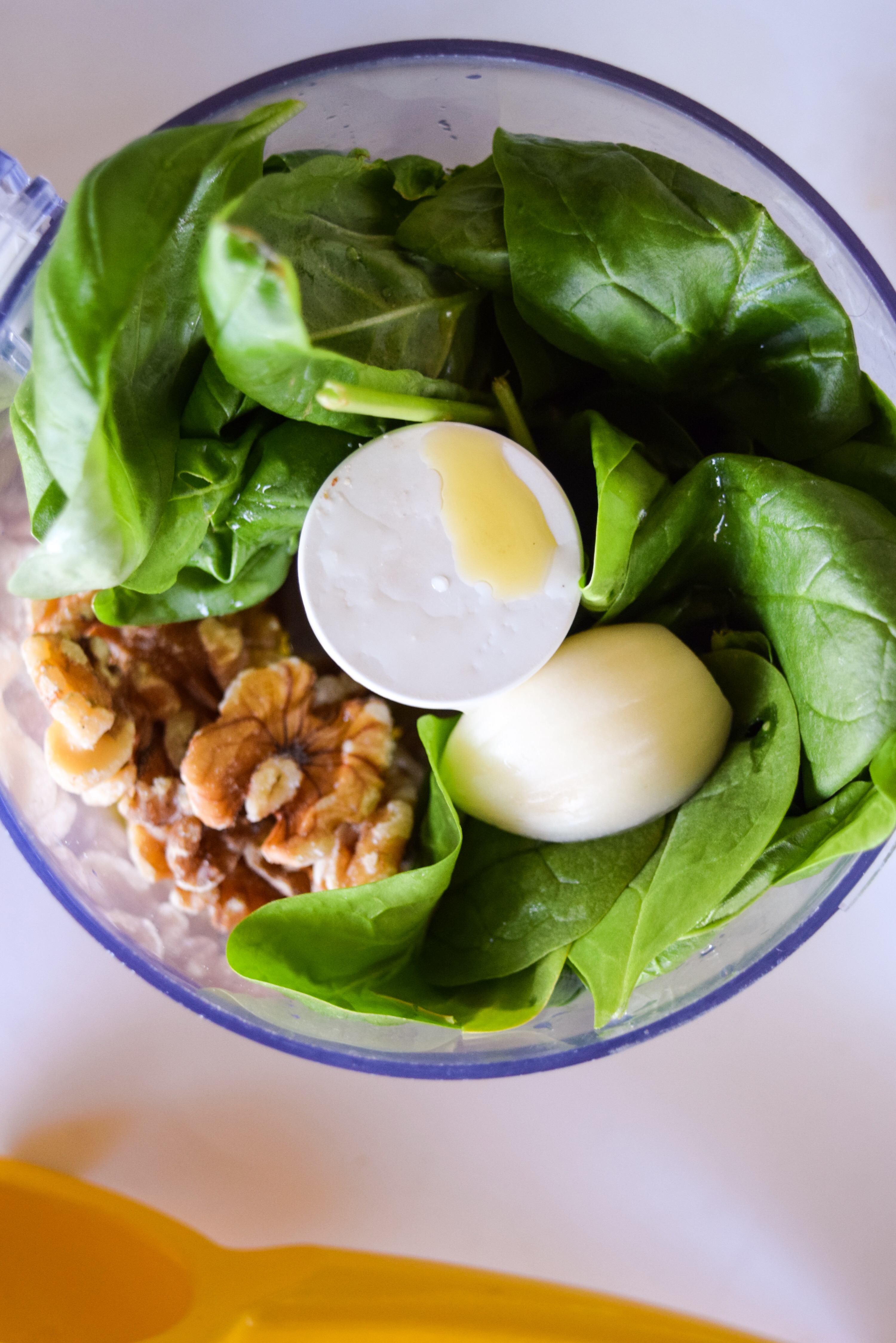 Pesto Ingredients, Assemble!
(Transformers, anyone?) Add in the garlic cloves, basil, nuts, olive oil, and lemon juice. If you don't have this tool for squeezing lemon and lime juice, you're missing out. It's SO worth a spot in your kitchen gadget drawer.
I'm going to be honest with y'all- as far as the spinach/kale goes, I add it last and stuff as much as I can in. It's about 2 cups, but I just want you to know you don't have to measure. Just go for it, y'all.
Pulse it all in your food processor until it's nice and smooth. If it needs some more liquid, add in water 1/2 tbsp at a time until you get the consistency that you want. I usually add about 2 tbsp.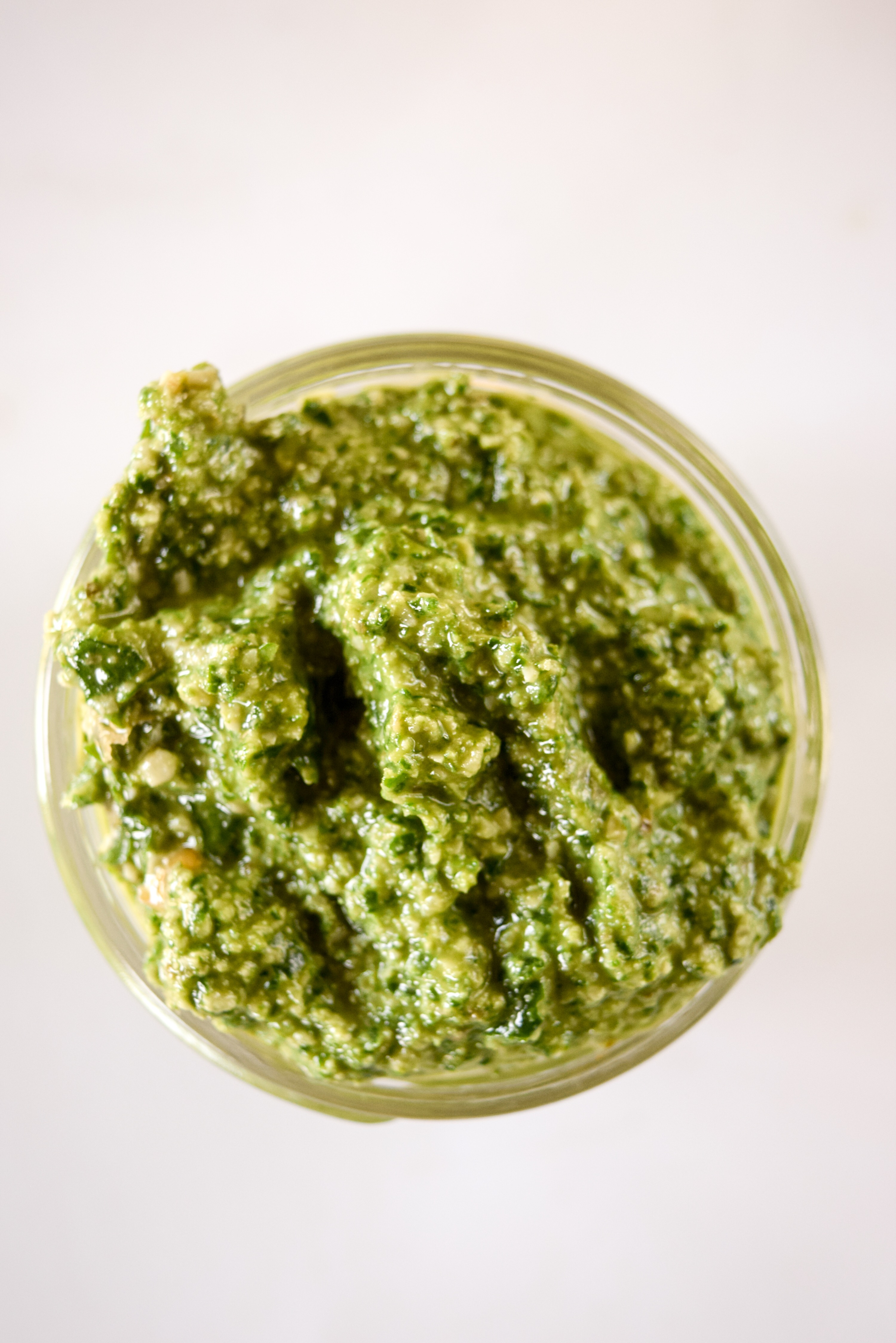 Done in five minutes and ready for all your pesto needs!
PIN IT:

In a food processor, combine all ingredients and pulse until smooth. Add water 1/2 tbsp at a time for a smoother consistency if needed.

Freeze or store in an airtight container for up to 5 days.
Thanks for reading!