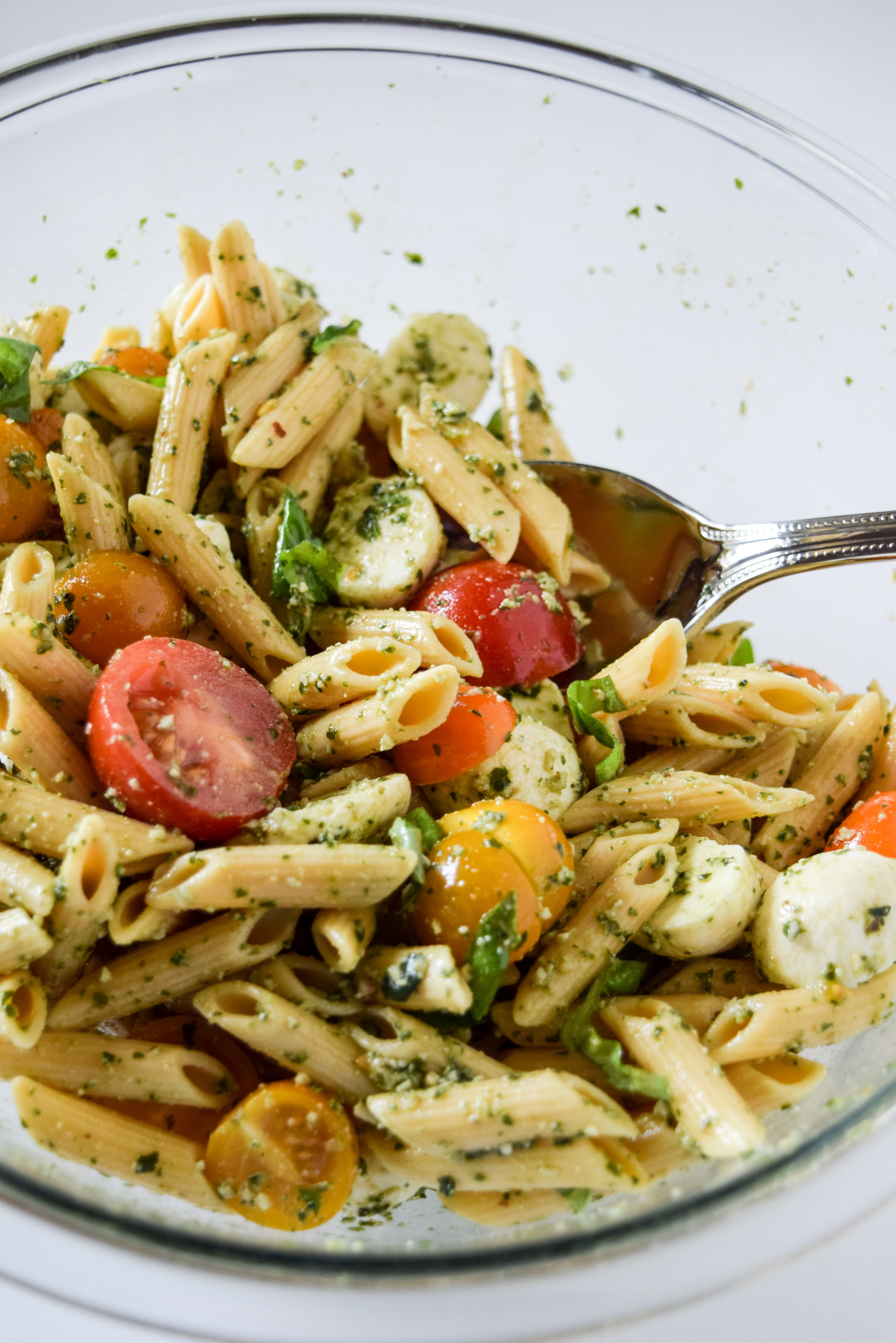 Pasta salad is not my thing.
Ok, it used to not be my thing.
Cold pasta?
Ew. no.
I want my pasta hot with marinara and some meatballs, please.
Then I walked into a store that had samples of a pesto pasta salad, and my life was changed. I'm not kidding- I actually stopped walking, turned around and looked at the display, and said "Wow."
I knew I had to recreate this life-changing pasta salad, and today I bring you said magical salad.
It's simple, it's easy to make, and it's perfect to take to a summer BBQ.
Affiliate links used.
Y'all know I rarely make things without putting a healthy twist on them, so here's the secret to this one:
Chickpea pasta.
Hear me out- you can't even taste the difference. Banza pasta is gluten free, low glycemic index (it won't spike your blood sugar), and loaded with twice the fiber and four times the protein of regular pasta. Count me in!
You can find it at Target, Whole Foods, Central Market, and similar grocery stores. This tool will help you find it near you.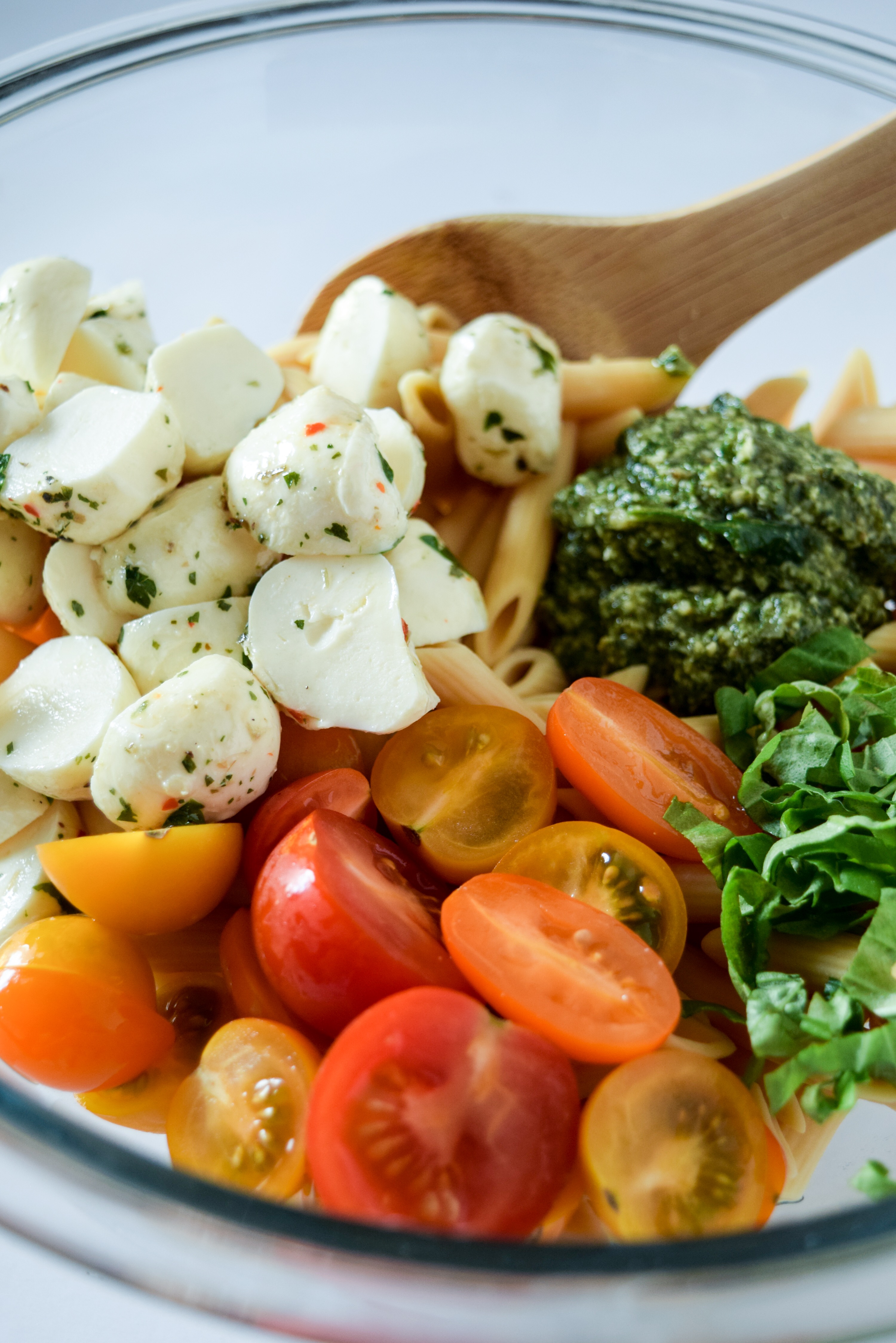 The Ingredients
Y'all know I always give the low-down on the ingredients in recipes. Here's the deets on this one:
Cherry tomatoes
Fresh basil
Mozzarella balls
Let's talk about the mozzarella balls for a second. We get ours from Costco which come in a deeeeelish marinade. You can just as easily get plain ones and toss those in! The pesto packs a punch of flavor, so there's no need to add extra olive oil or seasoning.
If you need a quick recipe, try this five-minute walnut pesto! I make extra during the summer and freeze it to use on pizza and pasta dishes later on.
P.S., If you're growing your own basil, this post has some tips on keeping a patio garden as well as getting the most out of your basil plant!
PIN IT: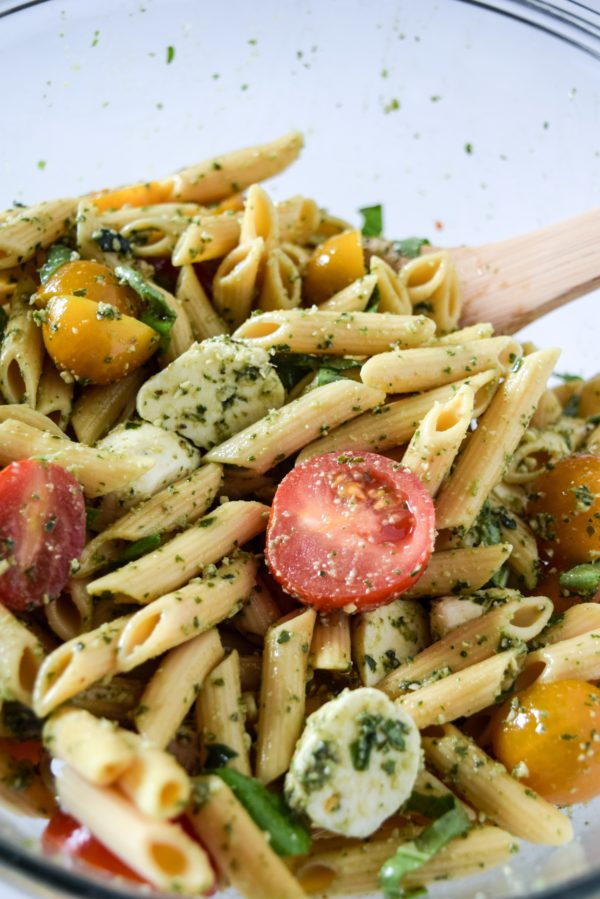 | | |
| --- | --- |
| | |
Cook pasta according to package directions. Set in fridge to cool.

In a large bowl, combine all ingredients, and place in fridge to chill for at least an hour. Serve and enjoy!
Happy pasta salad making!