One cutting board. One muffin tin. Breakfast for a week. These egg white muffins are take ten minutes to make and filled with protein and veggies!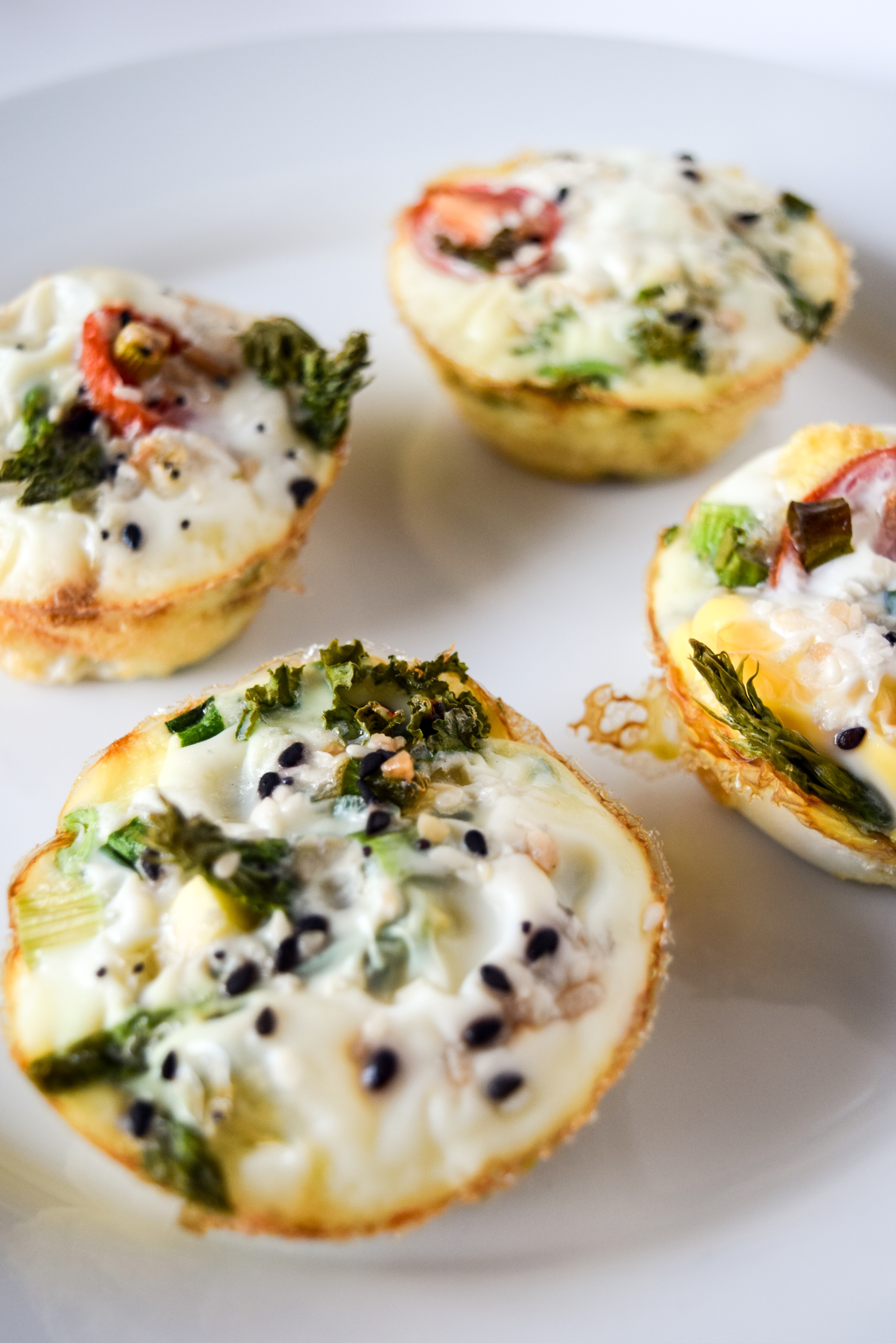 Affiliate links used.
Everyone loves a healthy breakfast that they can grab and head out the door.
Does everyone love spending hours meal prepping?
No.
No we do not.
Enter: these egg white muffins. I just finished a NINE WEEK fitness challenge (Some of you may know it: the Tone It Up Bikini Series). Each Sunday I dedicated at least an hour to meal prepping muffins, overnight oats, salads, chia seed pudding, you name it.
Don't get me wrong- I loved it. Rather, I loved how easy it was to make healthy choices during the week. I love that snacks were prepped for me and all I had to do each morning was grab and go.
This past Sunday was the first Sunday in nine weeks that I didn't have to meal prep an extensive amount of food.
Naturally, my "to meal prep" list consisted of whatever required the least amount of work.
And so the lazy girl's egg white muffins were born.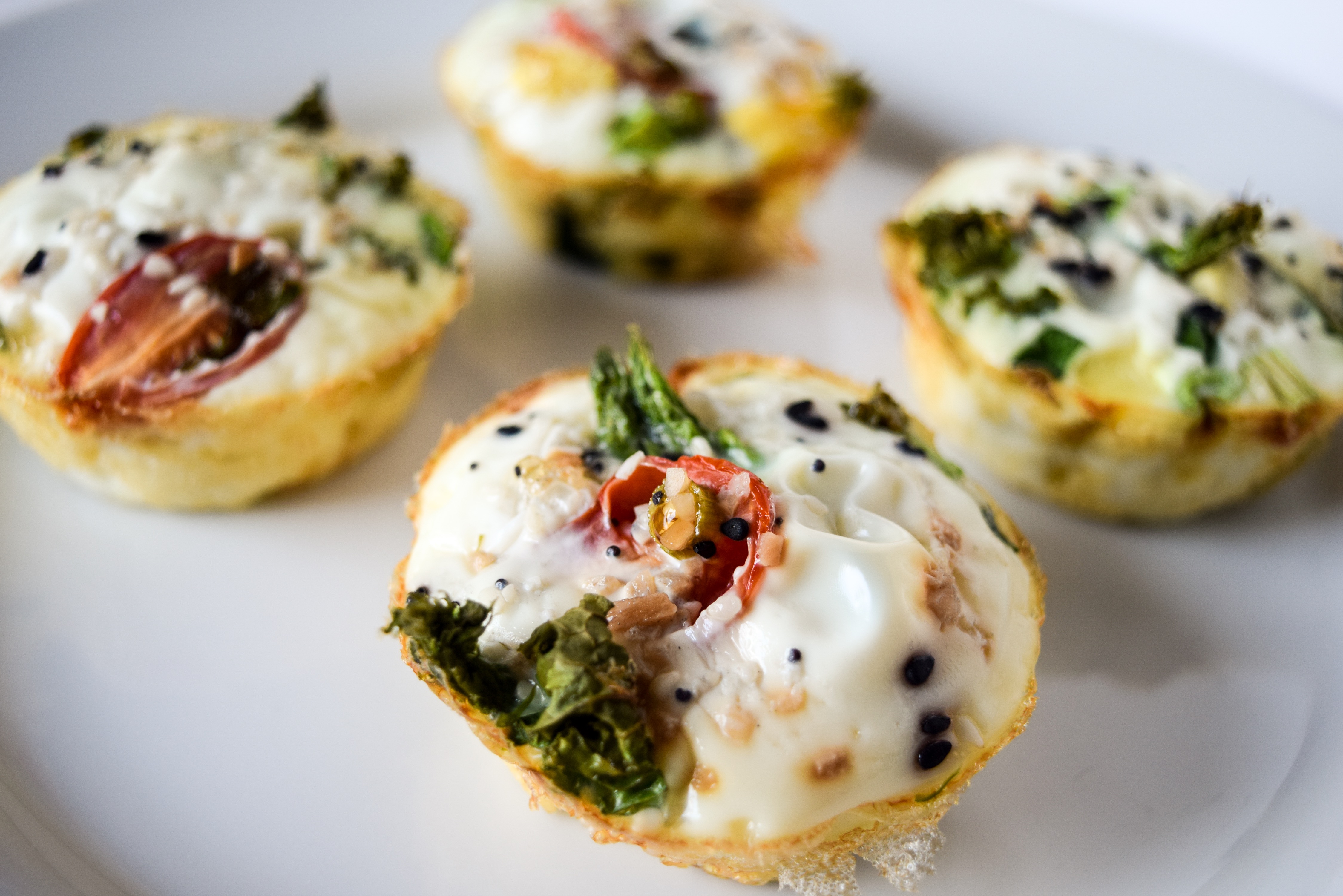 Here are the deets:
Throw chopped veggies of choice into greased muffin tins.
Crack an egg white into each well.
Add a little extra liquid egg white from a carton if desired.
Top with a pinch of salt and pepper. Or Trader Joe's Everything But The Bagel Seasoning (Please do that. Please.)
Throw in the oven.
That's it. The most complicated part is chopping the veggies. These had a mix of kale, cherry tomatoes, onion, asparagus and zucchini.
The best part about these is that you can use any veggies you have left in the fridge. You can even make them all different. Here's a shot of me making them on Sunday from my instagram story: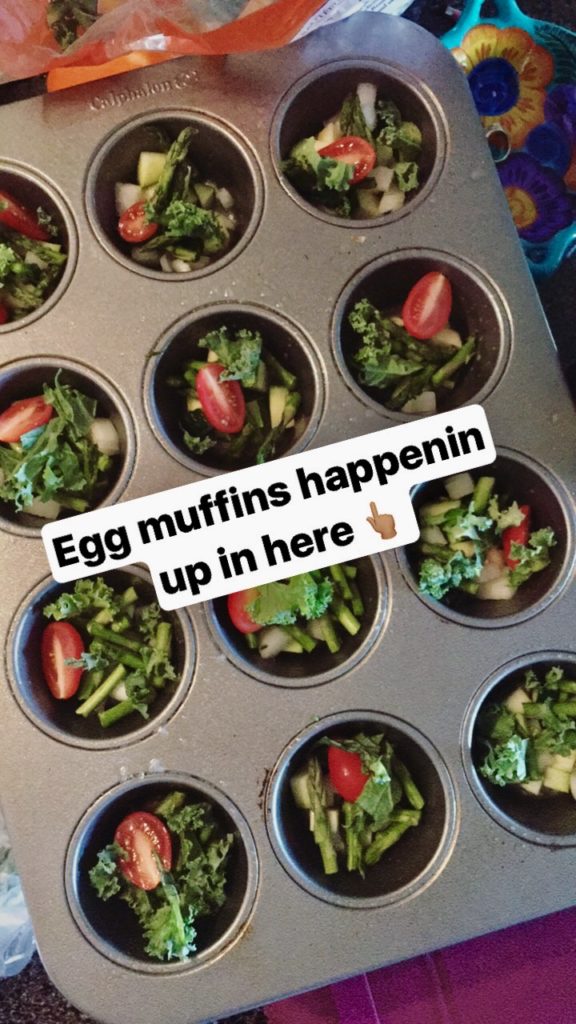 I store these in the fridge (please do that) and warm up two with a slice of avocado ezekiel bread toast for breakfast in the morning. Topped with sriracha, of course!
Notes On The Lazy Girl's Egg White Muffins
Personally, I don't care for the taste of the egg whites from a carton on their own. We buy eggs by the two dozen at Costco for a few dollars, so I feel comfortable using only the egg whites from those. Then, I add a little from the carton for extra filling. Making them this way is the only way I've found that I don't get that sponge-y texture that sometimes comes with egg muffins. It gives me the heeby jeebies.
Having a great non-stick muffin tin is essential for baking. We love this basic one. (great budget option here.)
If you want to, crack the whole darn egg into each muffin tin. The egg white only is just for us crazy healthy eaters.
You can always add cheese or meat into these egg white muffins. You do you.
P.S. Need some tips on meal planning? This post has a step-by-step tutorial for getting it done in minimal time.
PIN IT: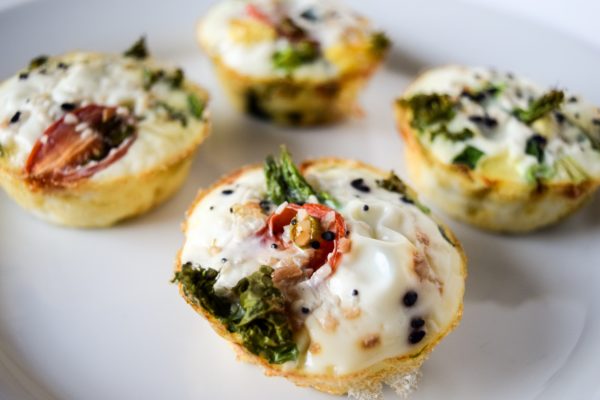 | | |
| --- | --- |
| | |
Spray your muffin tin with coconut oil spray or any non-stick spray.

Fill each muffin tin 1/3 to 1/2 way with your chopped assorted veggies or add-ins.

Crack an egg white (or full egg) into each well. If you want your muffins a little bigger, add in some liquid egg white.

Top each one with seasoning of choice. Bake for 20-25 minutes.
Happy egg white muffin making!