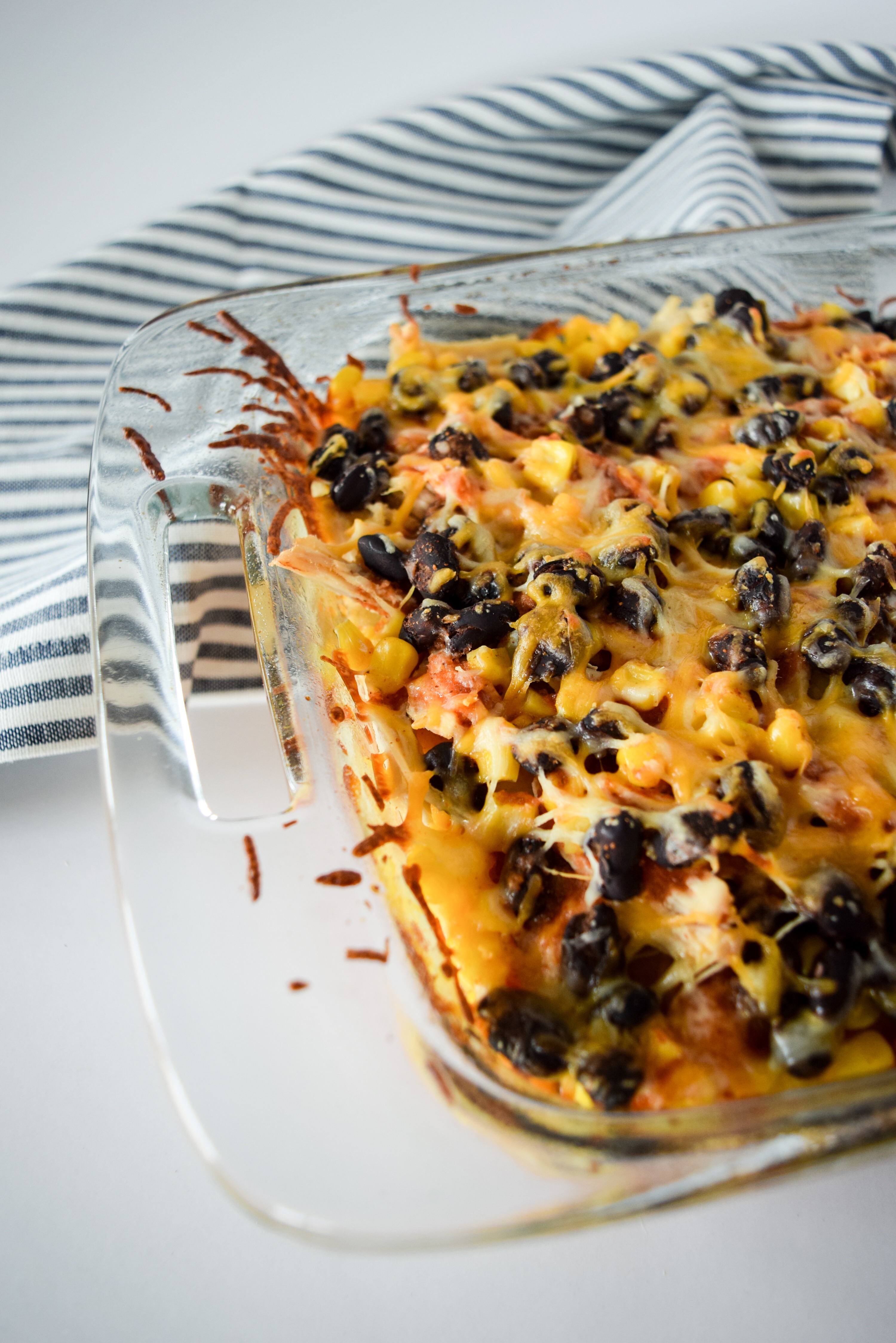 Do y'all have a certain thing you cook that has a name of its own despite you trying to call it by its proper name over and over? My grandma used to make this fluffy, fruity dish for holidays. Our entire family simply calls it, "The Pink Stuff". I'm sure it originally once had a real name. But, "The Pink Stuff" is what stuck. This recipe is similar. I tried so hard to call this a stacked enchilada casserole. Because that's what it is. I called it that every time I talked about it (It's a mouthful, I'll admit). And every time, my husband said, "Oh, the Mexican lasagna!" Finally, I gave in.
This Mexican Lasagna dish is a go-to for us when we have extra shredded chicken and corn tortillas. Enchilada sauce, corn tortillas, shredded chicken, black beans, corn and Mexican cheese combine for a zesty, cheesy, warm meal. The kind that you take a bite and you close your eyes and smile a little after a long day.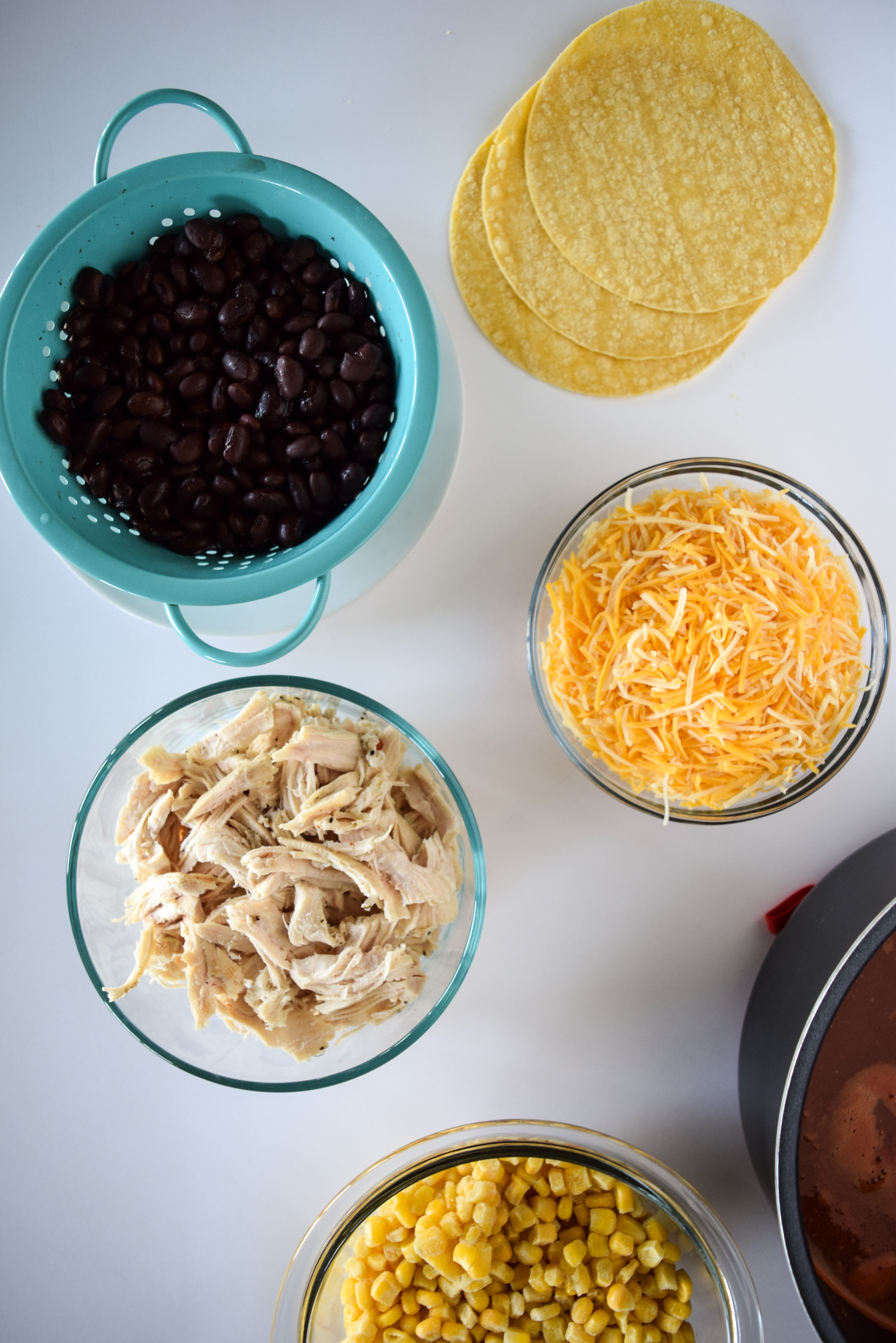 First, the enchilada sauce. I ain't about that pre-made enchilada sauce life. Try reading the ingredient labels on those things. No thank you. I found this 5-Minute Blender Enchilada Sauce by Pinch of Yum and have never looked back. 7 basic ingredients. 1 blender. We throw in the jalapeno whole because we like it spicAY, and we usually simmer it while we prep the ingredients for the lasagna in order to develop a deeper flavor. Confession: I actually never liked enchilada sauce until this recipe came along.
I'll get off my soap box now and say that if you have pre-made enchilada sauce in your pantry, I promise I will not judge you for using it. If you've got little ones running around, laundry to be done and a to-do list a mile long, can I just praise you for getting dinner on the table? You are awesome. And your hubby and/or kiddos will gobble this up.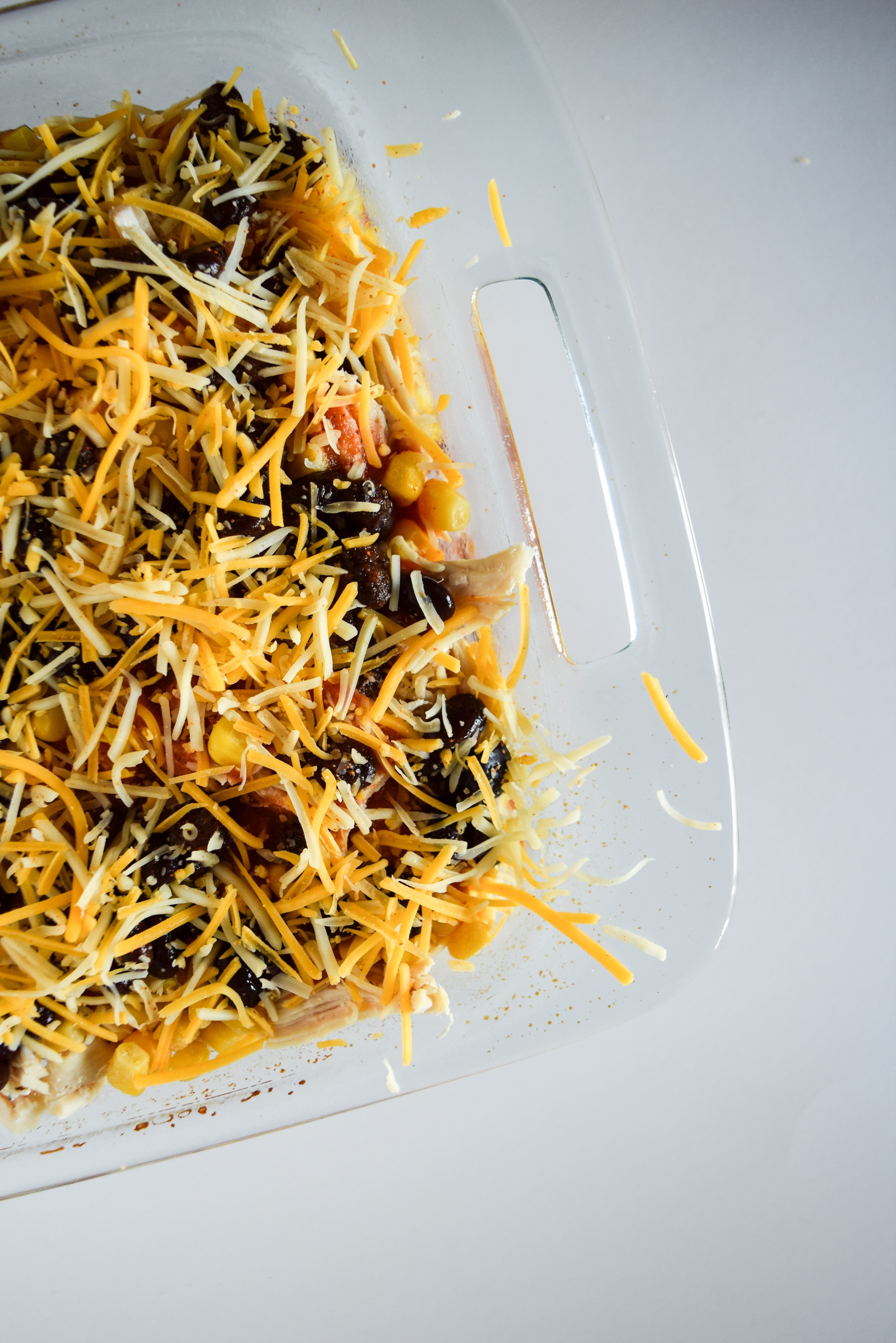 If y'all haven't noticed by now, I like easy recipes and minimal ingredients. It may not be the healthiest thing in the world, but this Mexican lasagna is so good that I don't even CARE. Life is all about balance, you know? For extra indulgence, you can drizzle crema over the top. Yesssss. Crema is like a Mexican sour cream. Is that a good way to describe it? It's refrigerated and you can find it near the cheese and cream cheese in the dairy area of the store. We love drizzling it on tacos and this Mexican lasagna.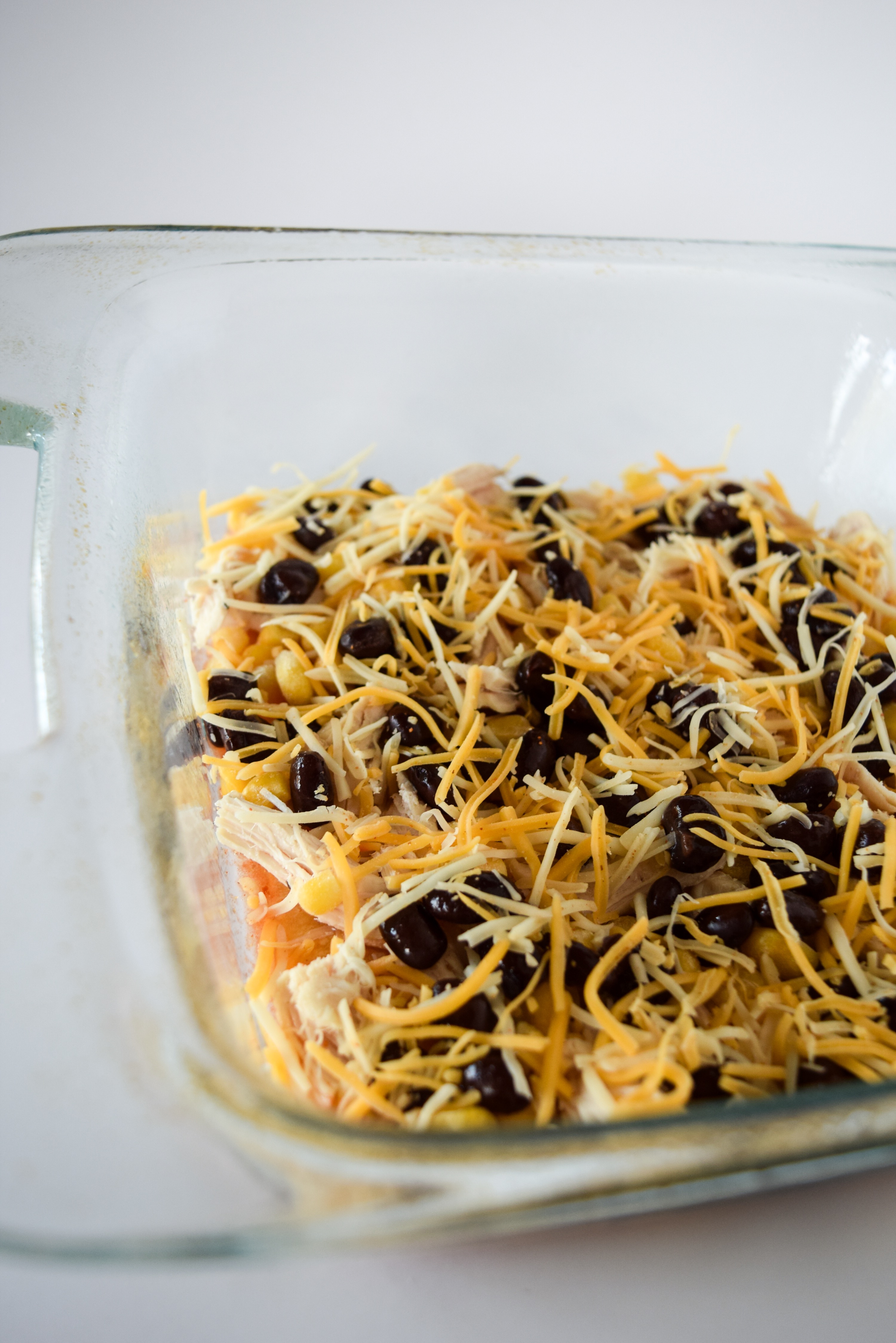 OKAY. So, you put down a layer of tortillas, pour enchilada sauce over it, add shredded chicken, corn, black beans and mexican cheese. Repeat. Pop in oven for 30 minutes at 350. You could even make this ahead of time and just throw it in the oven for dinner. You could even use chicken from a rotisserie chicken. You could even use frozen corn. THIS IS MEANT TO BE EASY, PEOPLE.
Whether you call it a stacked enchilada casserole or Mexican lasagna, I promise you'll love it either way😉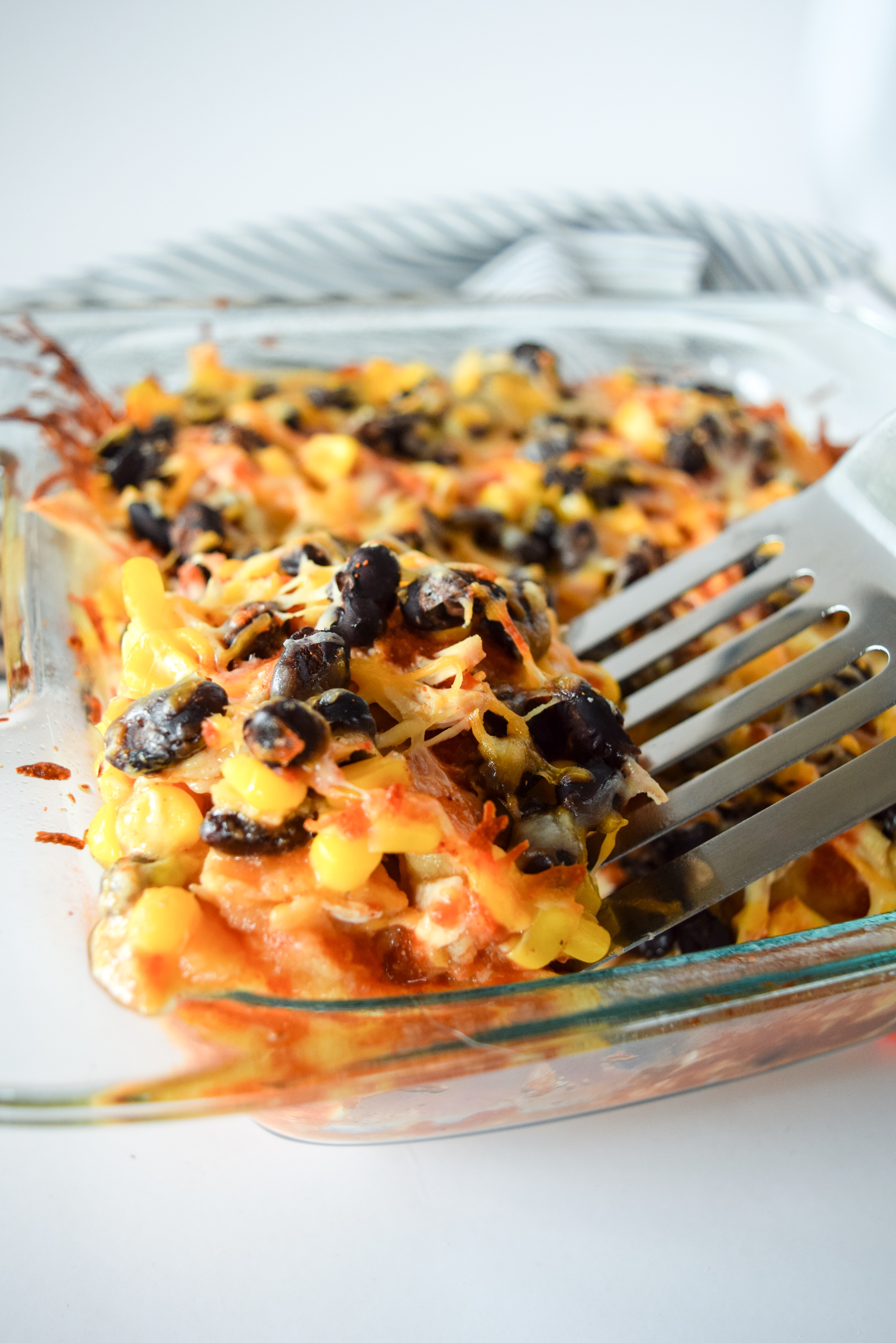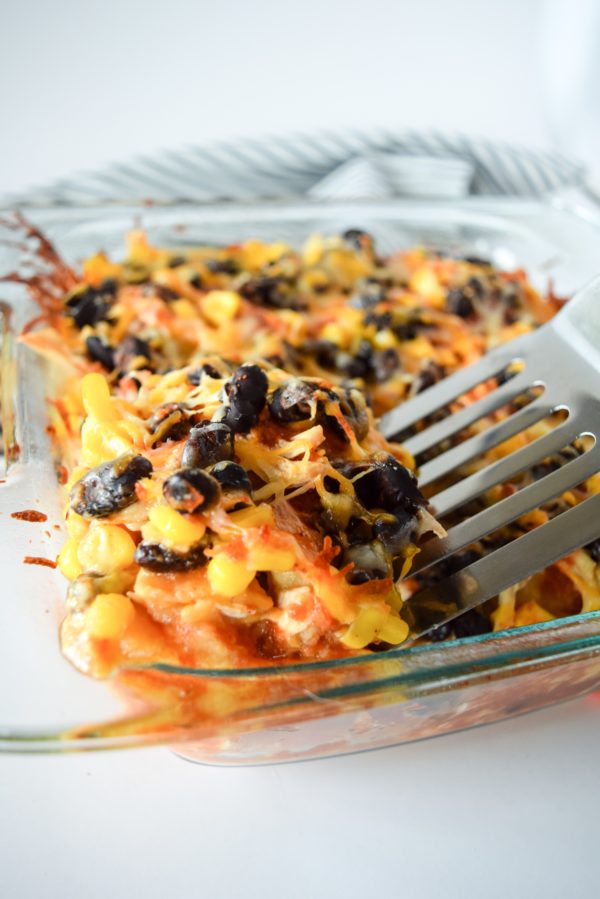 | | |
| --- | --- |
| | |
Preheat oven to 350 and spray a 9x9 dish with nonstick spray.

Cut 2 corn tortillas in half and layer so that the straight side is against each edge of the dish (photo above)

Pour enchilada sauce over the tortillas, just enough to cover.

Layer shredded chicken, cheese, black beans and corn.

Repeat steps 2-4 until you use all the ingredients. Ours usually has 4 layers.

Pop in the oven for 30 minutes. Let rest for 15 minutes before serving.
Frozen corn always taste sweeter to me than canned corn, so I use that every time!
Make sure the top layer of tortillas is completely covered in sauce, as any dry tortilla will turn hard when cooked.