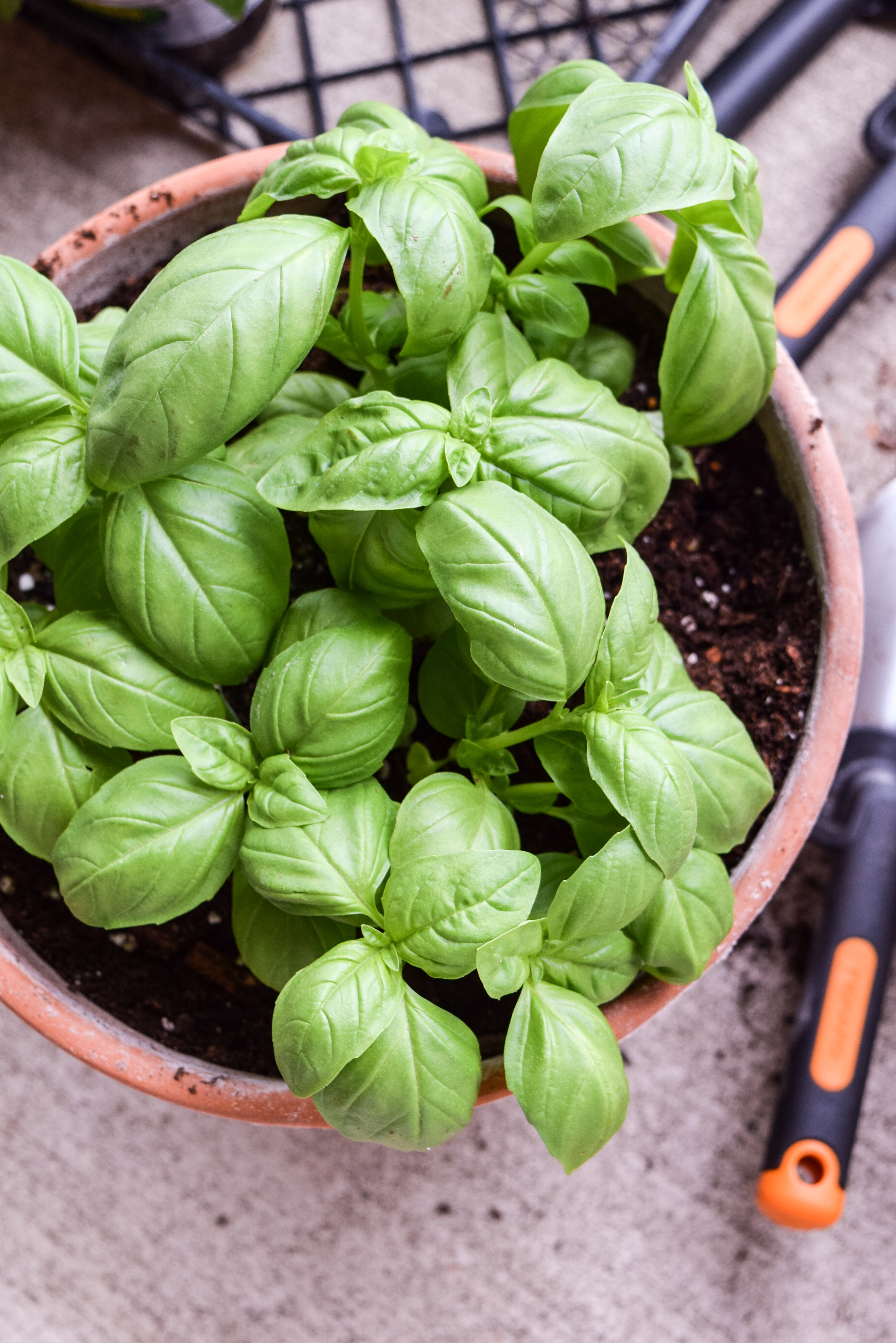 One of the best parts of spring is getting to put in herbs and vegetables! Having fresh ingredients on hand to use makes eating healthier so much easier. Making fresh pesto from basil will change your life, and using rosemary for a chicken marinade is so simple. Today I'm sharing a how-to and tips for starting your own apartment patio garden!
If you have the farthest thing from a green thumb and need a crash course on starting your own patio garden, you've come to the right place. You'll learn:
What you'll need to start your patio garden
Which herbs and vegetables do best on a patio
Tips for planting your plants
How to care for your patio garden plants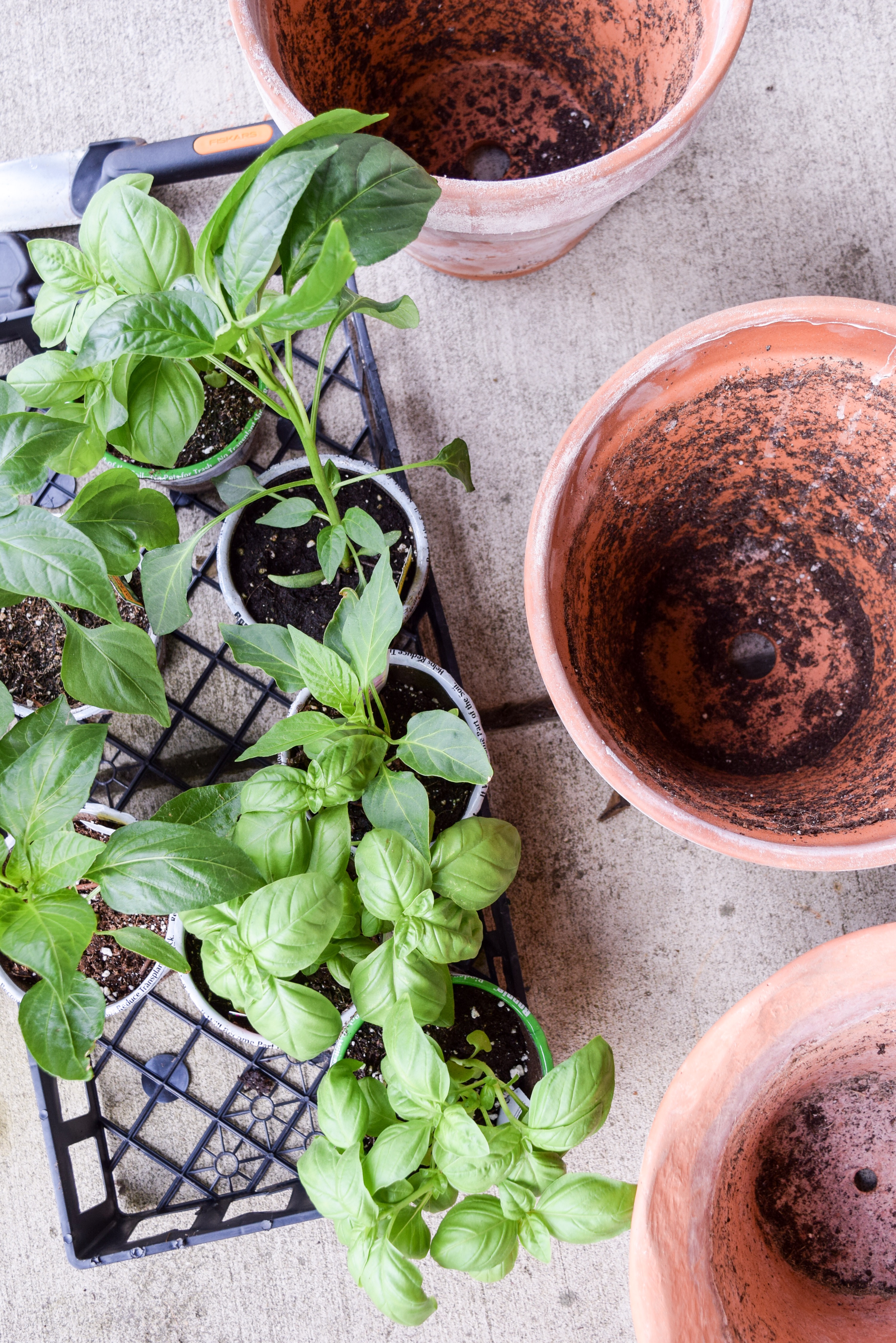 What You'll Need
If this is your first time starting a patio garden, you'll need to round up the supplies listed below. The good thing is, you'll only need to buy these things once (other than the plants each year).
Terra cotta pots/planters
Railing planter (I use this for herbs!)
Potting soil (be sure you get soil specific for 

potting)

Watering can
Fertilizer (optional- I use Miracle-Gro granular)
Plants
Buying Your Plants
Since we have a small patio, I tend to stick with herbs and vegetables since they serve a purpose😂 We have a hanging bright pink bougainvillea which is beautiful, but other than that we don't have flowers. This is totally your call!
Herbs are fairly easy to grow, as long as you take care of them (more on that below). My go-to's are basil, rosemary, cilantro and mint. Pick the herbs that you cook with the most! I tend to get more than one of my favorites, just in case one doesn't make it. This year, I got three basil plants. We love it on pizza or to make homemade pesto.
For vegetables, "ground-growers" as I like to call them don't tend to do well. Things like zucchini, squash, watermelon, etc. If it grows on a vine, it won't do very well in a planter. Tomatoes do really well, as do varieties of peppers. This year, we planted jalapeno and poblano peppers, and yellow and red bell peppers. Be sure you pay attention to the amount of sunlight the vegetable needs. A quick Google search can show you if it does well in your climate.

Planting Your Plants
Now, the fun part! There are a few things to keep in mind when planting your new baby plants. Plantlings. Is that a word?
Your plant will always have a little tag like you see above on the mint plant. The back of the tag will have information regarding sunlight and planting. Be sure to be mindful of:
How much sunlight they need
How far apart they should be spaced
How deep to plant them
For herbs or things in long planter, I tend to plant them about six inches apart to give them room to grow. The terra cotta pots you see above are about 10″ in diameter, and I won't put more than two vegetables in one.
Regardless of what brand your plants are, you'll want to rough up the bottom of the roots with your fingers before you plant it. This will encourage them to take root in their new environment quicker.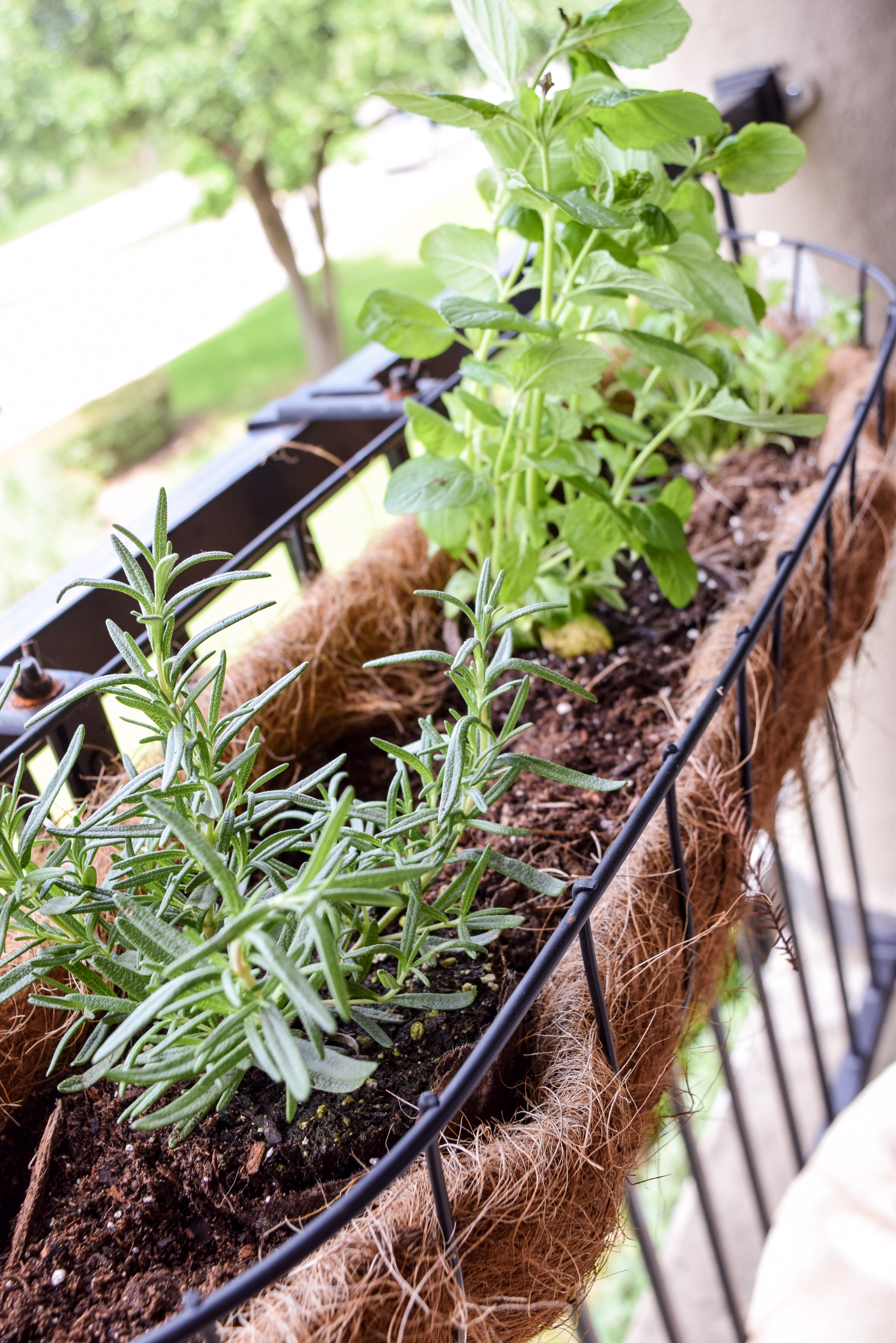 Caring For Your Herbs and Veggies
The most important part of caring for herbs is PRUNING. This is the way to get the big bush of basil or the explosive rosemary plant. Prune, prune, prune. Basically, when you snip off some, it encourages the plant to grow. If you don't do that, it thinks it's doing just fine and grows much slower. You'll want to prune about 1/4 inch above the node, or where the leaf comes off. This article on pruning basil is a great resource, and you can apply it to other herbs as well.
Vegetables (and herbs) need plenty of water, especially if they're getting a lot of sun. A good rule of thumb is to water when the soil gets dry. In the summer in Texas, that could mean watering every day! My dad always taught me that plants will "talk" to you if you listen. Keep an eye on your plant and the leaves will usually tell you when they need water. And don't worry- plants are good about bouncing back (to a certain point😉)
Similar to herbs, harvesting your veggies will encourage your plant to grow more, even if you don't need it right away.
Fertilizing your plants every 8-weeks or so will also help them grow big and tall.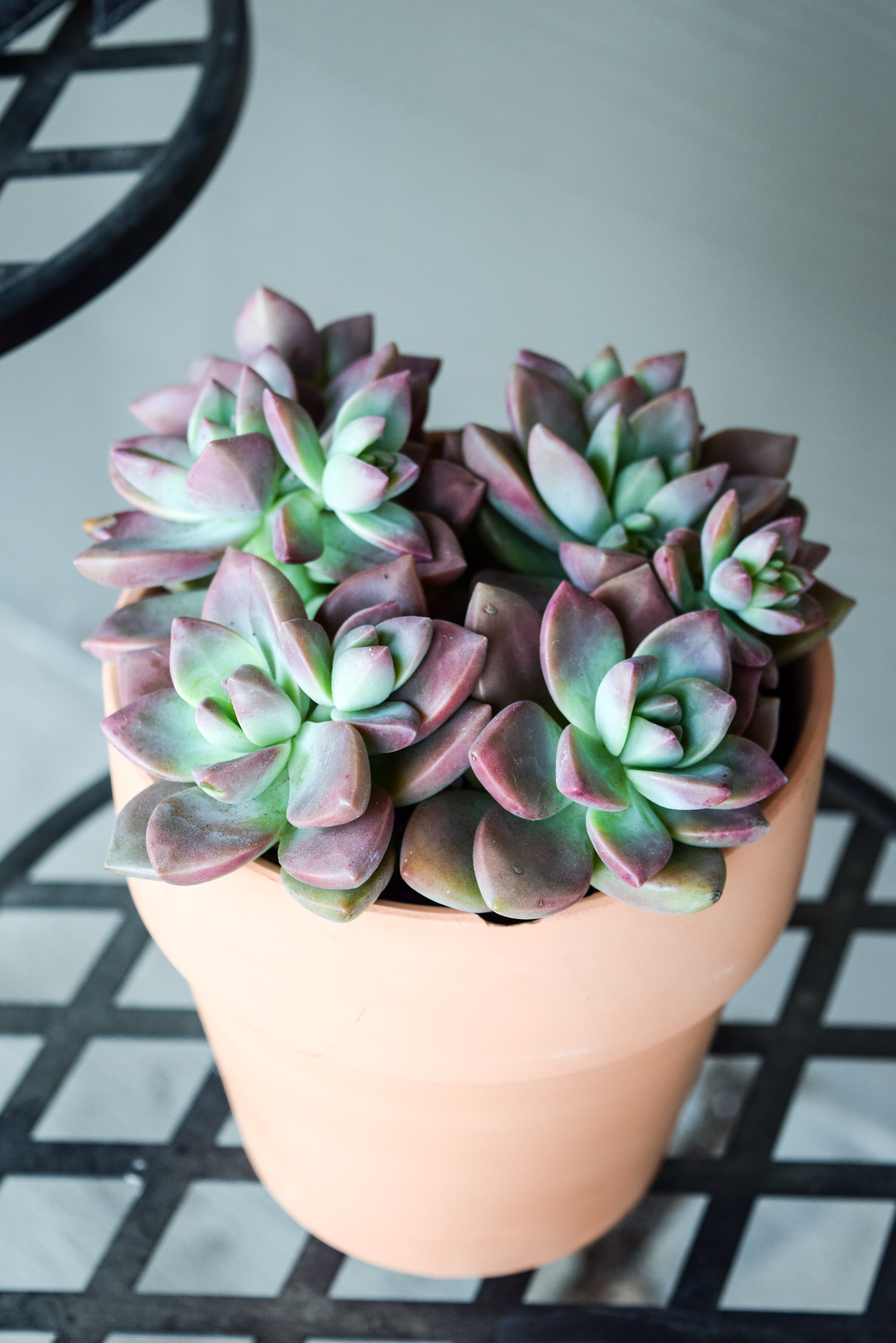 The cutest succulent I couldn't resist bringing home with me.
I hope these tips have helped you if you've always wanted to start your own garden!
Thanks for stopping by!