These five ingredient cranberry oatmeal energy bites are so simple to make and perfect to take with you for a mid-morning snack! Swap in your favorite mix-ins to make it your own!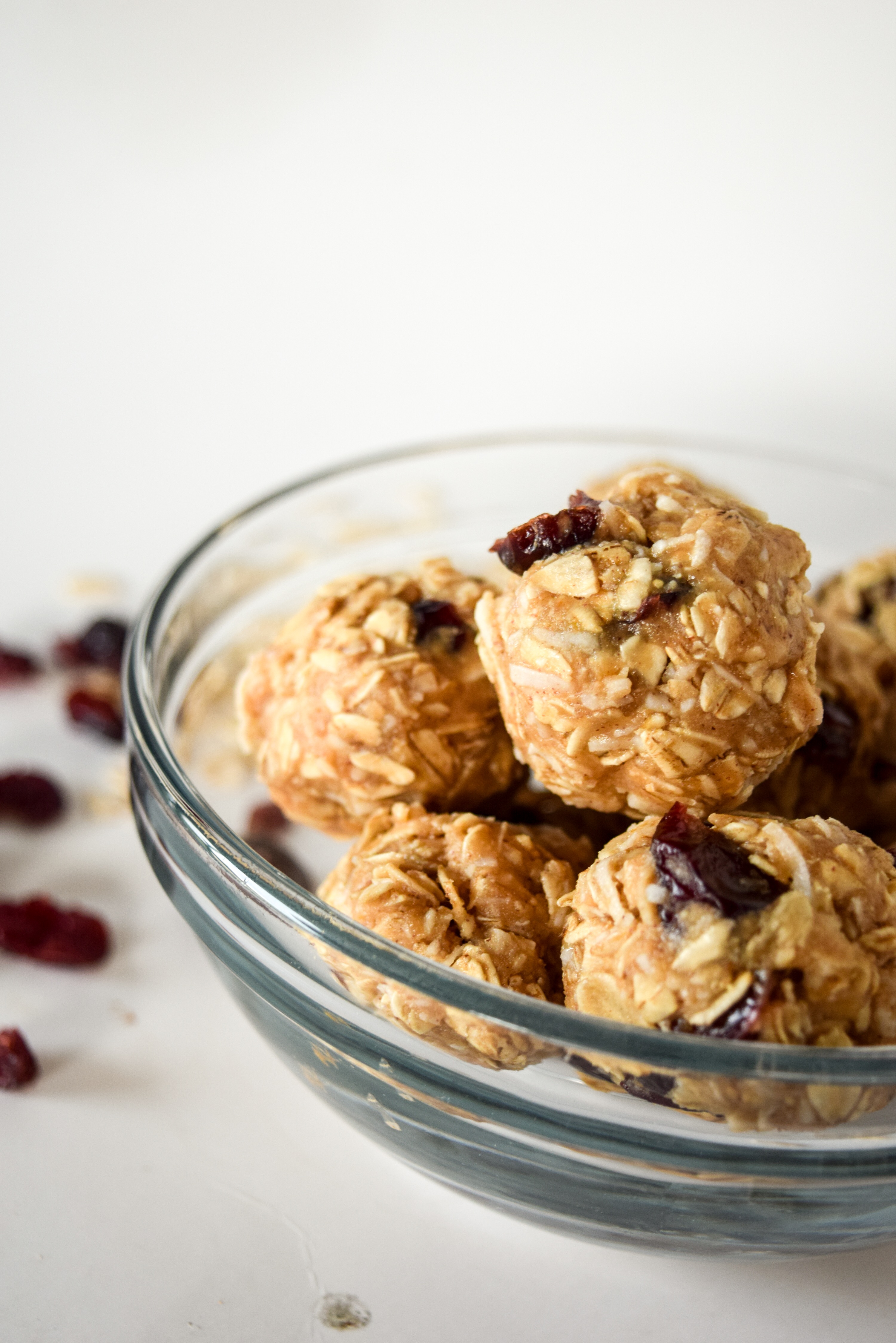 Hello, my sweet friends.
I'm talking to the energy bites, but y'all are my friends too. Hi 👋
I think I may have an addiction to the combination of cranberries and oatmeal.
There's these best ever oatmeal cookies.
There's this pecan cranberry granola.
Now we have these cranberry oatmeal energy bites.
Clearly this combo is a winner in my heart. These cranberry oatmeal energy bites are easy to throw together for on-the-go snacks during your crazy week.
Can someone tell me how last week's three day week somehow managed to be the longest week ever?
I spent the 4th of July weekend at my aunt's lavender farm in Michigan, and it was a dream. Lush, green woods. The sweet smell of lavender. The golden fields of wheat. The non-air conditioned room. (Ok, that wasn't glorious, but it wasn't that bad. Apparently some northern homes don't have AC. That is a foreign concept to this Texan.)
Sometimes it's nice to go on a trip where your main task for the day is relaxing. As a go-go-go kind of person, it was incredible to not have an itinerary and just reset. I'm the queen of itineraries, FYI. I made one for my best friend's bachelorette weekend and distributed it to all the girls.
…
I'm only a little embarrassed to share that.
P.S., if you're a go-go-go kind of girl, take a sec and read this.
OKAY. Enough about Michigan- you're here for these oatmeal cranberry energy bites.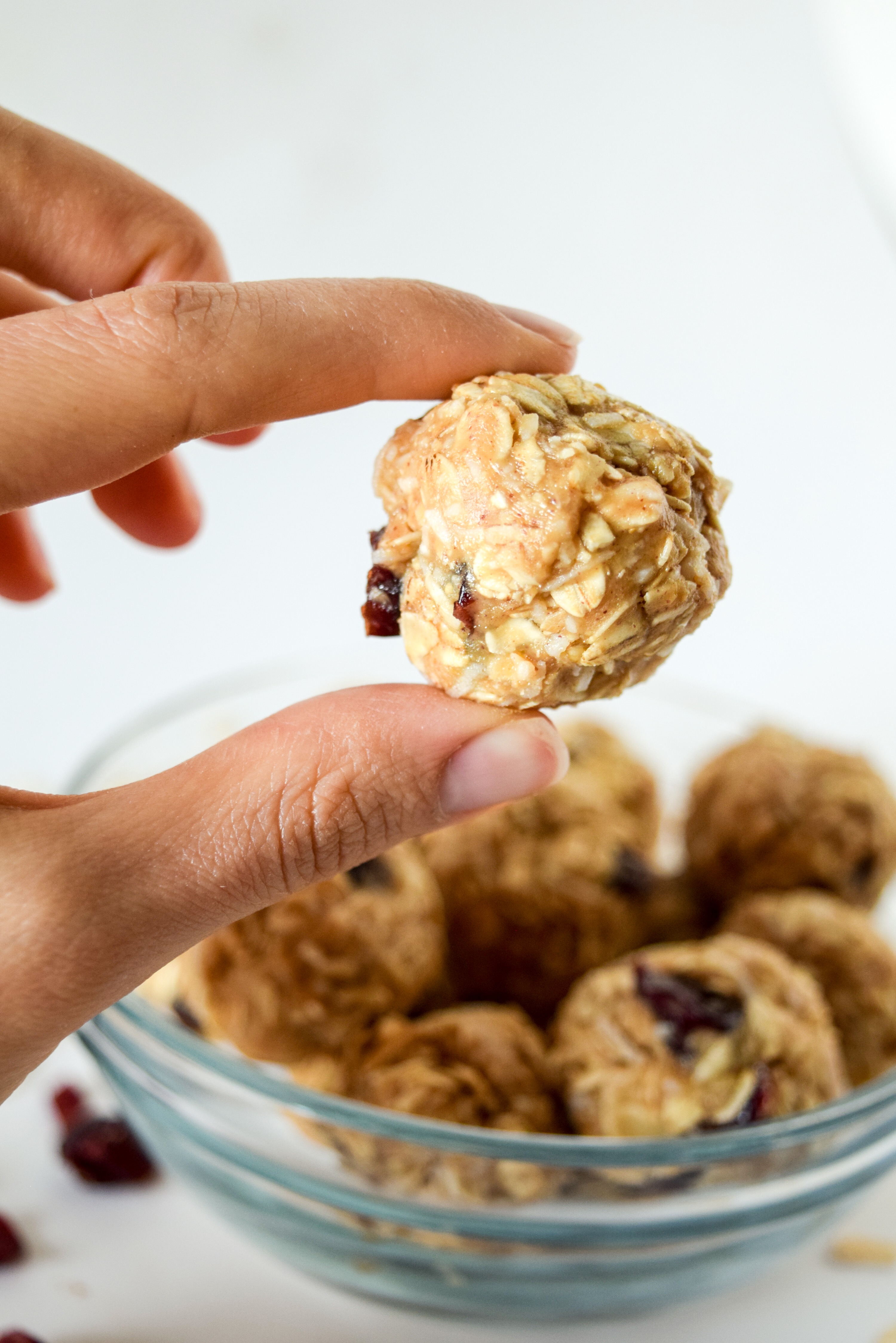 Let's talk about them. Simple ingredients: old fashioned oats, dried cranberries, maple syrup, unsweetened coconut flakes and peanut butter. I like to stick to the most basic ingredients, so I use pure maple syrup and peanut butter with only one ingredient: peanuts. I like knowing what's going in my body, ya know? Simple is always better.
THE MOST IMPORTANT SECRET TO MAKING ENERGY BITES
This is so important that it required it's own section.
After you mix everything together, throw the bowl in the fridge for at least an hour.
If you don't, the mixture is way too sticky, and your husband or friend or mom or dog will have to come grab a spatula, hold your arm and scrape the oats off your fingers and hands. Speaking from experience here.
You can always use whatever mix-ins you'd like if you're not feelin' the whole cranberry oatmeal vibe! Chocolate chips or peanut butter chips are a great substitution for the cranberries. You do you, ok?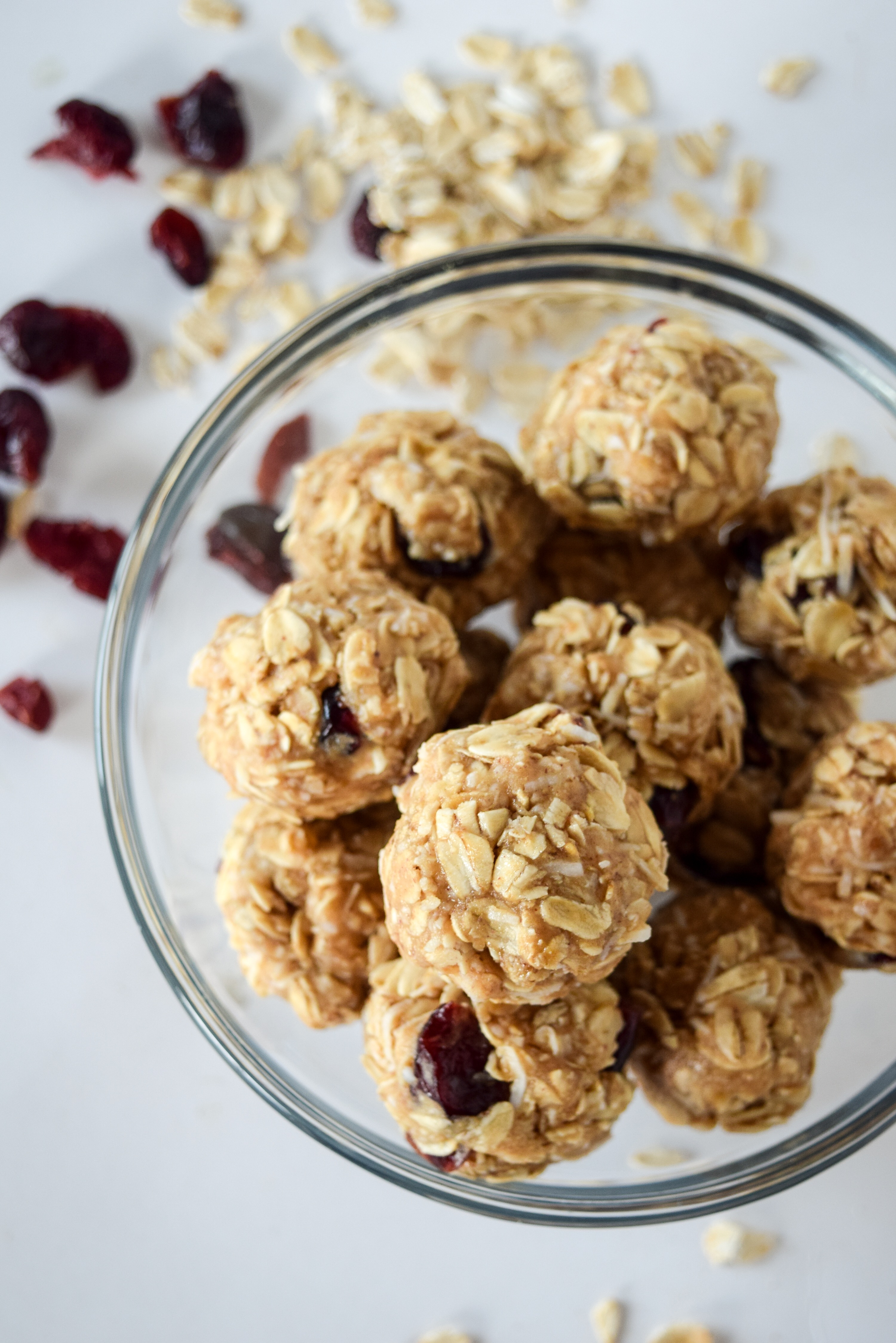 PIN IT:

In a bowl, mix together all ingredients until fully incorporated.

Chill in fridge for at least one hour. Remove and form energy bites using your hands. Keep chilled in fridge for up to one week.
Happy energy bite making!