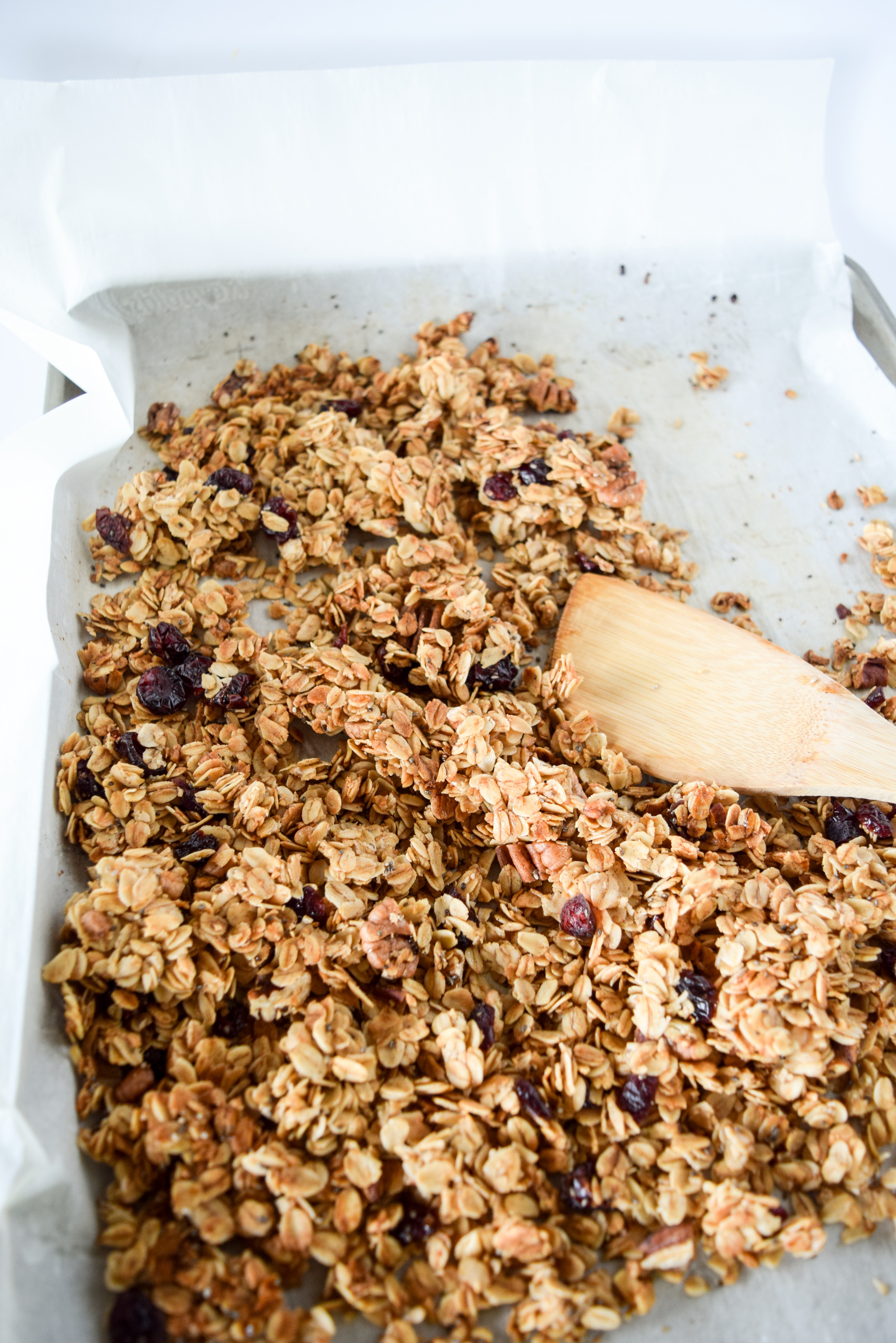 If a love for granola is genetic, then I got it from my dad.
Each day at lunch when I was growing up,  my dad would sit at the counter, have his sandwich, and pull out some yogurt and granola for dessert. If I close my eyes I can still see him sitting there. I love how food ties you to people and places.
That's one of the reasons I love cooking and baking so much. My dad and I always make a killer Chicken and Gnocchi soup together. My mom and I make these certain Christmas cookies each year. Whether I'm with them or not, those foods tie me to them and make me feel like I'm home. Do you have any recipes like that?
Let's talk about this granola.
A whole lot of testing and fine tuning went into this recipe, because I wanted it to be totally perfect. Clustery. Nutty. Crunchy. Just the right amount of sweet.
The biggest concern I had was keeping it simple. I'll be the first to say that if I'm skimming over a recipe and the ingredient list has more than about 9-10 items, I'm outta there. With a few exceptions, I do not have the patience for complicated recipes. Ain't nobody got time for that. I like to share recipes that are simple and easy to make, and this cranberry pecan granola fits the bill.
This stuff is so good that my boss finished it off at work by pouring the granola out of the Tupperware container straight into his mouth. And then mumbled through his granola filled mouth that I needed to make more😂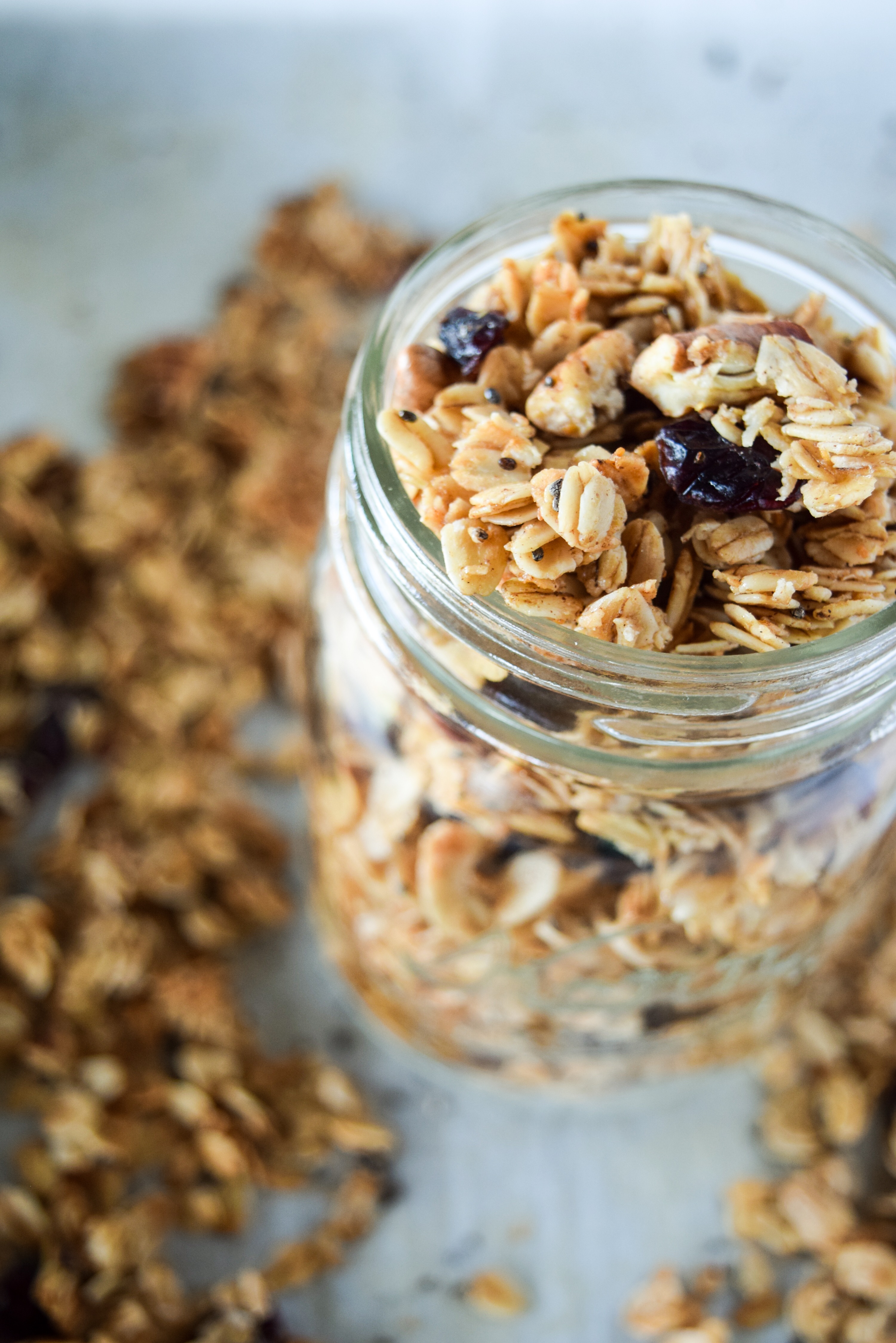 Let's talk about sweeteners.
I made batches with three different sweeteners to get a feel for which one created the best taste. Here are the deets (details):
Coconut sugar: The first batch. I LOVED the flavor, but there was no cluster-ing. Is that a word? It is now. It turned out to be more like muesli. Which is basically loose oats mixed with fruit that you serve with milk. Recap: great flavor, no clustering. This is the coconut sugar we use.
Honey: The second batch. It tasted delicious, but I found that the normal cooking time was too much for it. Maybe because of the sticky, sugary-ness? If you make it with honey, just keep an eye on it. It also produced maximum clustering. Excellent.
Maple syrup: The winner🎉 Spot on with flavor and clustering. I used this pure maple syrup that I found at Kroger.
You can't go wrong with any of the sweeteners listed above- it's mainly a personal preference. Honestly, they're all good! Maple syrup was my favorite, and the favorite of my husband and professional taste testers (AKA friends). For that reason, the recipe calls for maple syrup.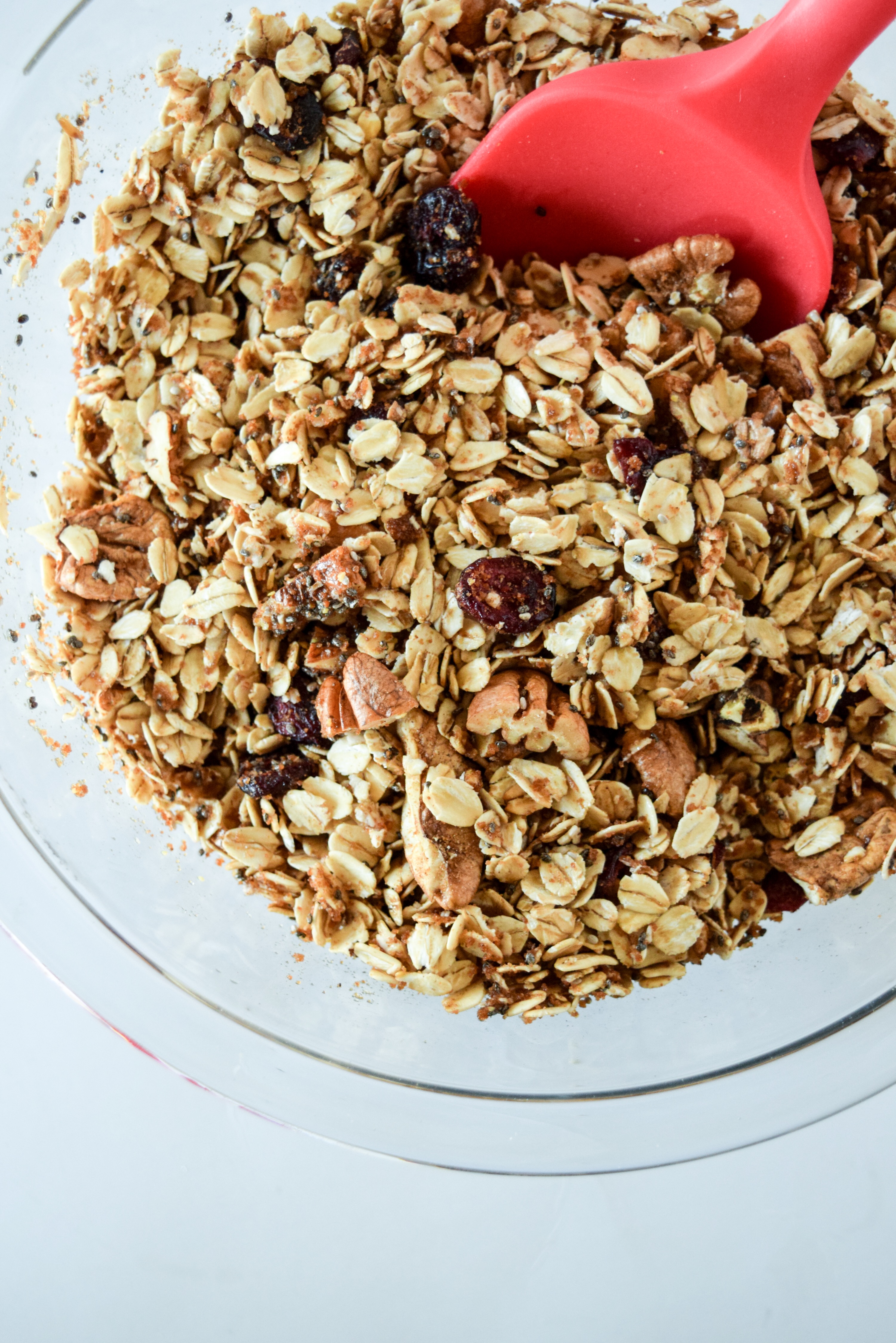 Let's talk about how to do it.
In a large bowl, mix up all your dry ingredients. Once they're thoroughly mixed, add the coconut oil, vanilla extract and sweetener of choice. Really mix in your wet ingredients well. Spread out the granola mixture on a parchment paper lined pan. For this recipe, I used a 12×17 pan and it worked perfectly.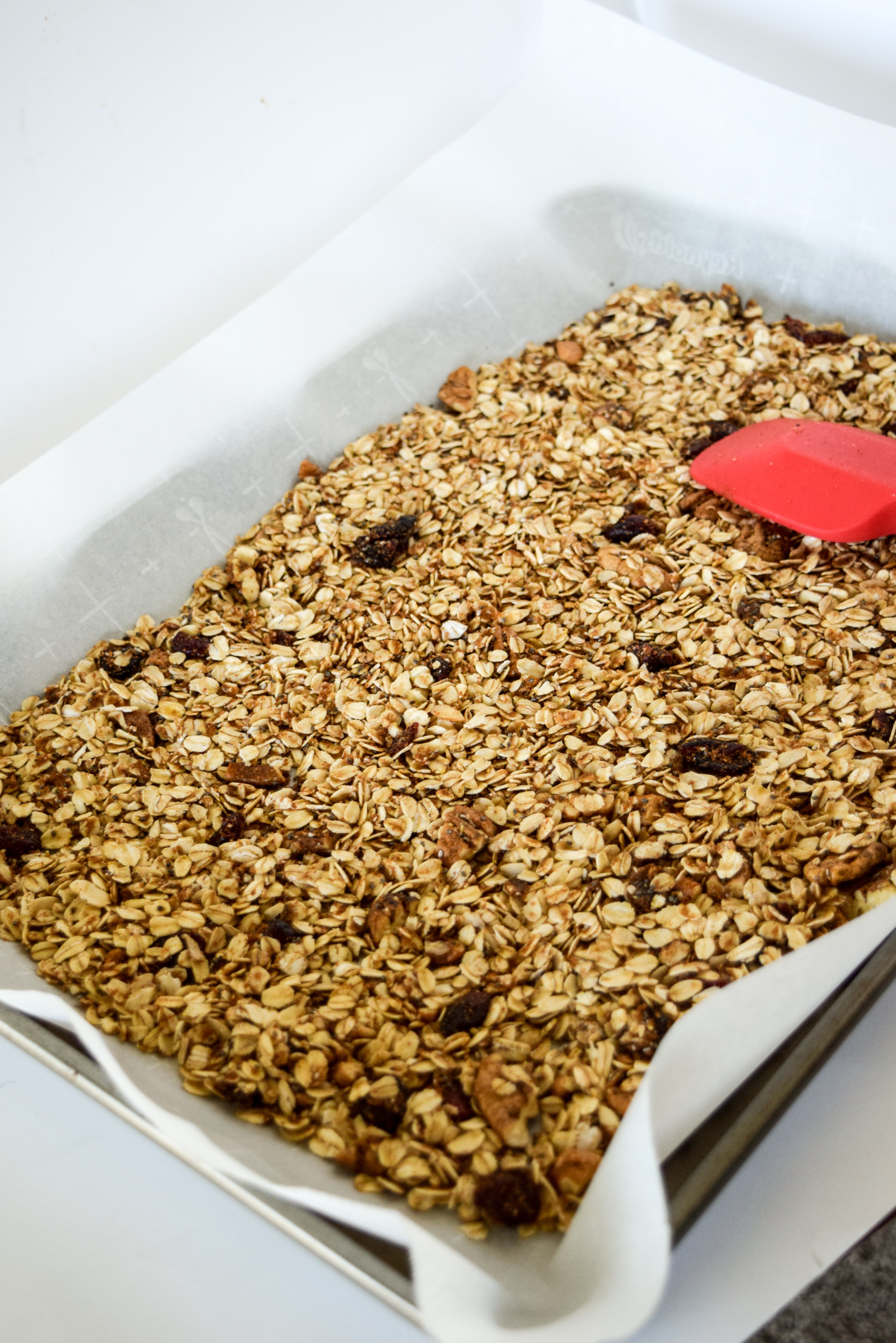 Pop in the oven at 325 for 20 minutes, stirring the granola halfway. After you stir at the halfway mark, it helps to pat down the granola with the back of your spatula or wooden spoon. This encourages the clustering. The pecans get this wonderful toasted flavor and the granola gets lightly browned and delicious. Your kitchen will smell so good. Seriously, can someone make a candle that's granola scented? Is that weird?
Here comes the hardest part. When the granola comes out of the oven, DON'T TOUCH IT. You will disturb the clustering. Let it sit at least an hour to cool. The longer, the better. The granola will continue to harden as it cools. Then and only then are you allowed to break it up, sneak a bite, and store it in an air-tight container for up to a week. Throw it in the freezer to keep it fresh longer.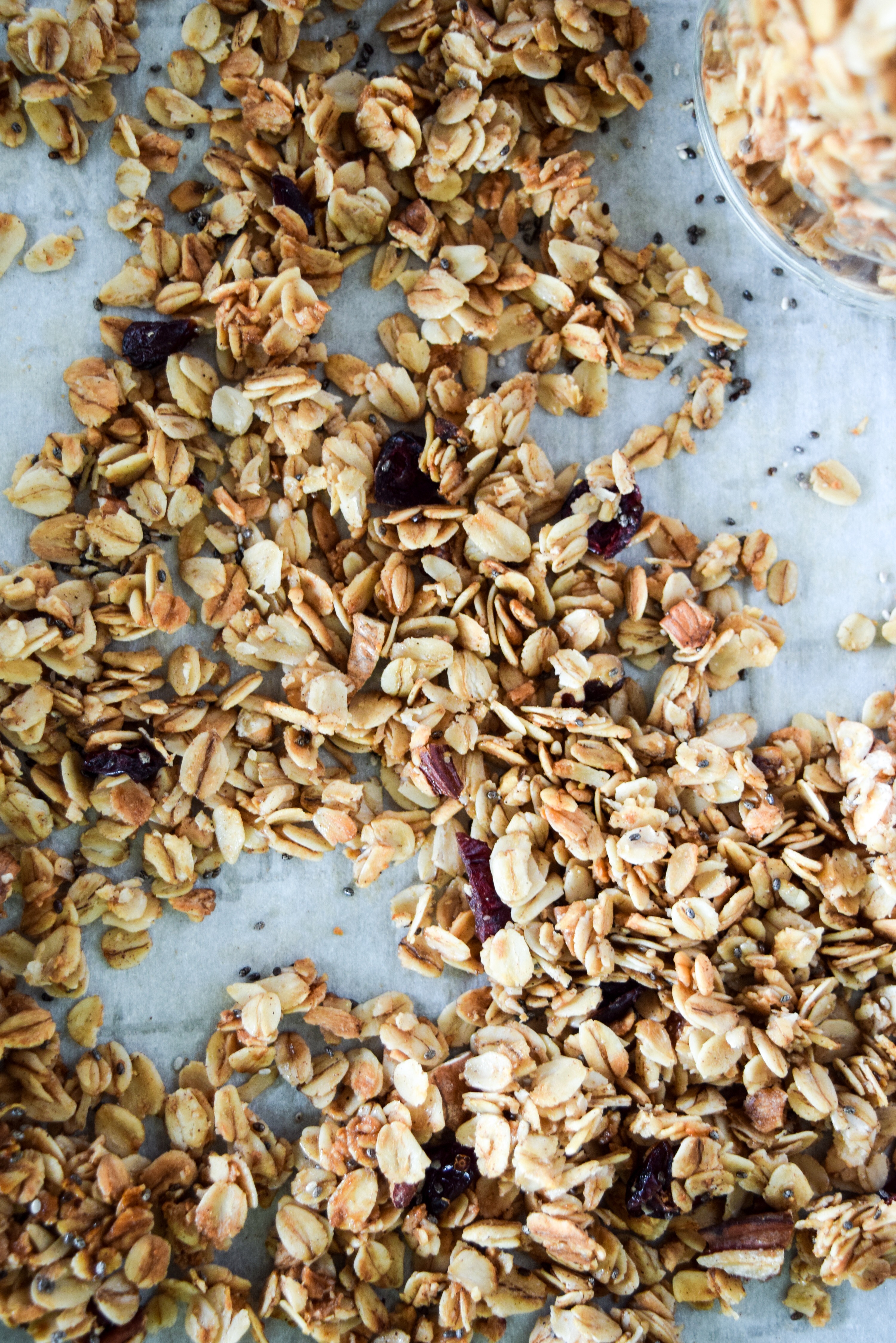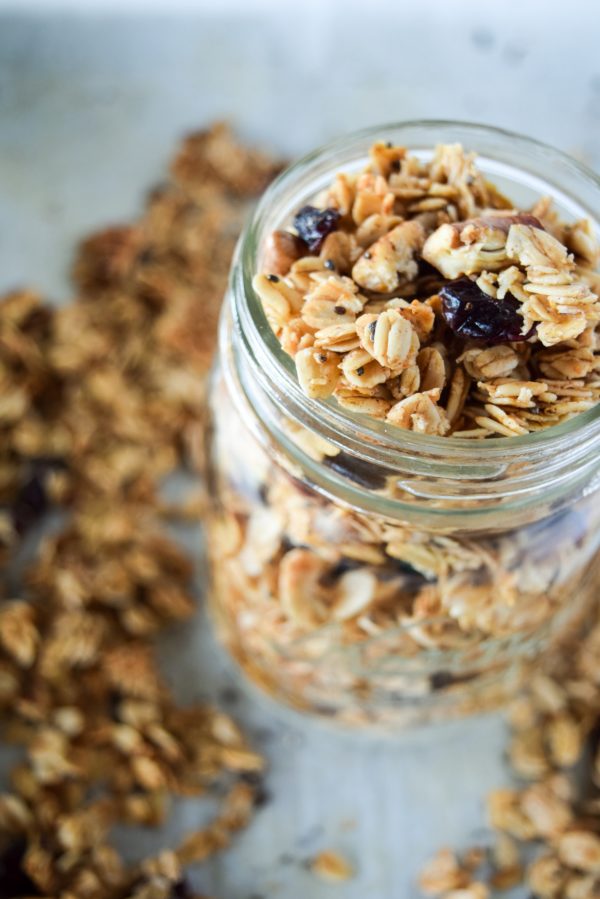 | | |
| --- | --- |
| | |
Preheat oven to 325 and line a rimmed baking sheet with parchment paper.

In a medium bowl, mix the oats, pecans, salt, cinnamon, dried cranberries and chia seeds. Add in the coconut oil, maple syrup and vanilla extract. Mix thoroughly so the oats are evenly coated.

Spread the granola out evenly on the baking sheet, pressing down lightly with the back of your spatula.

Bake for 20 minutes, stirring halfway. Be sure to re-distribute the granola evenly and pat down after you stir.

After you pull it out from the oven, allow it to sit and cool for at least an hour to ensure the best clustering. The granola will continue to harden as it cools. Store in air-tight container for a week, or in the freezer to keep it fresh longer.
If you're using honey or coconut sugar instead of maple syrup, it's a 1:1 substitution. Remember to keep an eye on it if you're using honey as it tends to cook faster.
Switch up your nuts and dried fruits if your heart so desires!
Show me the granola you make by tagging #simplifiedeats on Instagram!