These quinoa turkey meatballs are packed with protein and ready in less than thirty minutes! Serve with zoodles and your favorite sauce for an easy weeknight dinner.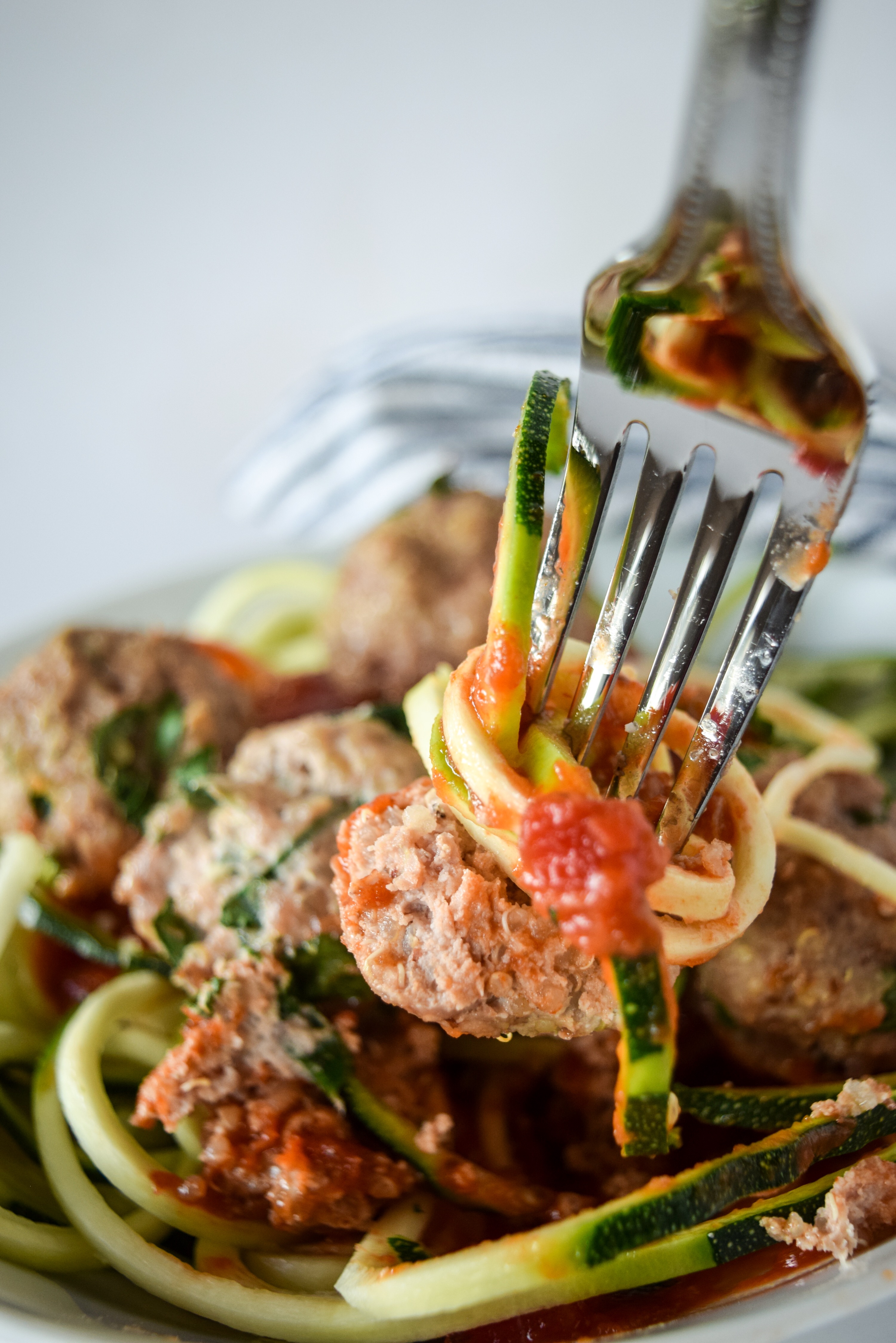 Affiliate links used
I love creating recipes that can satisfy the healthy eater and the meat and potatoes eater alike. When a kale lover (me) marries an I'll-eat-anything guy (my husband), every meal we cook up has to make both parties happy.
It's a challenge, but we've just about got it down!
These quinoa turkey meatballs are simple and easy to make in bulk to freeze! I serve them up with lightly sauteed zoodles while my husband opts for whole wheat pasta.
P.S., Delallo by far has the best whole wheat pasta we've tried.
Whichever way you choose, these quinoa turkey meatballs are guaranteed to be a hit!
Ingredients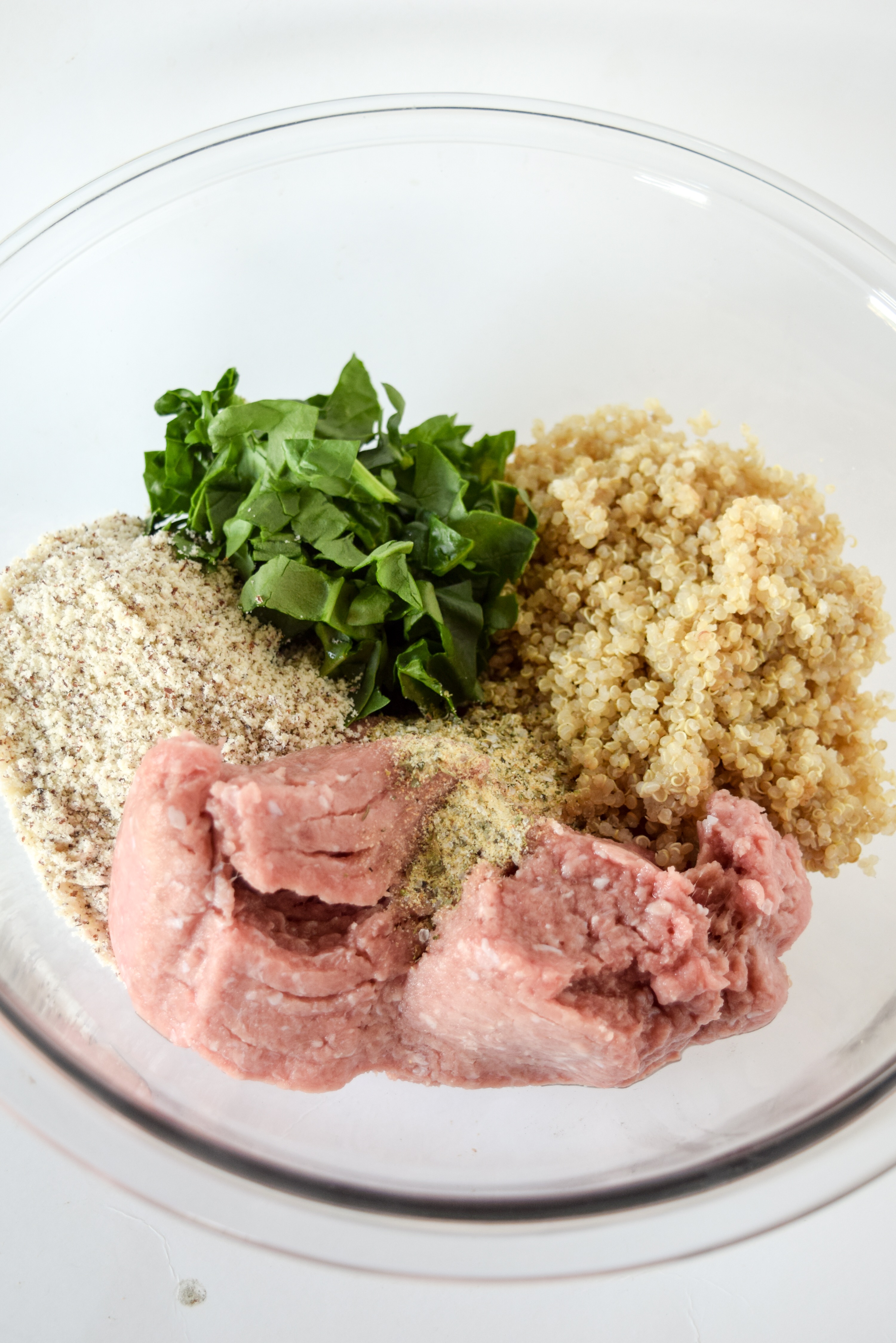 If you're new here, I always like to talk about why I use certain ingredients or share some alternatives if you're not a fan of certain things. I want you to be able to customize the recipe to fit your tastes or dietary needs!
Let's go over what's in these tasty bites:
Lean ground turkey
Quinoa
Egg whites
Chopped spinach
Almond meal
Salt & seasoning
Obviously, the ground turkey and quinoa are necessities in "quinoa turkey meatballs"😉 Together they pack a protein punch of 26g per serving (calculations using a serving as five meatballs, FYI).
Chopped spinach adds a powerhouse of extra vitamins and minerals as well as some pretty color. It's totally optional- or you can use kale, too!
Almond meal pops in in lieu of the traditional bread crumbs to make these paleo-friendly and gluten free. You can find it at Trader Joe's and it's a great alternative for breading and baking. If paleo or gluten free diets don't apply to you, feel free to substitute bread crumbs if you've got 'em.
FOR THE ZOODLES: I absolutely love the spiralizer attachment for my Kitchen-Aid Mixer and use it at every possible opportunity. It's so easy to use! My aunt recently got this stand-alone spiralizer and loves it!
Baking

I'll be honest with y'all: I have yet to perfect the "browning meatballs" skill.
Ok fine, I can't do it. Like, at all.
I tend to end up with meat cubes with browned, flat sides.
To save myself from the frustration (and the extra time!), I bake meatballs. Less hands-on time, less mess, less frustrated Jess. Sorry. I had to.
Here's how to do it:
Line a rimmed baking sheet with foil.
Nestle in a cooling rack.
Spray it with non-stick.
Place meatballs on top.
Bake.
When you're working with ground beef or any meat with a higher fat percentage, this also allows the extra fat to drip away.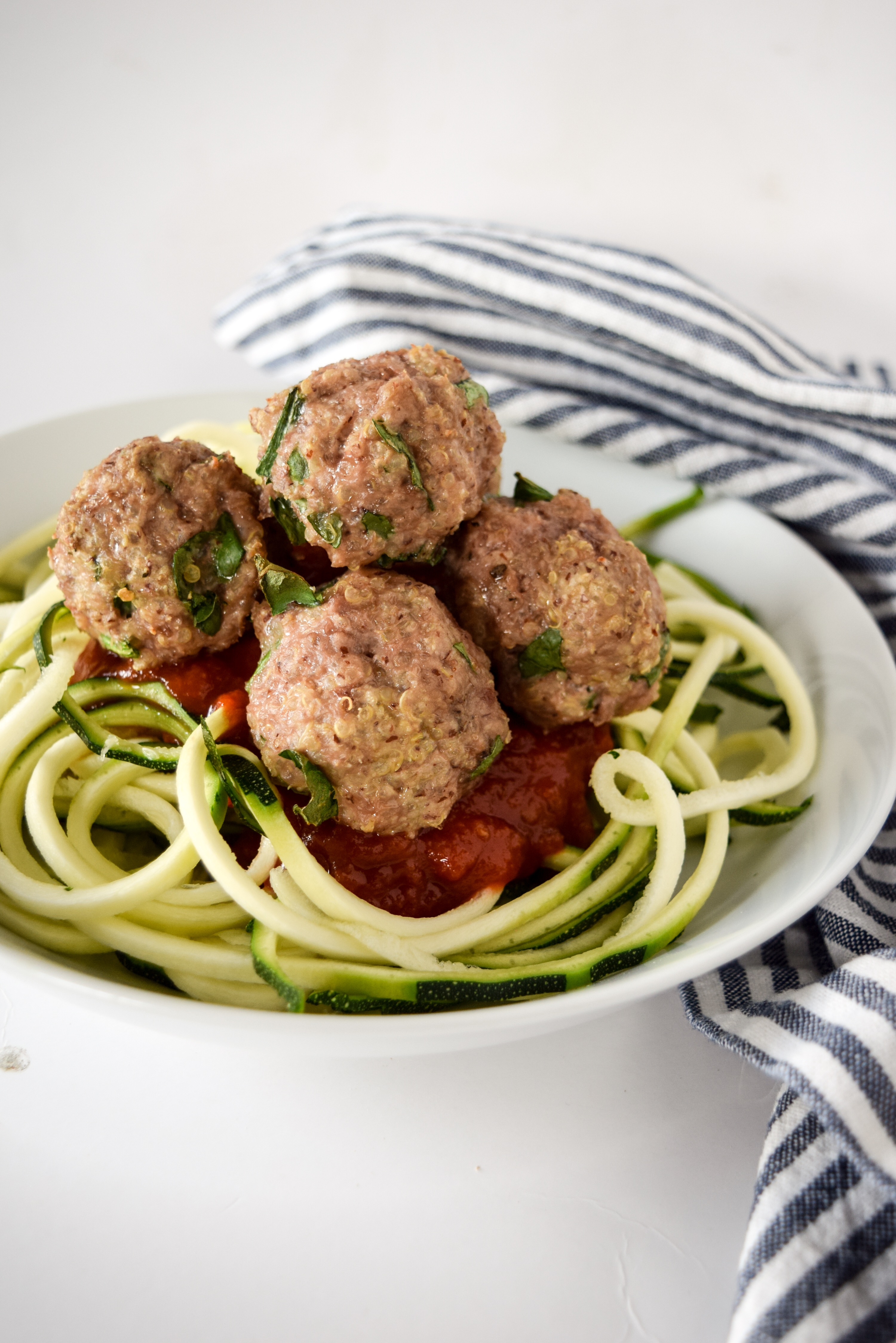 Ta-da!
Serve over zoodles or whole wheat pasta with marinara, or try it with this simple homemade pesto.
P.S., have some ground turkey leftover? Try these Sundried Tomato and Feta Turkey Burgers.
PIN IT: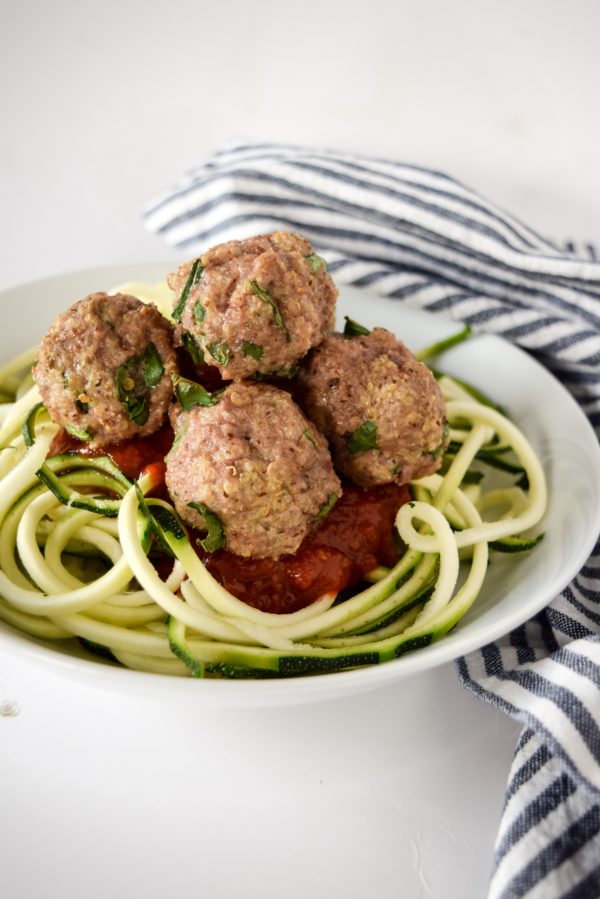 Passive Time

20-25

minutes
Passive Time

20-25

minutes
Line a baking sheet with foil. Nestle in a cooling rack and spray with nonstick. Set aside.

In a large bowl, combine all ingredients until fully incorporated. Using your hands or a cookie scoop, roll into 1.5" meatballs.

Arrange the meatballs on the prepared baking sheet and bake for 20-25 minutes, until center of meatball is no longer pink.
If you don't have egg whites on hand, feel free to substitute an egg.
Happy meatball making!