This Easy Sweet Potato Crust Quiche is a healthy and lighter option to serve up for breakfast, brunch, or a party! Made with love and served with fruit and mimosas, of course.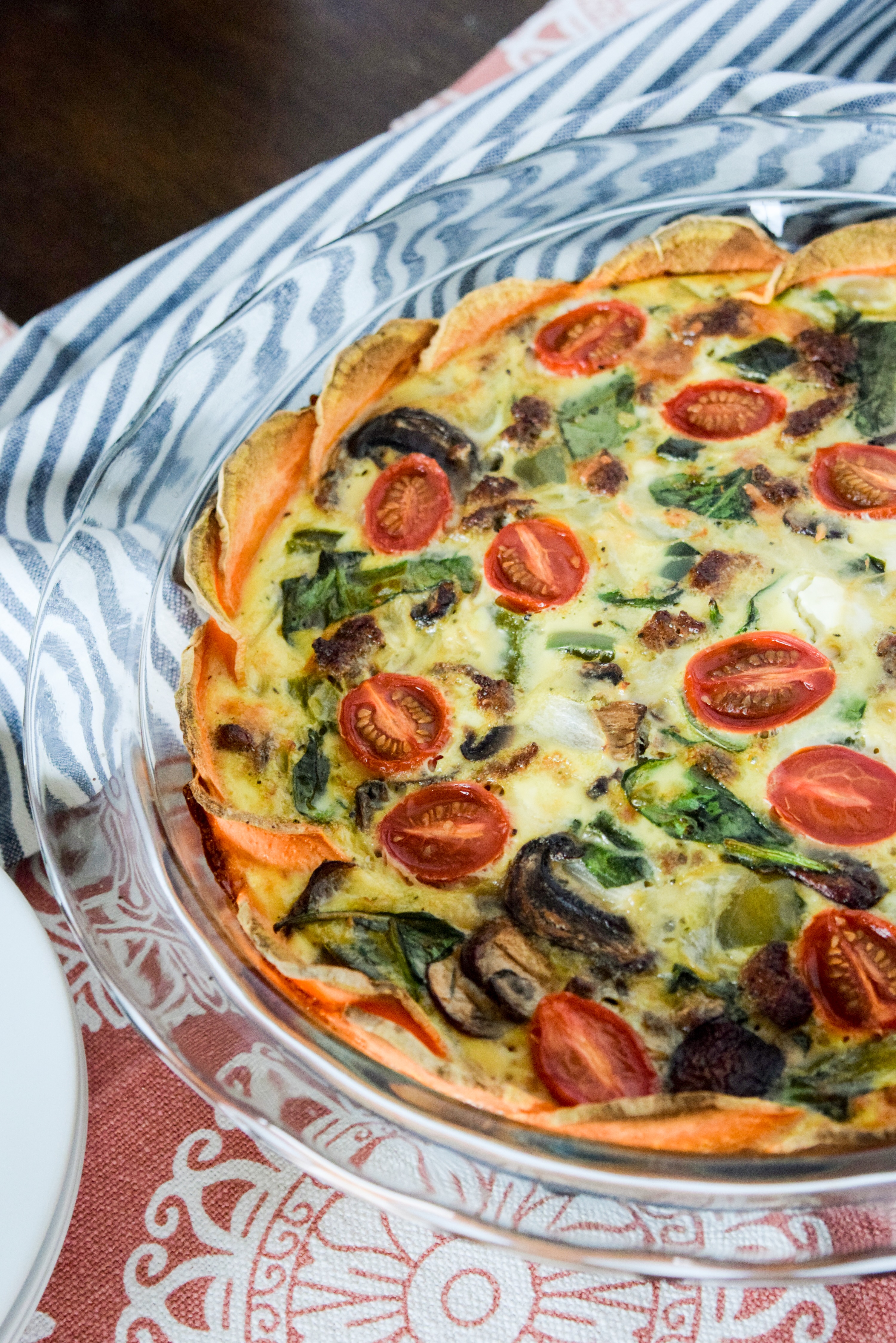 This post contains affiliate links. That means if you click or make a purchase, I make a little cash at no extra cost to you. I'll probably use it to feed my dog. Thanks for feeding Sadie. (Don't worry, she gets food regardless)
I love forgiving recipes.
Wait. What?
I mean, I love recipes that let you throw in whatever you have and still turn out wonderful. They don't get huffy and decide to taste "off". They're yummy and they understand that hey, you're just trying to get through today and you're doing the best you can.
A quiche is one of those recipes.
You can throw in any vegetables that are hanging out in the fridge. Any cheeses.
And it looks incredible because hey you're fancy and you made a quiche.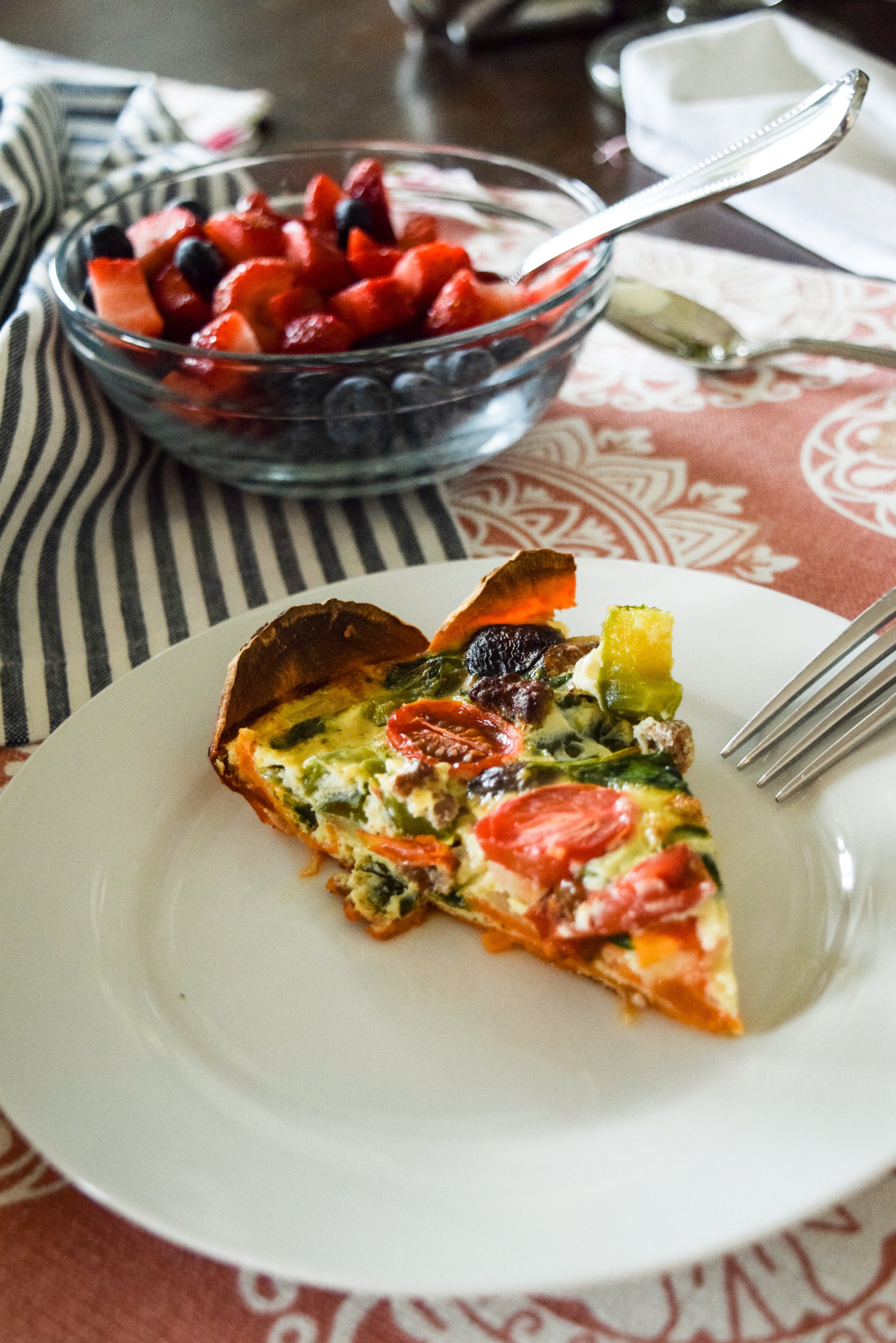 Does anybody else just feel like they're channeling their inner Julia Child when they make a quiche? I feel like I need an apron and some french press coffee and a bowl of fresh fruit to serve with it.
I have to tell you the secret to a killer quiche. No matter what you're using. Are you ready?
Saute the vegetables first. 
I know. It takes extra time. But I promise you it's a game changer. And guess what? You can do it while the sweet potato crust cooks.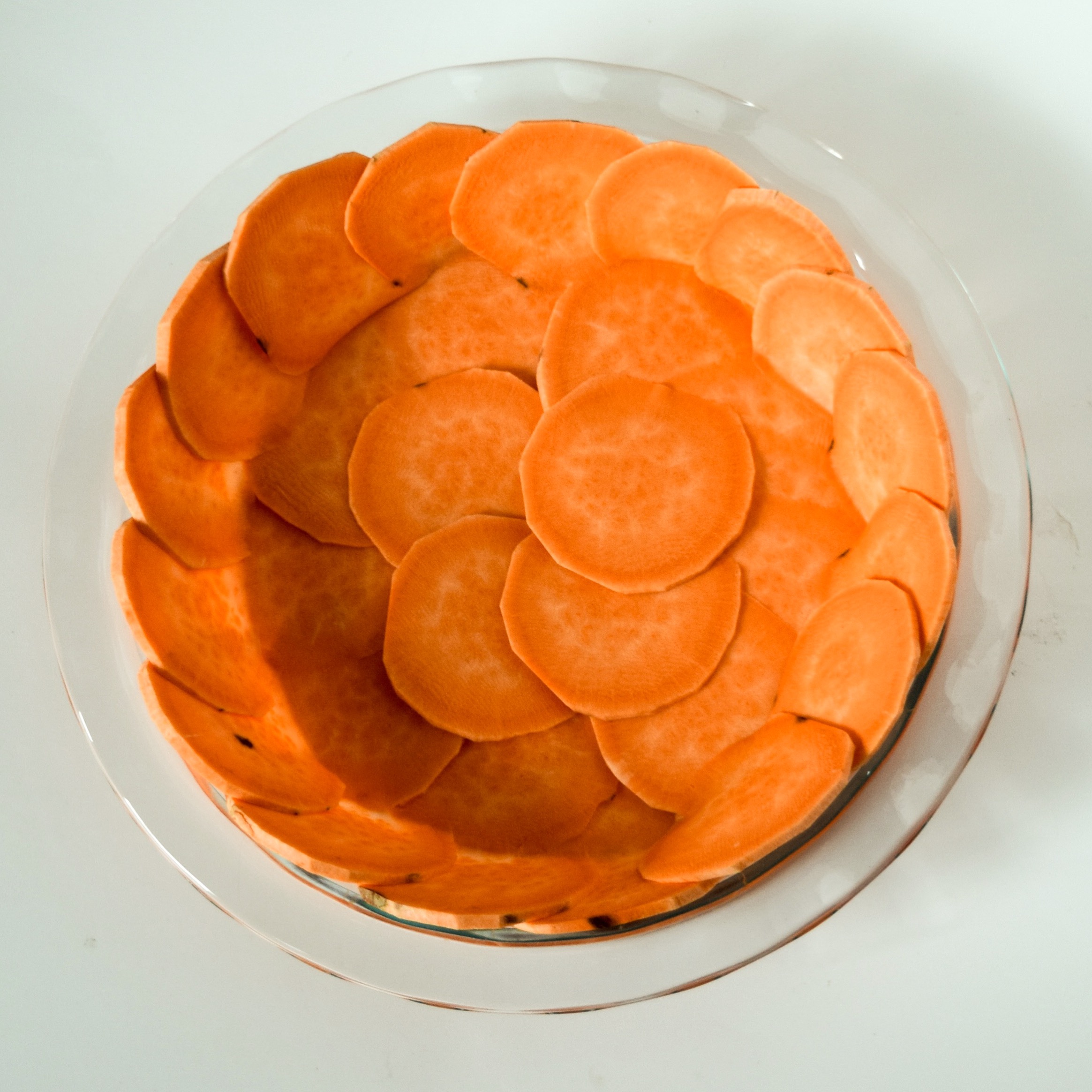 The sweet potato rounds shrink a little when you bake them, so be sure they're overlapping in your pie dish.
For evenly sliced pieces, a mandoline or food processor with a slicer works perfectly. If all else fails, a careful hand with a knife works, too.
The crust takes 5 minutes to prep, then bakes for 15 minutes (while you saute the vegetables and prep the other ingredients). You can give this quiche 20 minutes of your time. Then, you throw it in the oven and you can go back to bed. Or lay on the couch. Or enjoy a nice, warm cup of coffee to help you function. You do you, okay?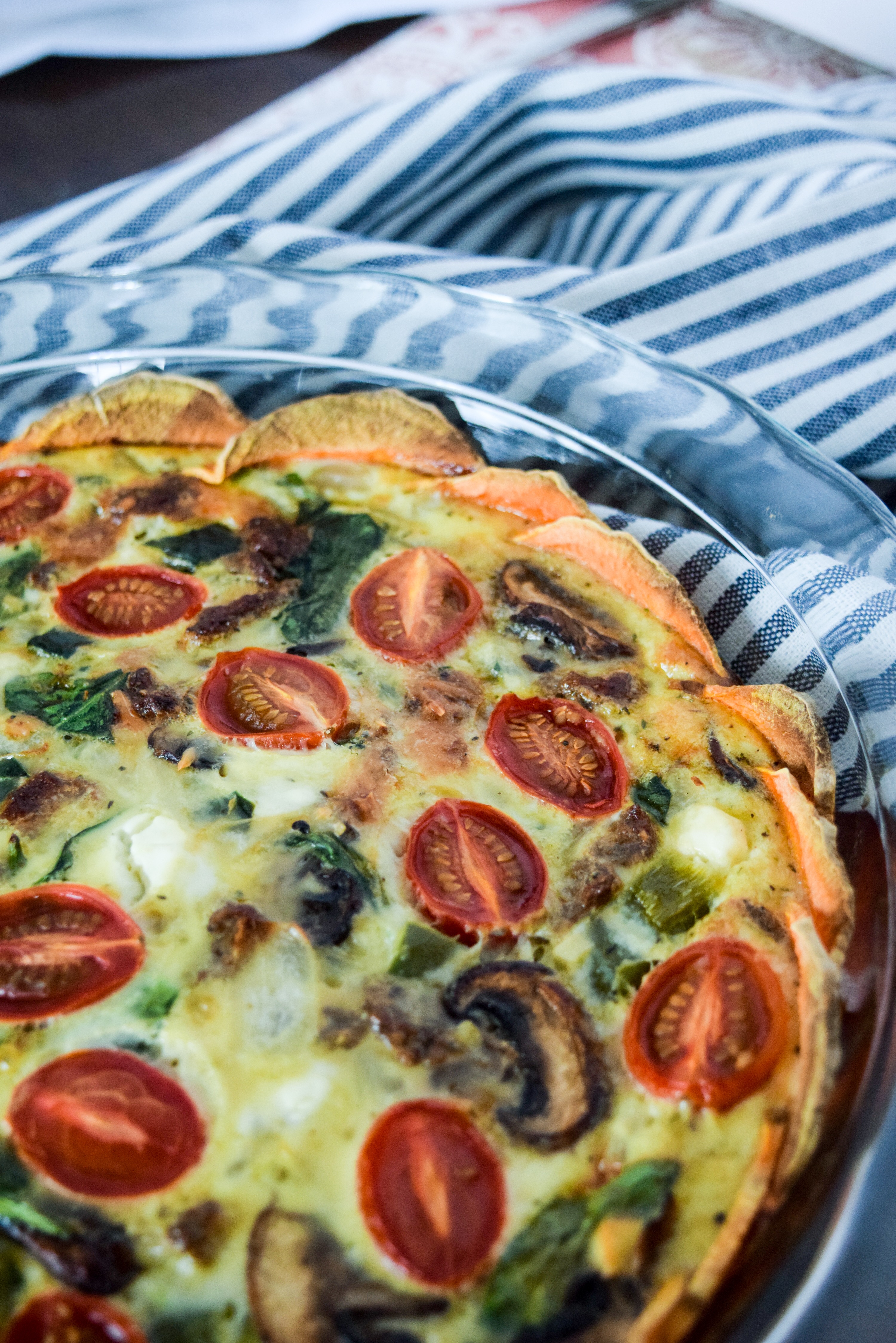 PIN IT:

Preheat oven to 400. Peel your sweet potatoes. Slice thinly using a mandoline or knife.

Spray a pie dish with non-stick spray, and arrange your sweet potatoes (pictured above). You may not use all the potatoes. Bake in oven for 15 minutes.

While the sweet potato crust is baking, chop up all vegetables. Saute in olive oil or ghee in a skillet over medium heat. Add the dense vegetables first (onion, bell pepper) and the lightest vegetables (mushrooms, spinach) last. Set vegetables aside.

In a large bowl, whisk together eggs, egg whites, milk, salt, and pepper. Stir in the vegetables, cheese and turkey crumbles.

After the crust bakes 15 minutes, lower the temperature to 375.

Pour the quiche mixture into the sweet potato crust, and bake for 50 minutes, or until the eggs are set and a toothpick inserted into the center comes out clean.
Feel free to use any cooked meat you'd like: turkey sausage, bacon, or ham. Skip the meat all together for a vegetarian option.
Any vegetables or cheese you have on hand will work. You can also substitute kale for the spinach. Feta cheese, goat cheese, cheddar and Parmesan are all delicious.
Enjoy!