With only three ingredients, this chia seed pudding is perfect for breakfast or a snack on-the-go. Make a batch of it on Sunday and portion it out to grab out of the fridge easily. Top it with your favorite toppings- cacao nibs, unsweetened coconut flakes, fruit, or any other fave!
Sometimes, you need things in your life to be simple.
You need your brand new dryer to work like it's supposed to.
You need breakfast to already be made when you wake up in the morning.
I present to you this sweet, creamy chia seed pudding. It's there for you when you need a simple, breakfast or snack that you can grab and eat on-the-go.
Keeping It Real
Y'all, this past weekend seemed to be one where I was on the struggle bus. I tried to walk into a Tom Thumb that was still under construction. I'm talking, never been opened. Not even it-was-once-opened-but-was-closed-for-renovations.
Nope.
Walked right up to the doors as the construction guys stared at me.
Turned on my heel without saying a word to my husband as I realized what I'd done🙈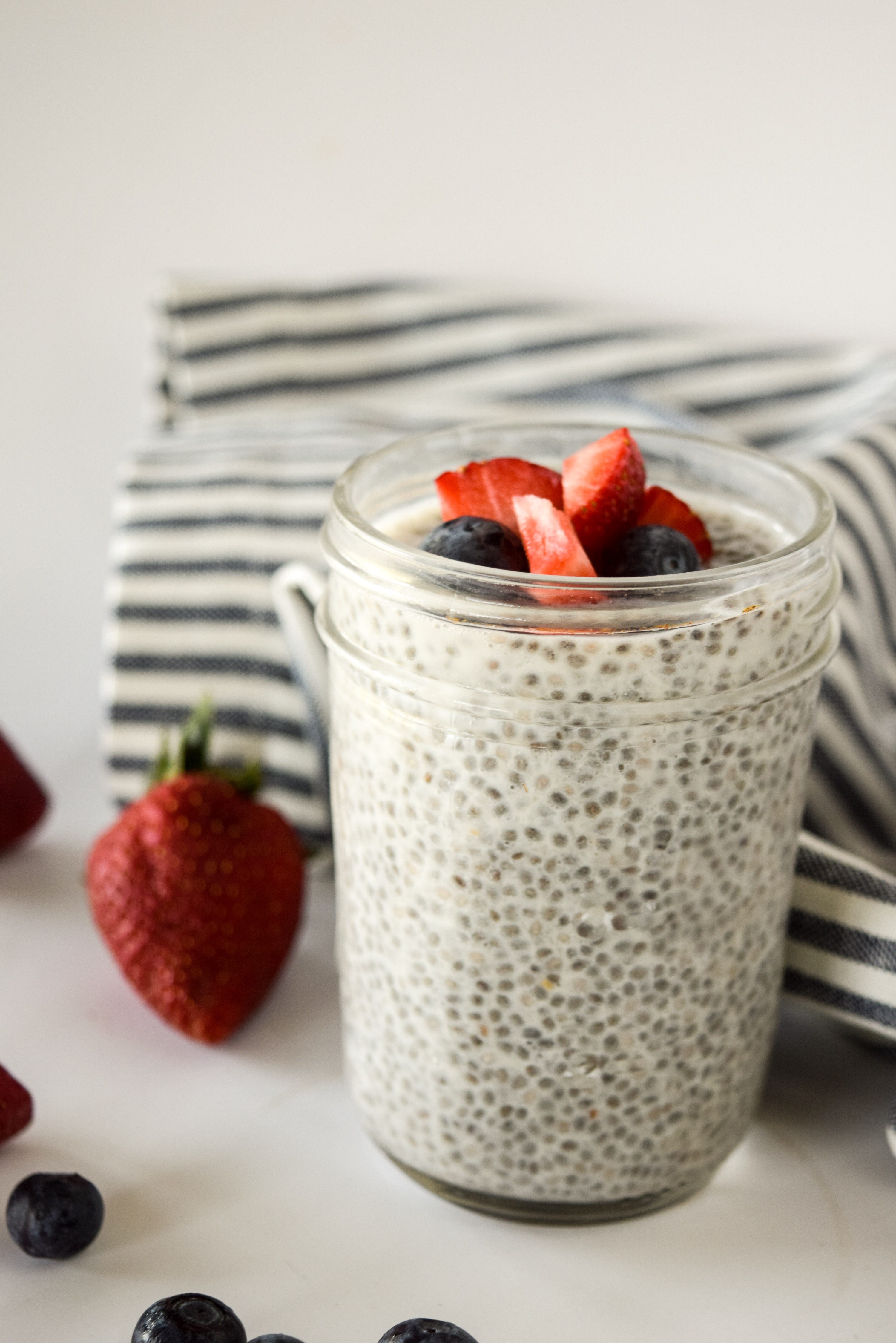 Later that weekend, we were at Costco and I was looking over the women's multivitamins. I figure I probably should be taking that multivitamin I spent my youth hiding and saying that I had taken (sorry mom).
Side story: I seriously used to tell my mom I'd taken my vitamin, and then hide it. We found them for years. Jacket pockets, sock drawers, lunch boxes, you name it.
Back to Costco. I was comparing the calcium content of two multivitamins. I looked over one and thought it looked pretty good. "Caring for your body as you age", well that sounded good to me.
Decided on that one.
Walked back to husband who was in line.
Realized I had selected vitamins for women over 50.
…
These are the kinds of days where you need a break. You know the days I'm talking about. I created this chia seed pudding recipe to be SIMPLE and satisfying for those kind of days. It has three ingredients, for crying out loud.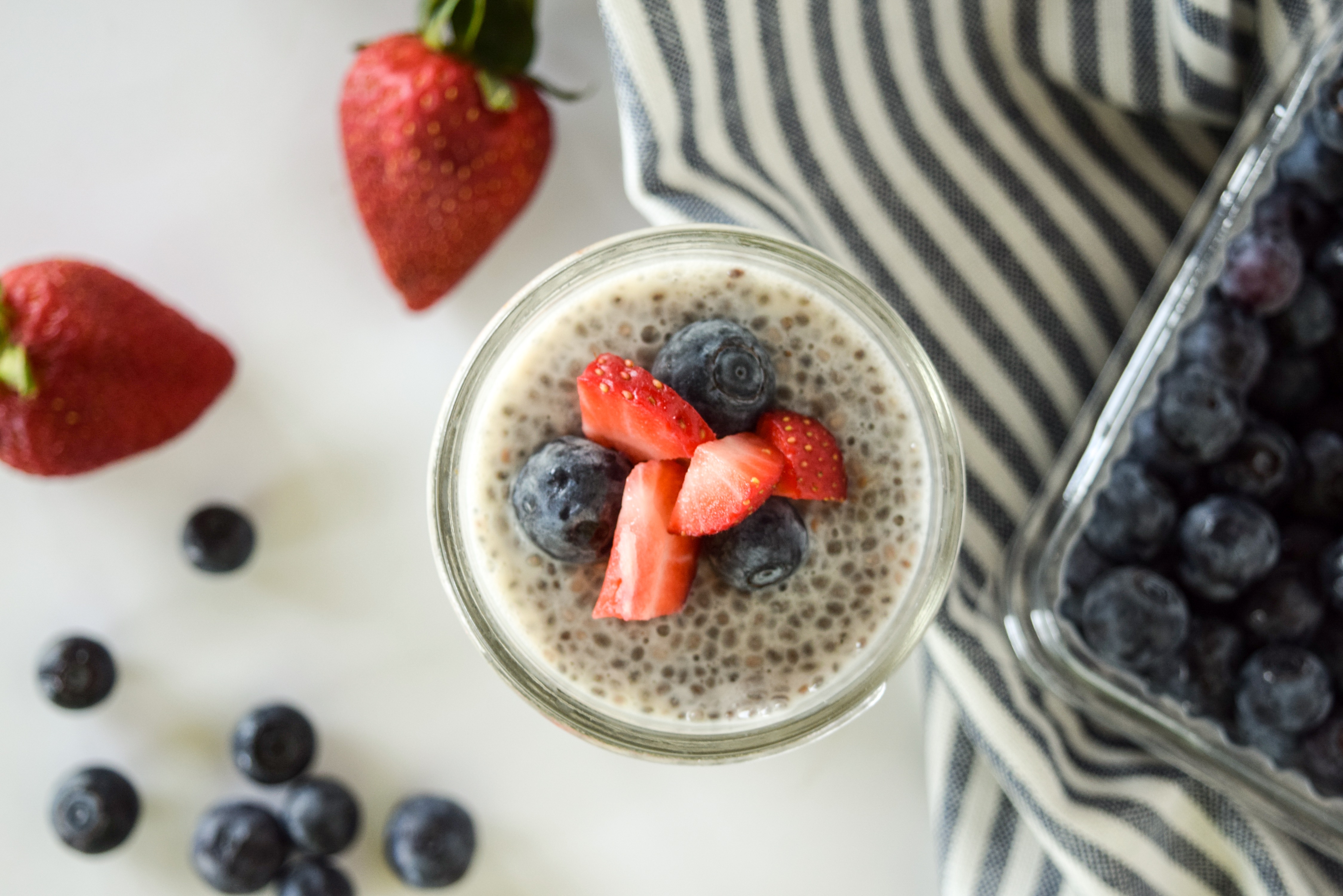 These tiny little chia seeds pack fiber, heart-healthy omega 3 fats, protein, vitamins and minerals. They even have antioxidant properties that help give you glowing skin! The fiber means that this chia seed pudding will keep you fuller longer.
When combined with liquid and a little sweetener, chia seeds magically transform into a thick consistency similar to pudding.
Make a batch of this chia seed pudding on Sunday and portion it out for an easy snack during the week! Top with fruit, unsweetened coconut flakes, cacao nibs, granola, or just enjoy as is! P.S. if you're a big chia seed fan, you can find them at Costco! Otherwise, Amazon is a simple place to order them from.
Tips For Making Chia Seed Pudding
The quickest way to do it is to divide the recipe and make it in individual servings. Close your container, shake it up, and you're done! This size is perfect, too.
If you'll be eating at home, you can make it in a bigger bowl or Tupperware and just serve out of it.
Be sure to shake/stir your chia seed pudding after it sits for 3-5 minutes. This will break up clumps of seeds that like to stick together.
Other Easy Meal Prep-able Breakfasts
PIN IT:

In a bowl, combine all ingredients. Let it sit for about 3 minutes, stir again, and portion out into mason jars!
If you have it, doing half coconut milk and half almond milk tastes delicious!
Top with fruit, cacao nibs, coconut flakes, or any other favorites.
Enjoy!